In typical Patrick Vellner fashion, the Canadian star finished off day three of the Dubai CrossFit Championship with a piece of birthday cake from a young fan.
It's this lovable demeanour that has made the 29-year-old a fan favourite for years within the sport, but as many know, underneath his calm, approachable exterior is a highly educated, skilled and thoughtful athlete who currently sits in fourth with one day to go.
Vellner, who has recently moved to Nanaimo on the West Coast of Canada after finishing school out east, will get set to start up his chiropractic practice come January. He described his Dubai CrossFit Championship so far as having finally broken from single modality events (swimming, biking, running, clean and jerk) to more varied workouts that test the depth and breadth of athletes.
After an eighth, 12th, fifth and seventh through four workouts in the first two days, Vellner broke free - in typical Vellner fashion.
"I seem to have a habit of taking a bit too long to get my gears turning in competitions," said the veteran, who has made his way onto the podium three times at the CrossFit Games.
"But that's also the nature of (the Dubai CrossFit Championship), there's a lot of single modality work, specific testing in isolation. The swim workout was effectively only swimming which is what separated everyone. The run and the bike, very single modality, the weightlifting, single modality.
"So today we started to see some mixed modality work, and so I took a first, a fifth and a fourth, that's what I'm good at. So I can hang in the mix but I'm never going to win those single modality events."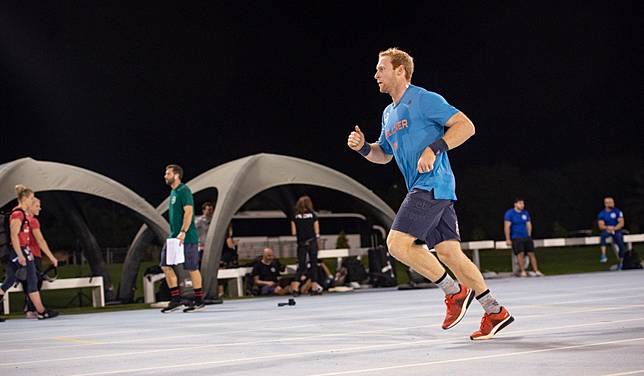 Vellner said heading into the Dubai Duty Free Tennis Stadium after the first day means athletes can settle into their competition routines, given it is a short walk from the Jumeriah Creekside Hotel where everyone is staying, and start to pick their spots to try to attack the leaderboard.
"Now that we're in the tennis stadium and it's a little bit more stuff that you're comfortable with, you have to make moves. I would have liked to stay a little closer to the top in (the final) workout."
The final event of the day, which was won by fellow Canadian Brent Fikowski, featured a row, wall balls, box jump-overs, walking lunges and rope climbs.
Vellner said he is pleased with the way he handled a three-event day three, but he will have to lay it all on the line on Saturday if he wants to overtake Fikowski and leader Roman Khrennikov.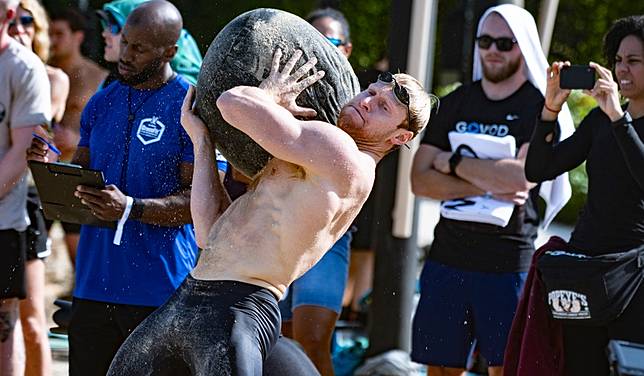 "I would have liked to stay a little closer to the top in that workout, but fourth isn't bad, but I've got work to do tomorrow. I started off today strong with an event win."
The story of Vellner is one every CrossFit fan knows. After his remarkable runs, testing four-time champion Mat Fraser at the CrossFit Games which saw him come second in 2018, he finished 16th at the 2019 CrossFit Games, missing the final cut.
Vellner has since responded to this by winning the CrossFit Open, and now heads into the 2020 Sanctional season by taking on the sport's marquee draw outside of the finals in Madison, Wisconsin.
Vellner said Dubai is a very compelling event for a number of reasons - the first and foremost being the top notch athletes drawn to both the exposure of the United Arab Emirates showcase piece and the lucrative prize money (more than US$500,000 is up for grabs throughout the weekend).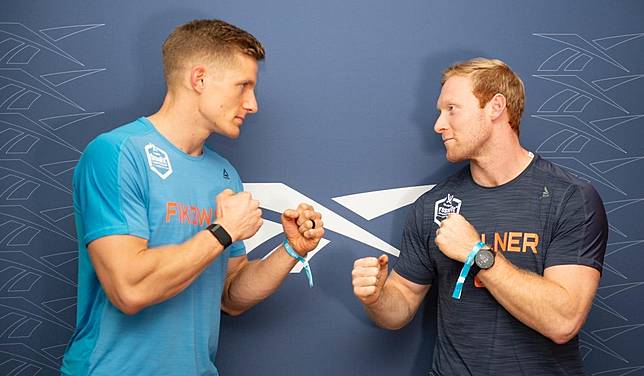 "I think that's how most people look at (Dubai). It's interesting in its timing, and the nature of the programming is very different from what you would see at the Games, but that's kind of what is fun about the Sanctionals these days anyways. You expose yourself to something different and get a taste of something new."
Dubai's top prize was taken by Fraser last year and this year a crop of athletes are vying to send a message to the CrossFit world as the season begins before a Christmas break. With the Open still fresh (the last workout was announced in early November), Vellner said this Sanctional is a great way to see the first real clash of heavyweight contenders against one another in the flesh.
"We all come here because the competition is great. I think none of us got to where we are, or are doing what we are doing, unless you can really push yourself and test yourself, and these are the places you do it.
"Find a stiff field, find some tough events, things you are good at and things you aren't comfortable with, and that's how you get better - and now that there are more events like this, it is fun."
Copyright (c) 2019. South China Morning Post Publishers Ltd. All rights reserved.