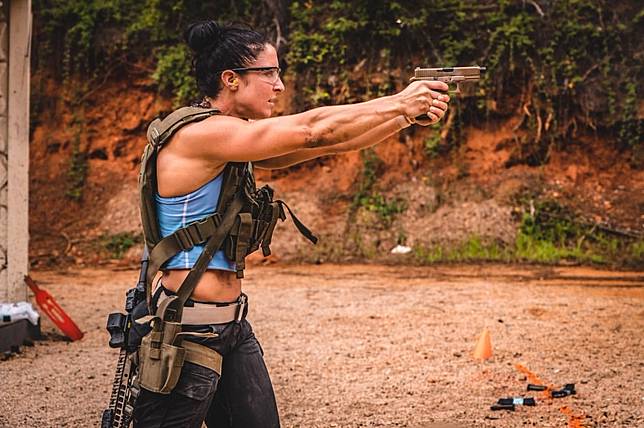 When it comes to badass CrossFit athletes, there are a lot to choose from, but one might take the cake.
American Callerina Natori has another passion outside of CrossFit - tactical games events in which athletes complete obstacle courses and do physical fitness challenges similar to CrossFit, but then also shoot weapons in between to score points.
Natori, 29, was raised in the southern United States outside of Birmingham, Alabama and said she's always been around guns and had proper training on how to use them and safety measures since a child.
"I grew up in the South where we grow up hunting and shooting guns, and shooting was just something that I was raised to respect and understand," said Callerina, who currently sits tied for eighth after the first event at the Dubai CrossFit Championship, which started on Wednesday and runs for three more days in the United Arab Emirates city. The first event took place at the beach by the Burj Al Arab Jumeirah and featured swimming and sandbags.
A post shared by Callerina Natori (@mrs_natorious) on Nov 21, 2019 at 8:05am PST
She picked it up last year and is the only competitive CrossFit athlete mixed in with tactical games opponents who all have either a military background or are professional shooters. She said having an elite level of fitness gives her a leg up in one regard of tactical competitions as she fine-tunes her shooting skills.
"I'm lucky in that I get to do CrossFit and just have to get better at my marksmanship whereas they have to go through the whole CrossFit style training to be in shape."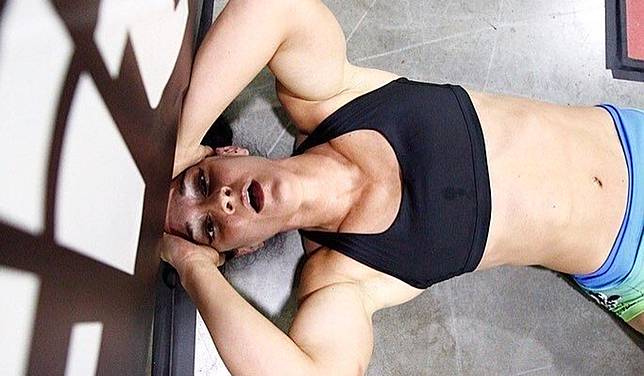 Natori first got into tactical games last year in Atlanta - she works as a full-time chiropractor in Sandy Springs, Georgia - and said she was hooked right from the start. Shooting is largely mental, however there is definitely some crossover with CrossFit she added.
"Any mistake firing your weapon you are going to miss your mark, so you can't muscle it, you can't fake shooting a gun. You either know how to do it or you don't. And it is a lot of breathing and calming yourself, there is technique to it just like CrossFit."
Natori first competed in the CrossFit Open back in 2014 and came 212th in the world this year. She has competed at regionals twice and said there is an element to shooting that requires much more than an elite level of physical fitness.
A post shared by Callerina Natori (@mrs_natorious) on Nov 24, 2019 at 11:50am PST
"You could just toss someone who is fit into a CrossFit workout and they will make it, it will be ugly, with the shooting you can get through the fitness part but if you don't have the marksmanship, you're done."
The hurdle with tactical games is that athletes are scored on how quickly they can hit targets, meaning the more you miss, the more time you are penalised. In the heat of competition, Natori said there are once again similarities to CrossFit. She noted the dreaded "FFI" in tactical games, which stands for "failure to follow instructions", which can cost competitors dearly if they are unable to concentrate and follow the rules and regulations in the heat of the moment.
"You have to think a lot, we call it in CrossFit, WOD (workout of the day) brain. When you can't count your double unders or you lose count, it's similar. You have to be able to think on the fly."
Breathing patterns while shooting are huge she said, which includes trying to lower ones heart rate after competing a gruelling physical fitness challenge, which is no small feat in itself.
"If you're breathing violently and you squeeze the trigger and you pull, you're going to miss, so you have to take a second. And on top of that you have other people shooting next to you, so you can't get distracted because of course it is loud, so you have one athlete shooting a whole bunch right around you and you just have to breathe and just go with what you know you've got to do and cap off a bunch."
Her goal is to continue competing in tactical games competitions, she has one lined up for February in Mississippi, and then the ultimate goal is the 2020 CrossFit Games, which will take place August in Madison, Wisconsin. Natori said she will head to Montreal in March for CrossFit Atlas Games and then to Iceland's Sanctional, the ReykjavIk CrossFit Championship, which will take place early April.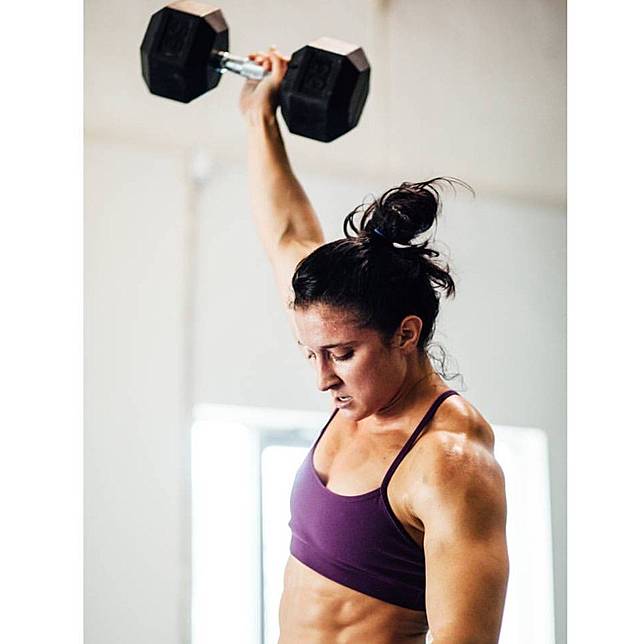 But first, competing in Dubai is squarely in her sights.
"Dubai is probably your best chance to put yourself in a Games situation, there's the run and the swim and all the outdoor elements and the best of the best are competing here. And so I'd really like to see where I stack up, I have expectations for myself, but it's my personal goals I'm focused on. I know I can clean and jerk, but can I do it under pressure?"
Natori has a long term plan too, run out the clock on her CrossFit career and tactical games as well before she zeroes in on other elements of life.
"Before I have to really focus on my family and run a business I want to give everything that I can to CrossFit for a certain amount of time and know that I left nothing out on the table. Knowing that I gave it my all when I retire and go into regular CrossFit classes, that I didn't hold anything back. So that is really what the goal is now just to see what I am capable of."
Copyright (c) 2019. South China Morning Post Publishers Ltd. All rights reserved.