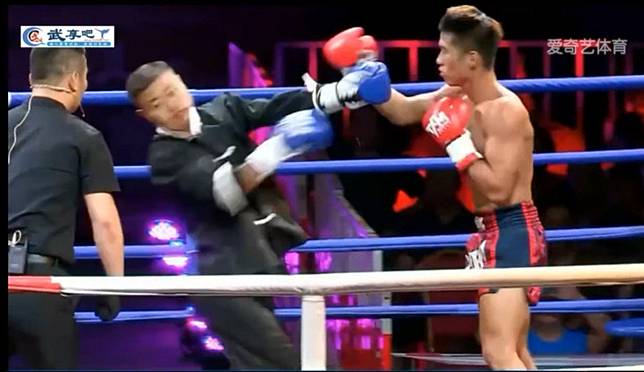 If you enjoyed seeing Chinese MMA fighter "A Hu" thoroughly destroy wing chun "master" Ding Hao last weekend, you'll be glad to know this wasn't the first time he's exposed a kung fu fraud.
Ding - who was also obliterated by Xu Xiaodong - taunted A Hu in the ring before being sent face first to the canvas by a head kick after just 72 seconds.
But A Hu also fought against another traditional martial arts "master" in a kick-boxing match in August, taking on Tang Duoji, founder of the kung fu style gong quan.
No prizes for guessing who was the winner.
To his credit, Tang lasts a lot longer than Ding - though that's probably because the referee inexplicably allowed him to keep going despite him getting knocked down six times.
A Hu throws a few punches early on, backing Tang into the corner, and Tang uses a hilarious slip and slide move to roll away and out of trouble.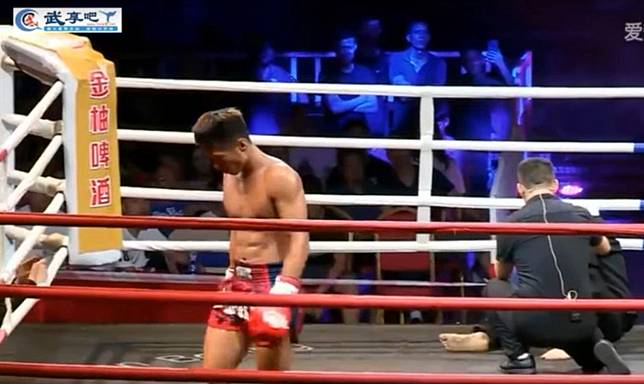 Tang begins eating shots to the face, and the referee checks to see if he can continue.
Knowing he's in full control, A Hu even tries an audacious spinning cartwheel kick, and smiles when he misses. He continues peppering his opponent's face and the ref makes a second check, but still lets things continue.
A Hu scores another knockdown with a left head kick, sending Tang tumbling on to his backside. Again the referee allows Tang to keep going, despite him stumbling backwards as he gets up.
Tang is obviously concussed. He gets knocked down again but can't even stand up straight, falling against the ropes. A Hu drops his hands and begins toying with Tang, scoring another knockdown.
Mercifully, the referee finally stops it after a devastating left hook from southpaw A Hu puts Tang flat on his back.
Tang updated his fans on Chinese social media after the fight that he received six stitches and that his orbital bone was broken. "I am fulfilled," he wrote. "You (A Hu) are very good. I just had the wrong fight strategy. I'm sorry guys."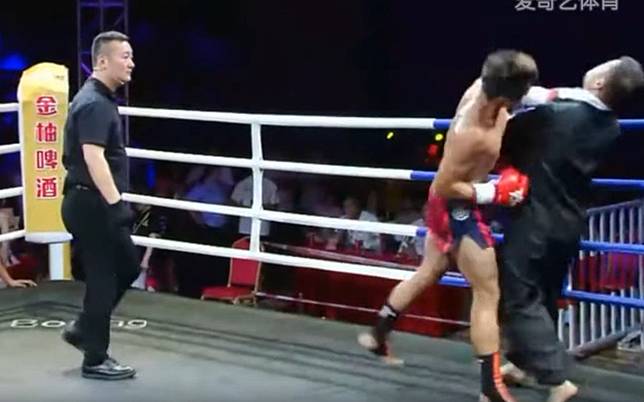 "Just stop the damn fight already," one user wrote in the comments on the video, which was posted by YouTube channel Fight Commentary Breakdowns, however. "There is a point when it stop being funny and you have to be responsible."
"He's probably telling the ref, 'Don't worry I'm OK, I'm doing Drunken Kung Fu'," wrote another user, referring to the famous Jackie Chan film.
"He may not be a good fighter, but you can't deny that the kung fu guy was tougher than most of the other kung fu guys that try to fight," said another.
Copyright (c) 2019. South China Morning Post Publishers Ltd. All rights reserved.