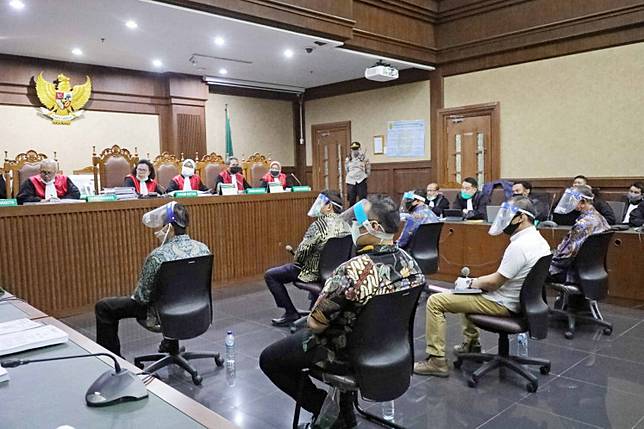 Judges across the country should now have no qualms about handing down a life sentence on anyone found guilty of embezzling a huge sum of state money, thanks to a new guideline issued by the Supreme Court on July 24 but only made public on Sunday.
Supreme Court Regulation No. 1/2020 stipulates that corruption convicts inflicting at least Rp 100 billion (US$6.88 million) in losses to the state and playing a leading part in the crime can be sentenced to life. The court distinguishes between gross, heavy, moderate and mild corruption cases and prescribes prison sentences ranging from lifetime to one year, depending on the amount of state losses and the role a convict plays in a graft case.
The new regulation is hardly a milestone, as three different courts have pioneered the heavy punishment for graft convicts. The South Jakarta District Court sentenced businessman Adrian Waworuntu to life in March 2005 for stealing Rp 1.2 trillion from state-owned Bank BNI; the Jakarta Corruption Court sent former Constitutional Court chief Akil Mochtar to jail for the rest of his life in March 2014 for accepting bribes from regional heads who were in dispute over election results; and the Jakarta High Military Court handed down in November 2016 a life sentence to Defense Ministry high-ranking official Brig. Gen. Teddy Hernayadi for his role in the mark-up of the state budget to purchase F-16 jet fighters and Apache attack helicopters from the United States in 2014-2016.
Still, the guideline shows the Supreme Court has made a step forward in helping the country combat entrenched corruption. As some antigraft campaigners have said, the regulation will remove disparity of sentence in corruption cases.
For the public at large the guideline will serve as a practical tool to measure the commitment to anticorruption among the corps of judges, including Supreme Court justices, who recently sparked controversy for reducing prison sentences of graft convicts. The public now has a strong basis for filing reports with the Judicial Commission against judges who they think have defied a sense of justice in handling a graft case.
A life sentence can serve as a deterrence, in particular due to the worrying trend of judges handing down light sentences to graft convicts in the last few years. Indonesia Corruption Watch has found corruption convicts received average prison terms of 2 years and 7 months in 2019, slightly up from 2 years and 5 months in 2018. Some of them may have found freedom now, courtesy of generous remission they earn only because of "good behavior" while serving prison terms.
What is missing from the Supreme Court guideline probably is its failure to address bribery and gratuity, which have sent many politicians and prominent figures to justice. Those accepting bribes or gratuities may cause no state losses, but the impact of their compromised integrity is overarching.
Hopefully the new guideline is part of a big work in progress within the Supreme Court to make sure justice is served.