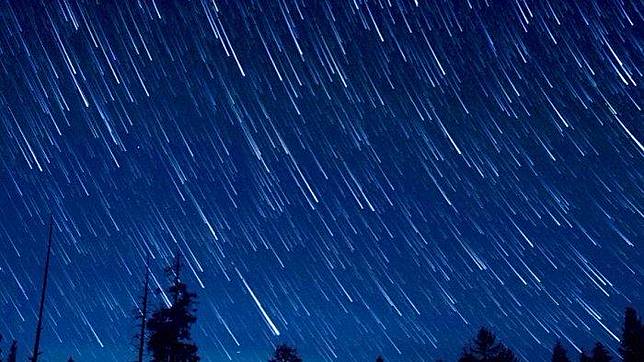 TRIBUNNEWS.COM - Hujan meteor Perseid telah mencapai puncaknya, Selasa (13/8/2019) dini hari.
Banyak para warganet di berbagai belahan dunia yang mengabadikan fenomena tahunan tersebut.
Ada deretan foto dan video yang menampilkan keindahan Hujan meteor Perseid dari gunung, danau, bahkan luar angkasa.
Jatuhnya Meteor Perseid selalu terjadi di bulan Juli sampai Agustus di berbagai belahan dunia.
Di Indonesia, Hujan meteor Perseid bisa dilihat dengan mata telanjang.
Berdasarkan unggahan akun Instagram @lapan_ri, Hujan meteor Perseid merupakan pecahan dari komet Swift-Tuttle yang masuk ke atmosfer bumi sehingga menciptakan efek hujan meteor.
Arah hujan meteor bisa dilihat pada konstelasi Perseus, karena itulah diberi nama Hujan meteor Perseid.
Berikut deretan foto hujan Meteor Perseid yang diabadikan oleh warganet di berbagai belahan dunia via Instagram:
Lihat postingan ini di Instagram

Perseid Meteor Shower over Pikes Peak. The moon did not make it very easy this morning but I am happy to have captured several meteor strikes. Only took around 15000 photos. ;) #colorado #visitcolorado #larsleberphotography #coloradosprings #my_cosprings #manitousprings #pikespeak #perseidmeteorshower #perseids #meteorshower #meteor #visitcos #visitpikespeak #canonusa #amongthewild #wildandco #allbeauty_addiction #onlyincoloradousa #outtherecolorado #coloradotography #bns_earth #earthfocus #natureperfection #nightscaper #longexposure_addiction #nightphotography_exclusive #colorado_creative #coloradical #look303 #co14ers

Sebuah kiriman dibagikan oleh Lars Leber Photography (@larsleberphotography) pada 13 Agu 2019 jam 5:48 PDT
Lihat postingan ini di Instagram

MORE PERSEIDS TO SEE: Here is last year's Perseids maximum portrait. The image is multiexposure of data from 7 nights, taken over Poloniny Dark Sky Park in Slovakia. In the foreground, you can see observatory and atypical shape of planetarium of Kolonica observatory where the public is educated before the stargazing far away from the light pollution. In the "wild" portrait, you can notice several very bright meteors, including the memorable fireball of 12 August, 2018 (http://www.astronom.cz/horalek/?p=4182). This year's Perseids are pretty much disturbed by the moonlight, but still, in the next nights, people should see more and more of them, especially in the second halves of the August nights. Enjoy :) ------------------------- PRO PÁR PERSEID: Na tomto hvězdném portrétu z maxima loňských Perseid jsem pracoval opravdu dlouhé týdny. Snímek je multiexpozicí ze 7 nocí, které jsem strávil v Parku tmavej oblohy Poloniny, konkrétně na půdě kolonické hvězdárny. V krajině tak můžete uvidět hvězdárnu, ale i atyicky tvarované planetárium (vypadá jako cirkusový stan), v němž se veřejnosti ukáže pár kosmických krás předtím, než si je vychutnají venku, daleko od zdrojů světelného znečištění. Na obloze najdete několik jasných meteorů včetně památného bolidu z 12. srpna 2018 (o něm více zde: http://www.astronom.cz/horalek/?p=4182). Letošní Perseidy budou žel značně rušeny měsíčním svitem, ale i tak - zejména vždy po půlnoci - je vyhlížejte. Každým dnem k blížícímu se maximu (12. srpna) je jich více a více. Tak pěkné pokoukání! #perseids #meteorshowe #fireball #facebook360 #virtualreality #meteor #meteors #milkyway #stargazing #universe #astronomy #poloniny #slovakia #visitslovakia #darksky #kolonica #enjoy #starrynight #multiexposure #hvezdy #vesmir #astronomie #canonphotography #twanight

Sebuah kiriman dibagikan oleh Petr Horálek (@petrhoralek) pada 4 Agu 2019 jam 6:12 PDT
Lihat postingan ini di Instagram

Hey again! I did a little composite of my best shots of the perseids meteor shower, I zoomed in because it was really small with the 18mm lens. I hope you'll enjoy it 🌠! 📸 : Canon EOS 200D Canon 18-55mm 15 sec exposure. iso 800. F/4. Edited with lightroom app. For each one of them. #astrophotography #astrophoto #astro #astronomy #astropics #astronomer #Space #telescope #Universe #solarsystem #likeabos #sky #yourESA #universetoday #explorers_hub #canonphoto #igersarras #nightsky #night #ig_nightphotography #romssharing #perseids #meteor #meteorshower #perseidmeteorshower #chtitephoto #hautsdefrance

Sebuah kiriman dibagikan oleh Astro Axel (@spla_ta) pada 13 Agu 2019 jam 7:21 PDT
Lihat postingan ini di Instagram

Fire and Fireballs Over Macedonia⠀ Several bright Perseid meteor dash across the sky near a wildfire in Macedonia in this fisheye view by Stojan Stojanovski. He captured this photo during the peak of the #Perseidmeteorshower last night. In the center of what appears to be a ring of smoke, the #MilkyWaygalaxy is faintly visible behind four bright meteors, and one smaller meteor can be seen in the distance. #space #cosmos ⠀ https://buff.ly/2GPwY08

Sebuah kiriman dibagikan oleh Space.com (@spacedotcom) pada 13 Agu 2019 jam 1:01 PDT
Lihat postingan ini di Instagram

Catch it before it's gone!⁠ .⁠ The Perseid Meteor shower peaked late last night but continues through August 24th. ⁠ .⁠ Learn more about this and other cool things going on after dark in Calaveras County through our 👉🏽link in bio👈🏽⁠ .⁠ .⁠ 📸: @nolan.darius in #CalaverasCounty⁠ .⁠ .⁠ ..⁠ .⁠ Tag @gocalaveras in your Instagram stories and posts for a chance to be featured 😍⁠ .⁠ .⁠ .⁠ .⁠ .⁠ .⁠ #CalaverasCounty #VisitGoldCountry #VisitCalifornia #California #Hwy49⁠ #LakeLife #ChildhoodUnplugged #valleysprings #ExploreMore #angelscamp #murphysca #MilkyWay #NatureGram #Stars #copperopolis #MokelumneHill #arnoldca #HiddenCalifornia #WIldCalifornia #GetOutside #SierraFoothills #GoldCountry #HighSierra #Earth #Lake #Hike #RoadTrip #California #Perseid⁠

Sebuah kiriman dibagikan oleh Calaveras Visitors Bureau (@gocalaveras) pada 13 Agu 2019 jam 2:08 PDT
Lihat postingan ini di Instagram

Lluvia de estrellas de las Perséidas desde el Volcán Teneguía en La Palma 😍 - Perseids meteor shower from La Palma (Canary Islands). - #lapalma #nightphoto #nightphotography #islascanarias #canaryislands #night #milkywaygalaxy #perseidas #perdeids #meteors #espacio_canario #canariasviva #nightphotography_exclusive #longexposure #exposure #meteorshower #monumentalnight #astrophotography #astrophoto

Sebuah kiriman dibagikan oleh Abián San Gil (@abiansangil) pada 13 Agu 2019 jam 7:20 PDT
Lihat postingan ini di Instagram

Perseidas 2019 . . . . . #perseids #meteorshower #astrosprout #mexiconocturno #sonora #hermosillo #galaxy #stars #vialactea #sonyalpha #SonoranDesert #DesiertoDeSonora #universoeterno #natgeospace #apod #ig_mexico #loves_mexico #fantastic_universe #astralshot #ig_astrophotography #timelessuniverse #natgeomx #mexico #stargazing#weownthenight #nights_dreamworld #exquisite_longexpos #universe247 #astro_photography_#longexposure_photos @milkywaychasers @photographingspace @igworldclub_astrophotography @sonyalphasclub @1

Sebuah kiriman dibagikan oleh Sergio Müller (@mullermx) pada 13 Agu 2019 jam 5:23 PDT
Lihat postingan ini di Instagram

Bu gece göktaşı yağmurunu gözlemleyebilen var mı? Bu gece dolunayın parlaklığından daha az görebilsek de aslında saatte 60-200 arası yıldız kayıyormuş. Geçen sene rüya gibi bir gecede gözlemleme şansımız olmuştu. Bu sene 23 Temmuz-20 Ağustos tarihleri arasında; en yoğun olarak ise 12-13 Ağustos geceleri gözlemleniyor. Türkiye'den de izlenen #Perseid #meteoryağmuru nu izlemek için gün batımının ardından Kuzey yönü ufuk çizgisine bakmamız gerekiyormuş. Gecenin ilerleyen saatlerinde ise meteor yağmurunun gözlem bölgesi Kuzey-Doğu yönüne ve daha yüksek rakımlara doğru kayacakmış. #yıldızkayması #dolunay @naturellitr @ekinyaa

Sebuah kiriman dibagikan oleh Tülay Çulha Sarı (@tlaysari) pada 13 Agu 2019 jam 2:29 PDT
Lihat postingan ini di Instagram

I have never looked forward to the Perseid meteor shower before. After this morning the Perseids will be on my calendar. The almost full moon set this morning around 4am. There was about an hour to watch for meteors and I saw lots of them. Of course most of the big burners came down while my camera screen said busy. Lol I caught this one after most of the stars were washed out by twilight. Anyway it was fun watching meteors come down at a fairly steady clip. #nightsky #night_shooterz #nightscape #nightshooters #perseids #pnw #pnwonderland #pnwdiscovered #pnwroamers #pnwisbeautiful #pnwlife #washingtonexplored #cascadiaexplored #wanderwashington #onlyinwashington #explorewashington #idahophotographer #nationalparkservice #nationalpark #mtrainier #mtrainiernationalpark #destinationpnw #planetoutside

Sebuah kiriman dibagikan oleh Kirk Mattila (@7b_kirk) pada 13 Agu 2019 jam 10:43 PDT
Selain beberapa potret yang diabadikan para warganet di berbagai belahan dunia, The National Aeronautics and Space Administration (NASA) juga mengabadikan momen dari sudut pandang yang berbeda.
NASA mendokumentasikan Hujan meteor Perseid dari luar angkasa.
Potret Hujan meteor Perseid oleh NASA diunggah oleh akun Instagram @nasa_marshall.
Lihat postingan ini di Instagram

The Perseid meteor shower looks amazing enough from Earth… but have you seen it from space? During previous years of Perseids, astronauts on the International Space Station have caught some amazing photos as shooting stars streak down into the Earth's atmosphere. This spectacular show peaks tonight - Monday, August 12. Don't miss it! go.nasa.gov/2KjMOo2 Image credit: NASA #nasa #marshallspaceflightcenter #msfc #marshall #space #astronomy #InternationalSpaceStation #ISS #astronauts #space #earth #perseids #perseidmeteorshower

Sebuah kiriman dibagikan oleh Marshall Space Flight Center (@nasa_marshall) pada 12 Agu 2019 jam 4:32 PDT
Tak hanya berupa foto, para pengguna Instagram, khususnya fotografer dan videografer juga mengabadikan Hujan meteor Perseid dalam bentuk video.
dibuat oleh mereka yang merekam penuh semalaman, dari detik-detik hujan meteor hingga jatuhnya ratusan Perseid tersebut.
Lihat postingan ini di Instagram

Hello everyone! My name is Pankaj Bhargava, I'm a photographer based on the beautiful west coast of US . I've been given the honor of taking over the Universe Today Instagram channel for a day. :) You'll find my own gallery at @punksworld. I'll share three of my favorite astrophotos with you today and here's number one. We gazed dreamily at the Milky Way and once in a while caught some shooting stars. Times like those gave me the opportunity to wonder and ask all those very basic questions. That sense of awe for the heavens started there. On chase of the Perseids Showers away from California Fires, headed to eastern sierras keeping our fingers crossed and passing some fiery wildfire zones .. In the end, it was much relaxing and amazing dark sky location … *THIS* was the darkest sky I've ever seen. Up at 9200 ft, it was so clear we could see with our eyes the dust shapes of the Milky Way core. You can see meteors passing by with reflection on the super still lake. It wasn't too windy and pitch dark. Perfect place for astro Canon 6D 16-38 F/2.8 IS #milkywaychasers #milkywayphotography#milkyway_nightscapes #universetoday#natureshooters #perseidmeteorshower#milkywaystars #timelapse#thelifewecapture #mammothlakes#lakesabrina #monocountytourism#monocounty #nightlandscape #perseidas#newmilkyway #beautifuldestinations#nightshooterz #earth_shots #artsofvisuals#astro_photography #ourplanetdaily#night_excl #milkywaygalaxy#longexpo_addiction #igerssf#art_we_inspire #fantasticuniverse#wildcalifornia #wanderlust

Sebuah kiriman dibagikan oleh Universe Today (@universetoday) pada 2 Okt 2018 jam 5:22 PDT
Lihat postingan ini di Instagram

🌠 Quand une météorite explose en entrant dans l'atmosphère et laisse un rond de fumée 😵 C'était cet été, dans la nuit du 12 Août, au-dessus de la Slovaquie. 📹 Petr Horalek

Sebuah kiriman dibagikan oleh Sciences Et Avenir (@sciencesetavenir) pada 17 Sep 2018 jam 9:56 PDT
(Tribunnews.com/Citra Agusta Putri Anastasia)