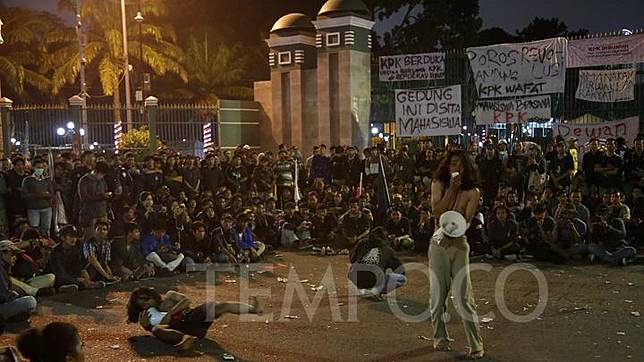 TEMPO.CO, Jakarta - Representatives of students from numerous universities held an audience with a member of the House of Representatives (DPR) on Thursday night, September 19. They protested the amendment of KPK Law and Criminal Code Law revisions (RKUHP) and demanded the House annul the ratified KPK Law.
During the meeting, the House secretary-general Indra Iskandar questioned the academic draft to the students' representatives. "We will have a discussion but where is your academic draft? Deliver [your criticism] through student's notion, academic draft," said Indra.
After a while at 08:00 p.m, the students returned to their fellows, who were staging a rally in front of the DPR building. They showed an agreement letter agreed by them and the House secretary-general.
"We bring a statement letter, an agreement in which noted there will be next meetings and follow-ups," said Manik Marganamahendra, the head of students' executive board in the University of Indonesia.
The agreement letter is as follows:
Indonesian aspirations represented by students will be passed to the House board and members.
House Sec-Gen will invite and involve all students presented in the September 19 meeting, lecturers or academicians, and civilians to present and deliver opinions in every discussion on Law revisions.
House Sec-Gen pledges to inform the students' demand to hold a meeting related to refusal against revised KPK Law and KUHP revision with DPR and issue the exact date before September 24.
House Sec-Gen will deliver students' aspirations to board members to not ratify the Land Law revision, Employment Law revision, Mineral and Coal Law revision, and Criminal Code Law revision in the next four days.
The letter was signed by Indra and nine students' representatives without the stamp. Indra claimed to have written down all students' aspirations.
A student of the University of Indonesia Roxy Brilian hoped his representatives would bring the good news that the government will hear his and his friends' aspirations. He said that the students have filed a material review on the newly- amended KPK Law and KUHP to Constitutional Court.
ANDITA RAHMA | BUDIARTI UTAMI PUTRI