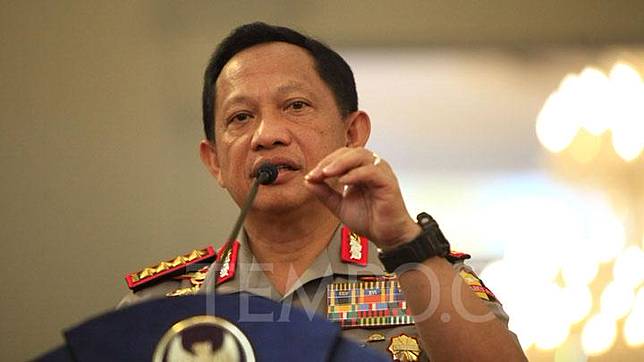 TEMPO.CO, Jakarta - The House of Representatives (DPR) speaker Puan Maharani said that the legislative body had received a request letter sent by President Joko Widodo or Jokowi regarding the resignation of Tito Karnavian as the National Police Chief this afternoon, October 22. The House executives then established a plenary meeting with the party factions' leaders.
Puan said that Tito had also come to the Parliament to submit his resignation letter as a police officer and the national police chief to the House.
"He [Tito] would be assigned to another state duty," said Puan, explaining the reason behind Tito's resignation at the meeting room of Parliament Complex, Senayan, Jakarta, Tuesday, Oct. 22.
According to Puan, the President had tapped National Police Deputy Chief Comr. Gen. Ari Dono Sukmanto as the acting police chief.
"The President had said that Police Deputy Chief Pak Ari Dono would be the acting police chief until the replacement is decided later," Puan added.
Tito Karnavian was among the high-profile figures who were summoned by Jokowi to State Palace on Monday, October 21. The former Papua Regional Police chief was predicted to be part of ministers for the President's second-term cabinet. However, Tito was balked on commenting about the issue.
BUDIARTI UTAMI PUTRI