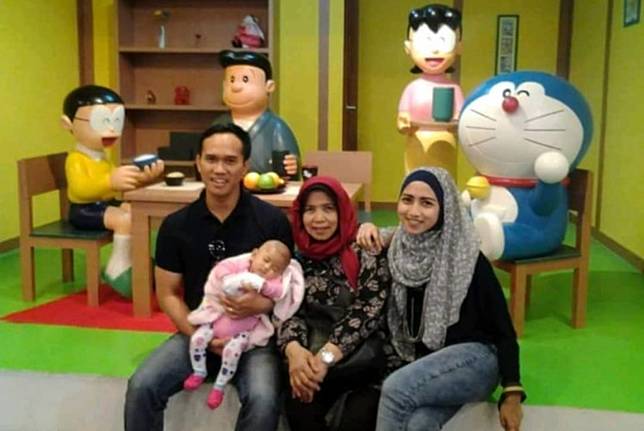 The Indonesian voice actor for the popular animated TV character Doraemon, Nurhasanah Iskandar, passed away at 3 p.m. on Sunday.
The news was confirmed by Bima Sakti, the voice of another character from the Doraemon series. 
"Her family said she suffered a stroke," Bima told kompas.com.
Nurhasanah's family announced her passing on Instagram. "Hopefully, we can all gather in heaven, laughing happily while listening to her jokes," read the post.
Indonesian netizens have been expressing their condolences. Among them was @DoraemonHariIni, a Twitter account that serves as a tribute to the Doraemon manga. "Nurhasanah was active in radio and voice acting. She was the voice of Doraemon until 2018, although she took a short break in 2006," the account posted.
Menurut kabar yang telah gencar beredar, Ibu Nurhasanah baru saja tutup usia hari ini.
Ibu Nurhasanah—semasa hidupnya giat di bidang radio dan mengisi suara—akrab dikenal dari berperan sebagai suara Doraemon dari awal tayang hingga 2018, walau sempat rehat sejenak sekitar 2006. pic.twitter.com/Ctbe41FLBI

— Doraemon Hari Ini (@DoraemonHariIni) July 12, 2020
Read also: 'Stand by Me Doraemon' takes your breath away
Another Twitter user, @AdhityaZul, created an illustration of Nurhasanah flying alongside Doraemon using the character's famous "take-copter". "Now you're free to fly in the sky with the take-copter. Rest in love," he wrote.
A Tribute…. Terimakasih sudah menemani masa kecil saya, ibu Nurhasanah. Sekarang ibu sudah terbang bebas di angkasa dengan baling baling bambu. Rest in Love 🙏🤲 pic.twitter.com/xyFBxNGEl4

— GORMA (@AdhityaZul) July 12, 2020
Violinist Danu K. Wardhana uploaded a video where he plays "Hoshi no Dokokade" (Somewhere in This Star), the ending song of the 2000 film Doraemon: Nobita and the Legend of the Sun King, which he dedicated to Nurhasanah.
Mari merunduk sejenak untuk Ibu Nurhasanah yang hari ini berpulang. Beliau ADA di lintas generasi anak muda Indonesia sebagai sosok Doraemon dari abad 22. Sungguh dedikasi yang luar biasa.
Lagu Kono Hoshi No Dokokade (Somewhere in This Star) untuk Ibu.pic.twitter.com/HaBGTFiRpF

— DANU K WARDHANA (@MrDanuKW) July 12, 2020
Originating from Japan, Doraemon is an animated series adapted from a manga of the same name by Fujiko Fujio, the pen name of duo Hiroshi Fujimoto and Motoo Abiko, who separated in 1987. The manga was published for the first time in 1970s.
According to tempo.co, Doraemon first aired in Indonesia in 1974 on TVRI Yogyakarta and later moved to the private channel RCTI in 1989.  
The voice actor of Shizuka, another main character in the Indonesian TV version of Doraemon, Prabawati Sukarta, also passed away in June. (wir/kes)