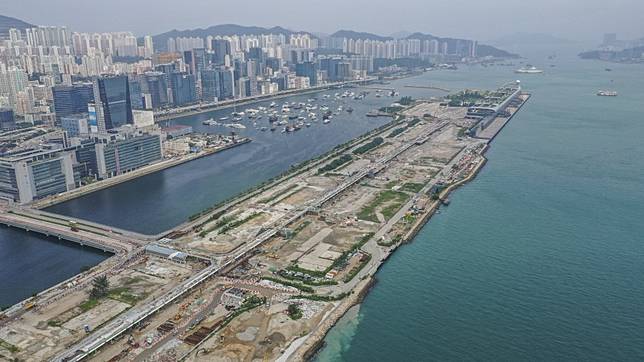 Two mainland Chinese developers bought a plot of residential land on the runway of Hong Kong's former Kai Tak airport, paying a lower-than-expected price for the oceanfront property as the city's biggest public protests in decades sapped appetite for investments amid a US-China trade war.
China Resources Land and Poly Property Group, two real estate units that belong to two of China's largest state conglomerates, won a tender for the second-biggest parcel of land that is earmarked for building homes, paying HK$12.9 billion (US$1.65 billion) for Kai Tak Area 4C Site 1, according to an announcement by the Lands Department.
The price, equivalent to HK$18,080 per square foot, was lower than the HK$14 billion expected by valuers, and about 8 per cent cheaper than the adjacent Area 4C Site 2 parcel that sold on May 7.
"Sentiments have changed recently, and developers tend to be a little cautious," said James Cheung, a surveyor at Centaline Surveyors in Hong Kong, who had cut his valuation of the parcel by 10 per cent to HK$18,000 per sq ft before the tender result was announced.
In land-scarce Hong Kong, bids for available plots are often the weather vane for the property market's direction, with Kai Tak " offering full views of Victoria Harbour and earmarked as the next central business district " at the epicentre of the trend.
Sentiments had been topsy-turvy in Hong Kong's property sector since mid May, when US President Donald Trump upped the ante on his year-long trade war with China, slapping a 25 per cent tariff on US$200 billion of Chinese imports. He is scheduled to meet Chinese President Xi Jinping in Osaka this week after their meeting at the Group of 20 economies to resolve the dispute.
The mood in Hong Kong had also been downbeat since the city erupted into massive protests on June 9, with an estimated 1 million people taking to the streets to express their opposition to a proposed law to expatriate criminals to other jurisdictions including mainland China for prosecution.
The sale of Area 4C Site 1 on the Kai Tak runway was postponed last week amid the downbeat sentiments and the heightened political volatility.
"It is a good thing that (the tender of Area4C Site 1) was not withdrawn, otherwise it will further soften the market," said Vincorn Consulting and Appraisal's managing director Vincent Cheung. "It only draw six bids and the price only met the low-end because developers now would like to wait and see how their competitors are approaching" the new political climate in the city, he said.
To underscore the concerns, Goldin Financial reneged on a HK$11.1 billion bid for a commercial plot at Kai Tak, citing "social contradiction and economic instability," and would rather forfeit a HK$25 million deposit than commit to a long-term development estimated to cost HK$18 billion.
On June 20, a Hong Kong buyer backed out of buying a HK$251.23 million luxury home in the Deep Water Bay neighbourhood, forfeiting a HK$12.56 million deposit, marking the second property default in the space of nine days
Alex Leung of CHFT Advisory & Appraisal had revised his valuation of the Kai Tak site to HK$17,000 per sq ft, from HK$20,000.
The China Resources-Poly partnership topped five Hong Kong developers, including CK Asset Holdings, Sun Hung Kai Properties, a venture between China Overseas Land & Investment and Wheelock Properties, a partnership of K. Wah International Holdings with Sino Land and Kerry Properties. The plot has 714,374 square feet of gross floor area.
Copyright (c) 2019. South China Morning Post Publishers Ltd. All rights reserved.