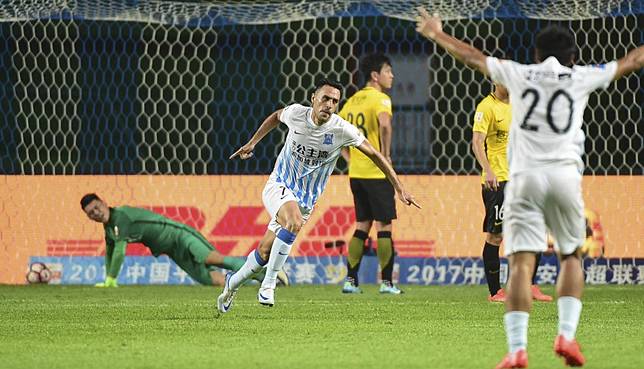 Liverpool's Roberto Firmino showed his undoubted class last weekend with a back-heel flick to set Mo Salah on his way to scoring.
It's a clip that has been viewed countless times since, distilling his skill, intelligence and awareness into a few seconds.
The goal that follows - one that put Liverpool 3-1 up against Newcastle United - has been rendered unimportant.
This is modern football.
Firmino was the viral sensation earlier in the season when he scooped the ball up over an Arsenal defender as if he was a training cone or toddler before volleying at goal.
And there was another where he was caught coming back into the tunnel against Burnley unable to stifle his laughter.
This is football now. Clips of skills, goals and snubbed handshakes that are little more than the incident itself took in real time but played on loop and from every angle.
It's why someone like Firmino, arguably the best player at the European champions and English Premier League leaders, vies for viewer attention with Alvaro Negredo scoring goals in the Arabian Gulf League with Dubai's Al-Nasr, retired Manchester United midfielder Paul Scholes playing improbable passes in Vincent Kompany's charity testimonial and an outrageous overhead kick from the Hong Kong First Division.
This global thirst for content is why more people know Eran Zahavi than last week. The leader of the Chinese Super League goal-scoring charts went viral with his late winner for Guangzhou R&F over Tianjin Tianhai in the first week of matches since the league resumed.
The reason for that was that the Israeli scored using a "rabona", kicking the ball by wrapping his striking leg around his standing leg. It is a technique made famous by Pele and the type of thing most professional players steer well clear of. To shoot with a rabona, let alone score with one, is almost unheard of, hence the former Israel captain going viral.
That he scored the winner with what was essentially the final kick of the game only added to the drama of the clip and tens of millions have seen it.
Does it matter if they know that he had scored earlier in the game to level the scores or that this was just another in his growing Venn diagram of fine finishes and decisive goals since moving to China?
Probably not, but there is a chance people might hazard to find out from seeing more of these viral clips, learning that he has scored 26 goals in 22 games this season and is on course to break China striker Elkeson's single-season record of 28 set in 2014.
While going viral is the good side of social media, there are many who find it toxic.
A video of Beijing Guoan's Cedric Bakambu being told to "go back to your own country" by an angry fan, has also done the rounds in the last week.
The supporter, speaking in English, was upset that the Congo striker missed a chance to secure all three points and let him have it. While people have debated whether what he says is racist or merely a common instruction in China for visitors who do not meet expectations, there's a growing issue between player and fans. It was not even placated by Bakambu scoring the equaliser in their 1-1 draw with Shenzhen.
Bakambu is technically the most expensive African footballer of all time and the fans are disappointed he is not matching the levels of Liverpool pair Sadio Mane and Mohamed Salah or Arsenal striker Pierre-Emerick Aubemayang. The burden of expectation from that price tag is not his fault, but the former Villarreal man has not performed well in his second season and his finishing has left a lot to be desired. That came to breaking point at the weekend and now it's out there, first on Chinese social media and then finding its way to the West.
A more successful African striker in the Chinese Super League is Odion Ighalo, but even he has fallen foul of the power of social media - albeit in a rather unusual way.
The Shanghai Shenhua man returned to action for his club last weekend after eight weeks out injured following Nigeria's African Cup of Nations campaign in the summer, in which he won the golden boot award.
While he was recovering in Spain, the former Granada and Watford man posted photos and videos of him enjoying time with his family. These posts caused "great concern to Chinese media and fans", according to a statement from Shanghai Shenhua on their Sina Weibo account and Ighalo was subsequently disciplined.
His own social media was soon filled with posts covering his rehabilitation and road to recovery.
Ighalo did not score on his return to action - his side lost 3-0 to Tianjin Teda - but with seven goals in 10 games this season he will again and is more likely to go viral for scoring than fans telling him to go home.
Whether players are hated or adored, the power of social media ensures that even in China they are never ignored.
Copyright (c) 2019. South China Morning Post Publishers Ltd. All rights reserved.