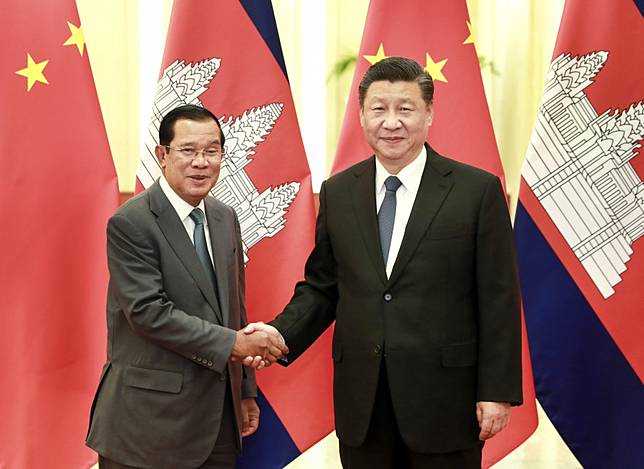 China is making good progress in containing the deadly coronavirus outbreak, President Xi Jinping said on Wednesday during his first public appearance in eight days, as he welcomed Cambodian Prime Minister Hun Sen to Beijing.
Hun Sen is the first foreign leader to visit China since the introduction of emergency measures to tackle the outbreak, which originated in December in Wuhan, the capital of Hubei province.
In footage shown by state broadcaster CCTV, Xi said China had adopted strict measures and was achieving results.
"China is confident and capable of containing the outbreak," he said, adding that the Cambodian students stuck in Wuhan would be well taken care of.
Xi also chaired a legal work conference on Wednesday, at which he said the nation's legal system had a key role to play in helping to contain the virus. It was essential, he said, that laws covering the trade in wild animals and the management of public health incidents were strictly enforced.
"Currently we are at the critical moment of controlling the epidemic," he said. "Offences jeopardising disease control, including resistance to control measures, violence towards medical staff, counterfeiting medical materials and the spreading of rumours must be severely curtailed."
Xi was last seen on January 28, when he met World Health Organisation (WHO) chief Tedros Adhanom Ghebreyesus in Beijing. Since then, state media has released instructions and orders from the head of China's Communist Party but he has not been seen out and about.
Xi chaired a meeting of the Politburo Standing Committee on January 25 - the first day of the Lunar New Year - at which a task force was set up to contain the outbreak. While the group is nominally headed by Premier Li Keqiang, Xi said he would personally direct and coordinate its efforts.
As of 8:30pm Wednesday, there had been 24,391 confirmed infections in mainland China and 492 deaths, with a single fatality reported in Hong Kong. Around the world there were 24,605 confirmed cases.
Health authorities in China have recently identified a number of patients who have become carriers and transmitters of the coronavirus despite showing no outward symptoms of infection.
Li Xingwang, an expert in infectious diseases at Beijing Ditan Hospital, said most of the "dormant" carriers were related to and had caught the virus from patients with symptoms.
Meanwhile, a newborn baby in Wuhan whose mother was infected with the coronavirus also tested positive just 30 hours after birth, raising concerns the infection might have been contracted in the womb.
In more positive news, the Wuhan Institute of Virology has applied for a patent on an experimental drug it hopes could be used to treat the coronavirus.
The application, which relates to the use of Remdesivir - an antiviral drug developed by American biotechnology company Gilead Sciences - was filed on January 21, the company said in an online statement.
The drug has not been approved or licensed for use anywhere in the world, but has been rushed into trials in China after showing positive results when given to coronavirus patients.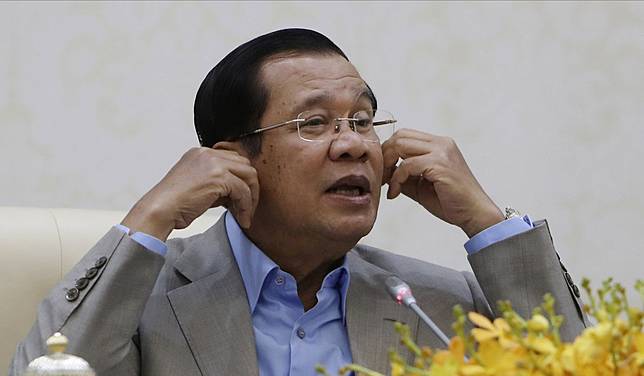 Hun Sen's visit to China came at short notice after the Cambodian leader said on Facebook on Tuesday that he would like to visit Wuhan - on his way back from a summit in the South Korean capital, Seoul - so he could meet the Cambodian citizens unable to leave the city, which has been in lockdown since January 23.
Chinese officials, however, advised against such a trip and a visit to Beijing was agreed as an alternative.
"My sudden decision to visit China at this special time is to show the great support to the Chinese government and people from the Cambodian government and people," Hun Sen told Xi when they met.
The Cambodian leader also met Li during his brief stay.
Hun Sen's Facebook post came after he was criticised by the Cambodian media for not arranging the evacuation of about two dozen Cambodians from Wuhan.
Several countries, including the United States and Australia, have banned people who have recently visited China from entering their territories, a move Beijing described as an "excessive reaction" to the WHO's suggested measures.
As a close ally to China, Hun Sen criticised "some countries" that had imposed "extreme restrictions", though he did not name any.
Cambodia, which has reported just one confirmed coronavirus case, would maintain proper exchanges with China, he said.
Sign up now for our 50% early bird offer from SCMP Research: China AI Report. The all new SCMP China AI Report gives you exclusive first-hand insights and analysis into the latest industry developments, and actionable and objective intelligence about China AI that you should be equipped with.
Copyright (c) 2020. South China Morning Post Publishers Ltd. All rights reserved.