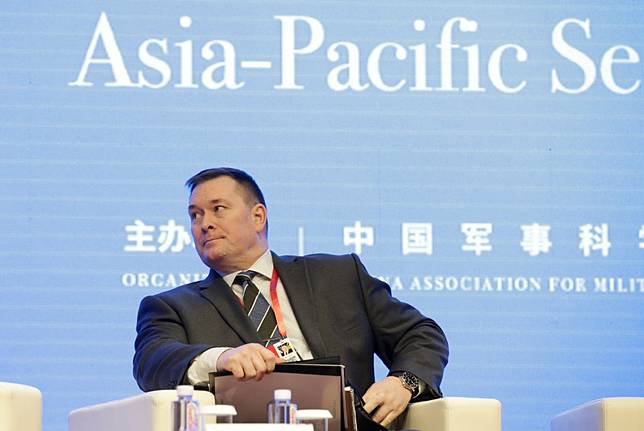 China's military rise does not make it a competitor to the United States and the door to America's Indo-Pacific strategy remains open to Beijing, a Pentagon official said at a regional security forum in the Chinese capital.
"A rising power doesn't mean inherently a contest," said Chad Sbragia, deputy assistant secretary of defence for China - a newly created position within the US Defence Department.
"If the United States' assumption was something different, you would see a different approach from us," the retired Marine Corps officer and seasoned China expert said at the Xiangshan Forum, which ended on Tuesday.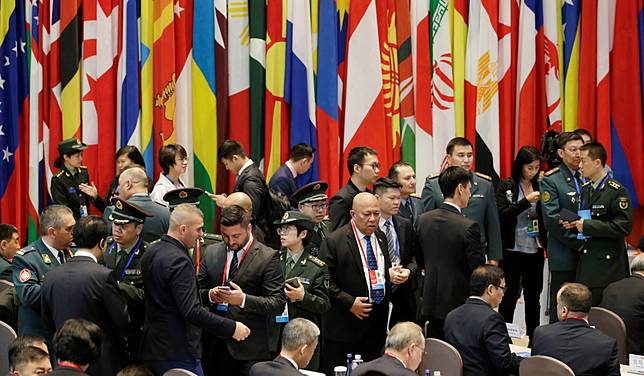 Sbragia was the highest-ranking US official to attend the regional security event, which was hosted by the People's Liberation Army (PLA) and considered by Beijing as equivalent to the Shangri-La Dialogue in Singapore.
The US Indo-Pacific strategy, which is widely perceived as a measure to contain China's rise and counter its Belt and Road Initiative, was inclusive and open to Chinese participation, Sbragia said in a speech on Monday.
"Our approach to the Indo-Pacific is that it includes China. China is a member of the Indo-Pacific. It helps us to define the rules and principles," he said.
Sbragia dismissed suggestions that Washington was pushing for an economic or other "decoupling" of the world's two biggest economies, saying both nations and Presidents Donald Trump and Xi Jinping were working to enhance and deepen relations.
"That's just the opposite of decoupling," he said.
Despite that, Sbragia made a veiled criticism of Beijing's activities in the South China Sea, saying they infringed American principles and rules.
"You can't tell the United Nations that you support the UN principles on one hand, and on the other not adhere to it. Those do matter to us," he said.
Other forum delegates, on both sides of the debate, were less diplomatic in their respective criticisms.
Melanie Hart, a senior fellow and director of China policy at the Centre for American Progress, a liberal think tank in Washington, said that the tension and mistrust between the two countries existed because of their different ideologies, the lack of transparency regarding China's military modernisation, and Beijing's ambition to export its governance model.
That, she said, "would directly threaten American's core national interests".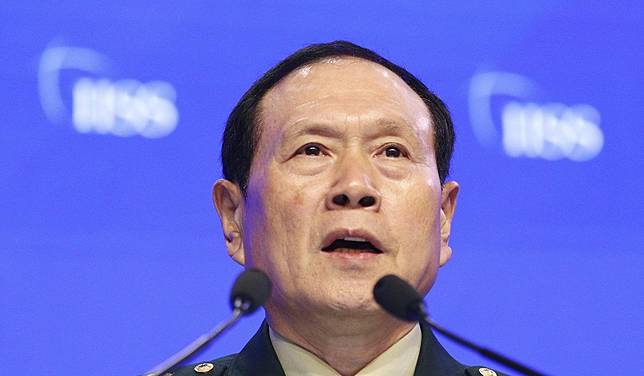 In his opening speech on Monday, China's Defence Minister Wei Fenghe accused "external powers" of interfering in others' internal affairs and instigating colour revolution, in a thinly concealed attack on the US.
But his comments were less barbed than those he made at last year's event, when he criticised US Vice-President Mike Pence for his anti-China "bamboo curtain" speech made earlier in 2018, and warned the US not to challenge Beijing's bottom line on issues such as Taiwan and the South China Sea.
Russia's Defence Minister Sergei Shoigu used part of his speech on Monday to attack Washington over its withdrawal from the Intermediate-Range Nuclear Forces Treaty, according to Alexander Neill, a senior fellow for Asia-Pacific security at the International Institute for Strategic Studies in Singapore.
"China and Russia have come to complement each other," he said.
"A few years ago, China accused Japan and the US of teaming up to point the finger (at it), and today the Americans could say the same thing."
Additional reporting by Minnie Chan
Copyright (c) 2019. South China Morning Post Publishers Ltd. All rights reserved.