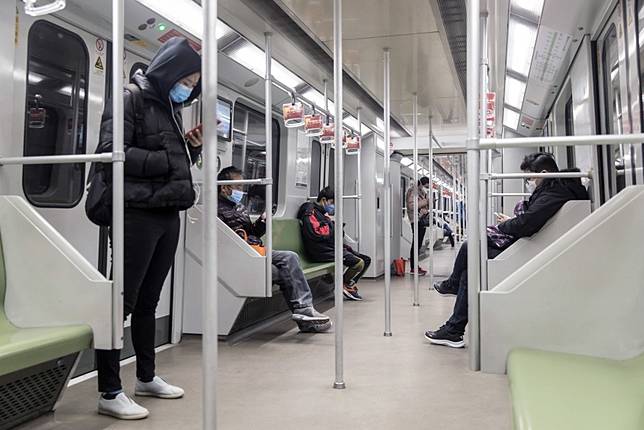 Shenzhen, a hi-tech manufacturing hub on China's southern border, was on heightened alert on Monday as hundreds of thousands of workers returned to their jobs after the extended Lunar New Year holiday.
Although the city is almost 1,000km (600 miles) away from Wuhan, where the deadly coronavirus outbreak began two months ago, the sheer number of people on the move over the period has raised fears that the disease, which has infected more than 40,000 people and killed over 300, would spread further.
However, the latest figures published by the World Health Organisation on Monday suggested that the number of new infections recorded was starting to slow.
According to the WHO statistics, the rate of increase stayed at a high level in late January but has now fallen to below 20 per cent.
The slowdown has raised hope that the spread of the virus may enter a new phase as spring arrives.
Huang Xiaoxian, who works for a Chinese finance company, travelled over 300km from Shaoguan, a city in northern Guangdong on Sunday, to return to Shenzhen.
She had to endure almost an hour's wait to register and have her temperature taken to enter the city, which lies across the border from Hong Kong.
And once she arrived, she was told by her company to "self-quarantine" for two weeks at home before she could return to her office.
While Huang has the luxury of working from home, most workers in Shenzhen - one of China's rising hi-tech centres and home to international big names like Foxconn and BYD - had to travel back to the city after the holiday, often over long distances, and face the risk of mandatory quarantine.
Apple supplier Foxconn Technology Group issued a statement saying that its factories in China were "resuming work in an orderly fashion according to local governments' guidelines". It is estimated that Foxconn employs roughly 200,000 people in Shenzhen.
"We strictly follow all the rules and regulations in all of our factories when resuming work and will hold employees' safety as the highest principle," it said.
Highlighting the precautionary measures it has taken, BYD, China's leading electric vehicle maker, announced on Weibo on Saturday that it had taken the unusual step of starting to produce face masks and hand sanitisers and aimed to start mass production by the end of the week.
Last week, the Shenzhen government announced that all businesses must apply for permission before they resumed work after the holiday break, and district offices would make sure all companies were equipped with the necessary prevention and sanitation facilities.
Businesses are required to record employees' health information every day, ensure staff wear masks, keep all surfaces clean, ventilate the premises and set up a quarantine room for suspected cases. Companies are also expected to educate employees on health and hygiene, advising them to avoid overcrowded public transport, wash hands frequently and dine separately.
As of Saturday, Yuehai district, where most hi-tech companies including Tencent and drone maker DJI are located, had received more than 6,800 applications from businesses, according to a report in the Southern Metropolis Daily.
But not all companies that resumed work were well prepared.
A staff member who worked for a Shenzhen-based labour rights NGO said that in one small factory, although the employees were told to wear masks, disinfectant was sprayed in the workshop and dormitories just once a day.
"The employees were assigned to a different dormitory for quarantine, but they still work in the same workshop," she said. "They are not allowed to sit close to each other and must keep a seat between each other but they don't have enough masks. Last week, each worker was only given two masks and there were no new supplies any more."
Shanghai also struggled to find a balance between welcoming the return of workers and curbing the spread of the virus.
Sun Qiuju, who works as a household maid and cooks for a flower market in Shanghai, said she had given up on returning to the city because she did not want to follow rules requiring her to spend two weeks in self-quarantine.
She was told on Saturday that the flat where she used to stay along with other migrant workers in Shanghai was already full, leaving her with two choices - stay in a government-designated centre for isolation or return to her home in Jiangsu province.
"I don't want to go to the isolation centre. They are in remote areas and I have to go there by myself," she said. "Many people like me don't want to stay there. People were joking that those centres would make healthy people sick after staying there for 14 days either because of boredom or infection."
According to Shanghai's regulations issued at the end of last month, people who have been in Hubei, the province where the outbreak began, in the last 14 days must stay at home for a further two weeks once they return to the city.
In practice, many grass-roots community officials have taken blanket control over the returnees and require them to self-quarantine regardless whether they have been to Hubei or not.
Such measures have caused many migrant workers to have second thoughts about returning to work even though the Lunar New Year holiday was officially over.
Sun said she found many people in her village were staying there rather than going back to work in big cities.
"Even if they go to Shanghai or other cities, they find that there is no work for them," she said.
Wang Bin, a restaurant manager in Jingan district, said he was not allowed to let people eat on the premises and could only offer deliveries.
He said his five employees were ready to work because they had not left Shanghai during the holiday.
"My business is located near Jingan Temple and is surrounded by a lot of class A office buildings. As far as I know, a majority of white-collar workers here won't go to their offices to work today," Wang said.
Economic activities in China have not completely ground to a halt even during the extended holiday period.
Utility companies and priority industries, such as those making daily necessities and hi-tech goods, secured government approval to continue running, albeit with heightened sanitation requirements.
Manufacturers with automated assembly queues were also able to continue running, said Imogen Page-Jarrett, a research analyst at the Economist Intelligence Unit.
"In regions that return to work today, businesses will not immediately return to full levels of output. Those which serve the domestic market will also be reducing production in response to lower projected demand.
"Smaller companies are at high risk of going out of business soon, as they are unable to continue rent and wage payments alongside reduced revenues," she said.
She said that lack of staff would continue to be an issue, as migrant workers were yet to return to large cities, owing to quarantine restrictions preventing them from leaving their hometowns, and out of fear of infection.
Iris Pang, an economist for Greater China at ING, said factories were facing a "difficult moment", with orders waiting after the Lunar New Year and factory operators needing protective supplies to keep their workers safe.
"They should also worry that if there is an outbreak in their factory, then the factory will be under quarantine," she said.
Pang also warned that shortages of protective supplies could hit production capacity. "This of course will hurt Chinese GDP growth," she said. "But this also hurts global supply chains as some foreign factories depend on Chinese parts to produce their parts or products."
Pang said she expected the government would take further fiscal and monetary easing measures until there were no new confirmed cases of the coronavirus.
Additional reporting by Sarah Zheng
Sign up now for our 50% early bird offer from SCMP Research: China AI Report. The all new SCMP China AI Report gives you exclusive first-hand insights and analysis into the latest industry developments, and actionable and objective intelligence about China AI that you should be equipped with.
Copyright (c) 2020. South China Morning Post Publishers Ltd. All rights reserved.