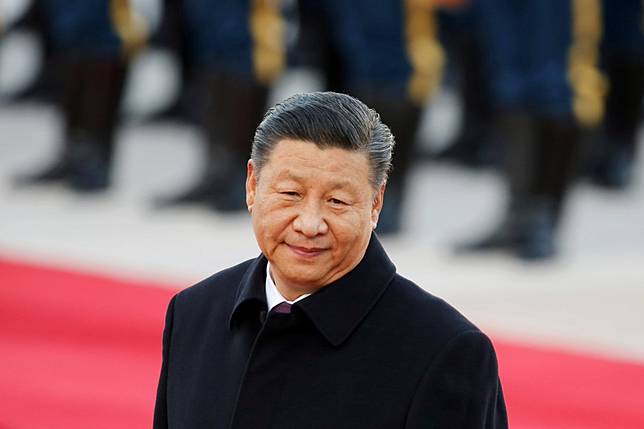 China's growing economic strength is seen by most people as positive, but the country's rise as a global superpower is not making it popular with neighbours in the Asia-Pacific, a survey released on Thursday showed.
The survey of nearly 39,000 people in 34 countries by the Pew Research Centre also showed the world had an overwhelmingly negative view of Chinese President Xi Jinping.
Over the past 70 years, China has transformed from an economic backwater to the world's second largest economy and major source of foreign investment.
Some 58 per cent of people across 16 countries recognised China's strong economy as mutually beneficial, while 52 per cent said they see Chinese investment as positive, according to the survey.
China's economic influence is also perceived as favourable, or slightly more favourable, than that of the US across a median of 17 countries.
However, China's growing economic clout has not won it friends in all corners of the globe.
Emerging markets look at China's economic power most favourably, but its neighbours in the Asia-Pacific take a much more negative stance.
The Pew survey highlighted that positive evaluations of China declined in the Philippines, Australia, Indonesia, India, South Korea and Japan between 2002 and 2019, driven by wariness of China's economic influence and its increasing military muscle.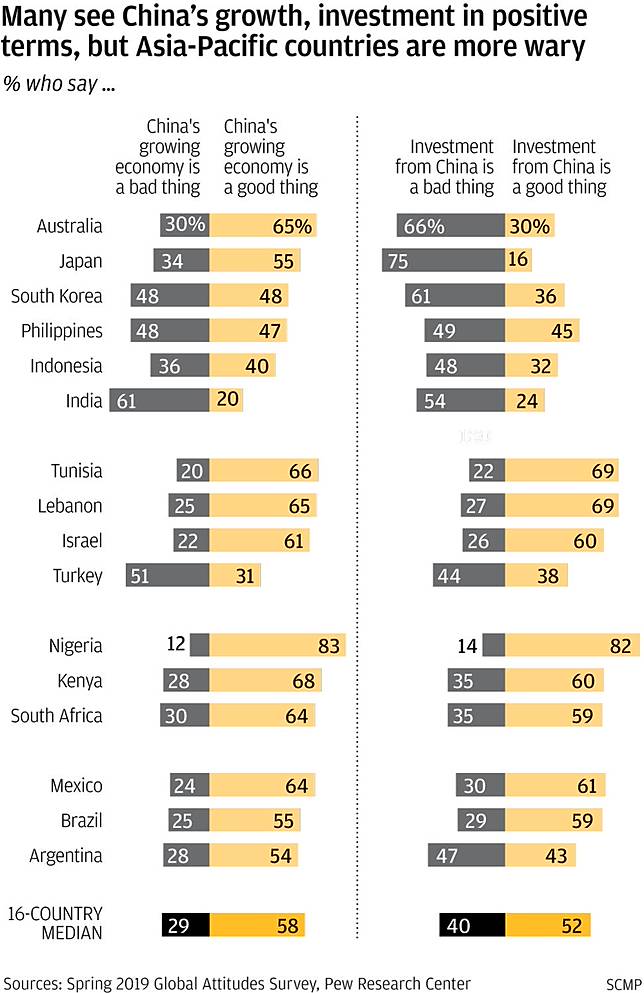 The six countries are all sceptical of Chinese investment in their country, with half or more of respondents in each saying it is a bad thing because it gives Beijing too much influence. Seventy-five per cent of Japanese viewed Chinese investment as bad, followed by Australia, where 60 per cent viewed it negatively.
However, majorities in Australia and Japan thought that China's strong economy was mutually beneficial.
A median of 79 per cent of people across the six countries saw China's military strength as a bad thing, including nine in 10 in Japan and South Korea. All of the six countries named the US as a more dependable ally.
Views of China's leader, Xi, were equally dire, with only 29 per cent of respondents saying they trust him to do the right thing. Mistrust was greatest in the Asia-Pacific, North America and western Europe and tended to track slightly higher in Middle Eastern and sub-Saharan African countries.
Overall, people's views of China were mixed, with a median of 40 per cent holding positive views and 41 per cent negative.
Negative views of China have increased sharply in Canada and the US since 2005, by 22 percentage points and 13 percentage points, respectively. Both countries are locked in diplomatic disputes with Beijing.
Relations between China and Canada have hit an all-time low over the past year, after Canada arrested Meng Wanzhou, the chief financial officer of Chinese telecoms giant Huawei, last December.
Meng was arrested at the request of US authorities who are seeking her extradition to face charges of bank fraud. China has repeatedly called for her release and arrested two Canadian nationals soon after her detention.
Meanwhile, China and the US have been embroiled in an 18-month trade war that has seen each country slap billions of dollars worth of tariffs on the other's goods.
Unfavourable views of China were highest in developed countries, according to the Pew Centre.
"The relationship between GDP (gross domestic product) per capita and unfavourable views of China may be due in part to the relative political freedoms in these countries, as views of China are also closely related to citizens' enjoyment of their rights," the survey said.
The survey also found that countries that receive more exports from China tend to have more negative views of it, though that is also strongly associated with their GDP per capita.
Conversely, countries with higher rates of perceived corruption viewed China more favourably.
More countries regard the US as the most reliable ally, but both powers are seen as a threat, though in different regions.
The relationship between GDP (gross domestic product) per capita and unfavourable views of China may be due in part to the relative political freedoms in these countries, as views of China are also closely related to citizens' enjoyment of their rightsPew Research Centre
America is viewed as more threatening by most respondents in Latin American as well as the Middle East and North Africa, while China is a greater cause for concern in the Asia-Pacfic. China's growing military might was viewed as negative by 58 per cent of people across 18 countries.
On average, more people prefer stronger economic ties with the US than China, but that depended on perceptions of economic power. Despite its rapid economic ascent, the survey showed that the United States is still regarded as the world's top economy.
"Those with favourable views of China are more likely to choose strong economic ties with China in most countries," the Pew report said. "Favourable views of Chinese investment and China's growing military power are also tied to a preference for ties with China."
Copyright (c) 2019. South China Morning Post Publishers Ltd. All rights reserved.