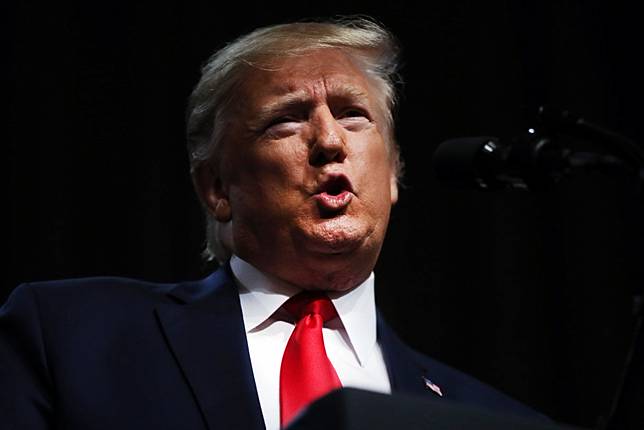 Chinese officials and state-run media were silent this week even after US President Donald Trump threatened for the second time in a week to "raise the tariffs even higher" on Chinese imports if a trade deal cannot be reached, casting further uncertainty on the "phase one" trade agreement he announced in October.
Reaction from China's media has been muted over the past week after Trump's most recent threats to escalate the 17-month trade war, which has seen Washington and Beijing slap billions of dollars of tariffs on each other's goods.
The silence has contrasted with American officials who have been vocal in recent days on the outlook for completion of the "phase one" trade deal announced by the president more than a month ago.
"China is going to have to make a deal that I like. If they don't, that's it," Trump told reporters on Tuesday. "If we don't make a deal with China, I'll just raise the tariffs even higher."
China is going to have to make a deal that I like … If we don't make a deal with China, I'll just raise the tariffs even higherDonald Trump
US Commerce Secretary Wilbur Ross was more measured in his comments, saying that the White House remains "optimistic" that an agreement can be reached.
Ross told the Fox Business Network on Tuesday that the success of a phase one deal depended on "fine-tuning" the agreement's details, though he reiterated Trump's stance that the US would be fine if a deal could not be struck because the tariff war has so far had limited impact on the economy.
"I think they (Chinese) realised that he means what he says and he says what he means," Ross said. "The question is getting into details and getting into the fine-tuning because that's the only way you really find out whether you have a deal or you don't."
Ross also said that a Chinese promise to purchase up to US$50 billion worth of American agricultural products annually could still be included in the final deal, even though the figure is nearly 40 per cent of China's total agricultural imports, which were worth US$136.7 billion last year.
"I think it's very hard to prejudge while it's still a work in progress," Ross said. "If our negotiators felt there was no hope, they would have stopped. So clearly we think there is some hope. We are optimistic that we can get something done."
I think it's very hard to prejudge while it's still a work in progress. If our negotiators felt there was no hope, they would have stoppedWilbur Ross
US Treasury Secretary Steven Mnuchin said on Monday that he still expects a deal to be reached, but he also anticipated an additional 15 per cent tariff to be placed on about US$156 billion of Chinese imports on December 15 if there is no agreement.
"I have every expectation if there's not a deal, those tariffs would go in place. But I expect we'll have a deal," Mnuchin told US television network CNBC.
Mnuchin, along with US trade representative Robert Lighthizer, held a conference call with Chinese Vice-Premier Liu He, the country's top trade negotiator, on Saturday to try to advance negotiations. State news agency Xinhua gave only a very brief description of the talks as "constructive", adding only that the two sides discussed core issues for the phase one trade deal and agreed to maintain close communication.
The talks are focused on reconciling Beijing's demand for a substantial reduction in existing tariffs with Washington's demand for further concessions on intellectual property protection and the prevention of forced technology transfer. The White House is still debating how much tariffs should be rolled back in the initial phase of a broader trade agreement, according to Bloomberg.
Earlier this month, the Chinese Ministry of Commerce said the two countries have agreed to remove additional tariffs in phases once their leaders signed an interim deal. But a day later Trump said he had not agreed to such a plan.
Last Thursday, chief White House economic adviser Larry Kudlow was upbeat about a deal, saying negotiators were putting "the final strokes" on the agreement. A day later he said that ministers, rather than Trump and Chinese President Xi Jinping, could sign any trade agreement.
"As the US approaches its holiday season, it appears unlikely that US and Chinese negotiators have the time to plan a Trump-Xi meeting in a neutral location in December, meaning there is a good chance the phase one deal is not signed until January, even if the two sides are able to get a handshake agreement at the ministerial level done before then," independent research firm Beacon Policy Advisors said in a note.
"Even if the meeting were moved to January, there is no guarantee Xi would be willing to travel to the United States for a public signing of an agreement without some extra concessions from Trump in return."
Copyright (c) 2019. South China Morning Post Publishers Ltd. All rights reserved.