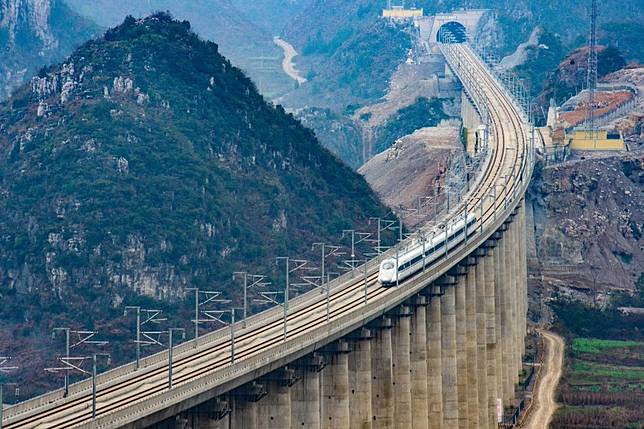 The Chinese government has doubled the value of large-scale infrastructure projects it has approved so far this year compared to last year, as it steps up efforts to steady the flagging economy amid a bruising trade war with the United States.
The National Development and Reform Commission (NDRC) has approved 21 projects, worth at least 764.3 billion yuan (US$107.8 billion), according to South China Morning Post calculations based on the state planner's approval statements released between January and October this year.
The amount is more than double the size of last year's 374.3 billion yuan (US$52.8 billion) in approvals recorded over the same period, which included 11 projects such as railways, roads and airports.
Three of the infrastructure projects approved by the NDRC have price tags over 100 billion yuan (US$14 billion), including the most expensive on the list - a new high-speed railway network linking Chongqing and Kunming in southwest China, worth a total of 141.6 billion yuan (US$19.9 billion). Sichuan province has been given the green light to spend 131.8 billion yuan (US$18.4 billion) to build a new airport, while Zhengzhou, the capital of Henan province, will be allowed to spend 113.9 billion yuan (US$16 billion) to continue with the third phase of its urban rail transit network.
Actual spending on these projects will play out over a number of years, but the acceleration in approvals makes clear that infrastructure investment will rise, perhaps dramatically, in the next several years, helping to boost growth.
That increase in spending appears to already be underway. Actual infrastructure investment accelerated to 4.5 per cent in the first nine months of this year, up from 4.2 year on year in the first eight months, the National Bureau of Statistics data announced on Friday.
The state planning commission has also accelerated the approval of new coal mines, with 17 given the green light in the regions of Inner Mongolia, Xinjiang, Shanxi and Shaanxi between January and October, despite China's pledge to curb reliance on coal-fired plants to reduce greenhouse gas emission and pollution. Total investment for the projects was valued at 91.12 billion yuan (US$12.8 billion).
By comparison, the NDRC approved just seven new mines with a total investment value of 32.71 billion yuan (US$4.6 billion) over the same period last year.
China, the world's number one steel producer, has said it would lay off millions of workers in the coal and steel sectors in a bid to reduce industrial overcapacity. However, coal mining and steel making were among the heavy industries that contributed to about 40 per cent of China's economy in 2018.
Local governments have been under increasing pressure from Beijing to support the economy, but they have less budget room due to lower tax revenues after the central government over the past year ordered individual and business tax cuts.
To fill the gap, Beijing has allowing local governments to sell more special purpose bonds, whose proceeds can only be used to fund infrastructure projects. At the beginning of this year, the Ministry of Finance raised the quota for special bonds to 2.15 trillion (US$302 billion) from 1.35 trillion (US$190 billion) last year. And when local governments came close to exhausting their annual quota set this autumn, the central government brought forward a portion of their 2020 quota so they could continue to raise funding for new projects.
Still, the impact on overall growth so far has only been marginal. Macquarie Capital estimated that infrastructure spending growth only rose three per cent year on year in the second quarter of 2019.
Analysts believe China would continue to push for infrastructure spending in the future, even though its impact on growth is limited.
Nathan Chow, senior economist for China and Hong Kong at DBS Bank, believes the infrastructure spending taking place over the past few months is likely to trigger a rebound of economic growth next year. But the outlook remains uncertain as both the US and China have yet to reach a deal to end the tit-for-tat trade war which has hurt business confidence.
"Infrastructure spending is the most direct and efficient way to stabilise economic growth," said Chow, adding that state firms often receive loans from state banks to spend on projects. "On the contrary, tax reduction is more passive (in terms of boosting growth), as businesses or individuals may not spend more just because they are paying less tax."
Copyright (c) 2019. South China Morning Post Publishers Ltd. All rights reserved.