Hong Kong will drastically reduce cross-border travel with mainland China in a bid to contain the spread of the deadly Wuhan coronavirus, starting with the shutdown of the two railways and denying entry to individual mainland travellers.
Flights from and to mainland China will be cut by half and cross-border tour buses will also be reduced, Chief Executive Carrie Lam Cheng Yuet-ngor announced in a press conference as she listed the containment strategy that stopped short of a total shutdown demanded by legislators from across the political spectrum.
Beijing has agreed to stop issuing individual travel visas for mainlanders, who account for half of all such mainland arrivals into the city. The measures will be effective midnight on Thursday.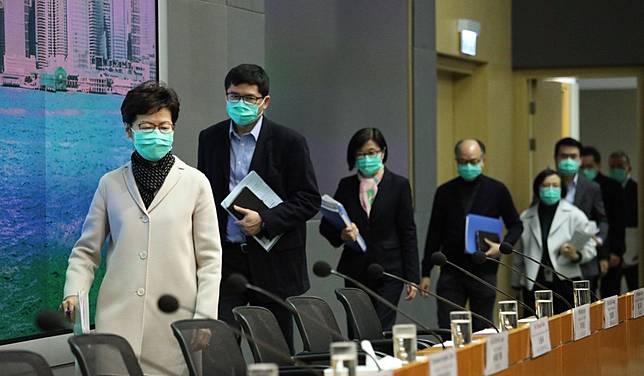 In her second press conference on measures to cope with the infection that has claimed more than 100 lives on the mainland, Lam, wearing a mask, said on Tuesday that the through train services between Hung Hom and Guangzhou would be suspended, while the Man Kan To and Sha Tau Kok checkpoints would also be closed.
Lam said unity was needed as Hong Kong fought the coronavirus.
"It is very regrettable that many rumours have been spread on the internet. This misinformation will eventually hurt society," she lamented.
"One of the examples is that I would use Hong Kong's resources to help China to fight the virus. This is ridiculous … I strongly condemn people who spread such rumours."
Lam also said there were seven measures.
"The flow of people between the two places needs to be drastically reduced," she said, adding that Hong Kong residents accounted for 67 per cent of the users of all border checkpoints, while mainland Chinese only accounted for 26 per cent.
Chinese authorities on Tuesday confirmed the death toll from the coronavirus outbreak had soared to more than 100 with almost 1,800 new cases. The total number of cases on the mainland has now climbed to more than 4,500.
The latest statistics showed 1.92 million mainland visitors arrived in the city in November, accounting for 72.8 per cent of the total number. In the first 11 months, the number of mainland visitors to Hong Kong stood at 41.3 million - down 9.9 per cent on the same period last year - and accounting for 78.3 per cent of the total.
Among the seven new measures, the government will impose health checks and temperature screening on travellers departing the city from all ports, including the airport. Mainland authorities had earlier instituted the same measure for those leaving from their border terminals.
Amid a backlash over the government's previous decision to waive fees for quarantined non-locals with coronavirus infection, Lam reversed her position and announced the government would charge the patients the full medical cost.
Lam was also forced to drop a plan to use the new Fai Ming estate, which consists of two empty public housing blocks, in Fanling as a quarantine site for coronavirus patients after dozens of protesters and angry residents clashed with police and set buildings ablaze with petrol bombs over the scheme on Sunday.
She also pledged that other newly built public blocks would not be used for quarantine, but the government would turn some holiday villages and resorts into isolation sites.
The city's leader admitted the government did not have an accurate grasp of the number of Hubei residents in Hong Kong, but promised to set up an outreach exercise to trace and get in touch with them by contacting local hotels and universities.
Lam said the government had been approached by about 200 Hongkongers still in Hubei - none of them students - who were unable to leave the province due to the lockdown and suspension of public transport there. She said the government was in talks with mainland officials to find a "safe and feasible" way to bring them home.
Earlier on Tuesday, the medical faculty of Chinese University joined fellow academics from the University of Hong Kong to call for "more steps" to broaden the scope of a border closure, after eight cases of the viral infection were confirmed in Hong Kong by Monday.
Lam had hosted a press conference on Sunday, banning all residents of Hubei province, where the virus epicentre Wuhan is located, from entering Hong Kong until further notice.
Public facilities including museums and sport centres are also closed, while civil servants have been asked to work from home.
But critics said without closing the border, or banning mainland Chinese residents from other provinces from entering the city, it would be impossible to stop the spread of the coronavirus.
Among the officials at Tuesday's press conference were transport chief Frank Chan Fan, security secretary John Lee Ka-chiu, health chief Sophia Chan Siu-chee, commerce minister Edward Yau Tang-wah, immigration director Erick Tsang Kwok-wai and customs commissioner Hermes Tang Yi-hoi.
Director of Health Constance Chan Hon-yee and Hospital Authority chief executive Dr Tony Ko Pat-sing were also present.
More to follow …
Copyright (c) 2020. South China Morning Post Publishers Ltd. All rights reserved.