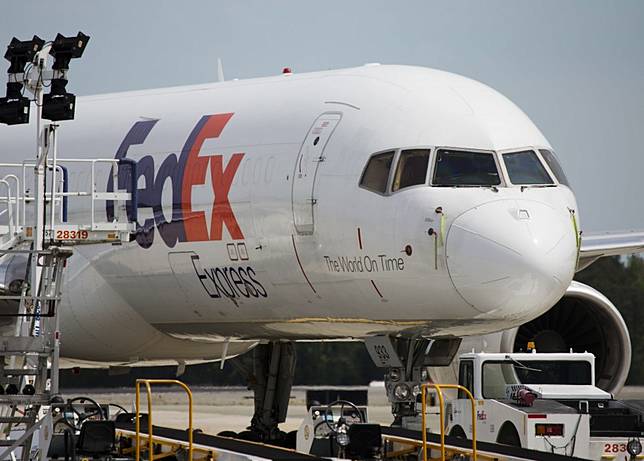 China's foreign ministry confirmed on Friday that an American pilot employed by US courier company FedEx was detained in the southern Chinese city of Guangzhou last week on suspicion of smuggling ammunition.
The pilot was detained on September 12 at Guangzhou Baiyun International Airport on his way to Hong Kong after customs authorities found a box of 681 air-gun pellets in his luggage, the ministry said. He was later released on bail.
Ministry spokesman Geng Shuang said the pilot entered China through Guangzhou on a FedEx cargo plane on September 11, and was released pending an investigation.
The US consulate had been informed of the case, Geng said.
Under Chinese law, suspects released on bail cannot leave the city without permission. Authorities can also seize the person's passport and limit their activities and communications.
The Wall Street Journal, which first reported on the case, identified the pilot as former US Air Force colonel Todd Hohn, a resident of Hong Kong.
According to the report, Hohn was detained while waiting in an executive lounge to board a flight with Cathay Dragon, a subsidiary of Hong Kong's embattled flagship airline Cathay Pacific Airways.
Hohn was told that he could not leave mainland China until the investigation concluded, the report said.
In a statement, FedEx confirmed that one of its pilots was detained and later released on bail after "an item was found in his luggage before a commercial flight".
"We are working with the appropriate authorities to gain a better understanding of the facts," the company said.
FedEx has found itself in Beijing's cross hairs in recent months as the US-China trade war has escalated. The two sides resumed face-to-face talks in Washington on Thursday for the first time in nearly two months.
In May, the company was accused of knowingly shipping packages meant for technology firm Huawei in China to the United States, only days after Huawei was put on a US government blacklist banning American firms from selling products to the telecommunications giant.
FedEx apologised on its Chinese social media account for the "mis-transportation" of the packages, saying they were diverted in error.
But Ma Junsheng, head of China's State Post Bureau, said at the start of June that the government had launched a formal investigation.
In August, FedEx was accused of allowing a gun to be shipped from the US to a Chinese sportswear company in Fujian province. FedEx said it discovered the gun and turned it over to local authorities.
Then earlier this month, state news agency Xinhua said regulators were investigating FedEx for trying to ship controlled knives to Hong Kong. The firm denied the accusation, saying the shipment in question "was handled correctly via standard security protocol".
China is expected to soon launch its first "unreliable entity list" of foreign firms sanctioned by Beijing for engaging in illegal activities or in non-commercial activities that harm Chinese companies. Some Chinese state media outlets have said that FedEx could be put on the list.
Copyright (c) 2019. South China Morning Post Publishers Ltd. All rights reserved.