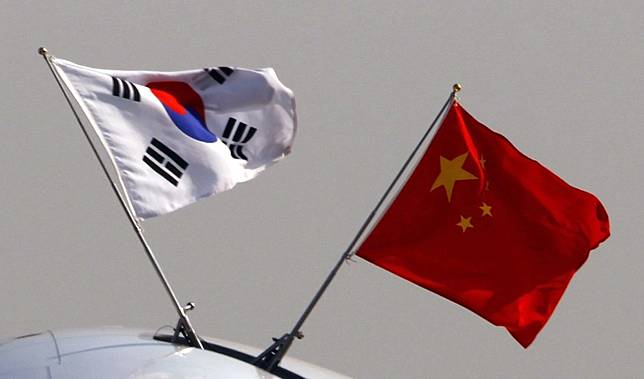 China and South Korea agreed on Monday to make a joint effort to denuclearise the Korean Peninsula as they resumed bilateral high-level defence talks - suspended since 2014 when tensions emerged over Seoul's plans to allow deployment of a US anti-missile system, Yonhap News Agency said.
Lieutenant General Shao Yuanming, deputy chief of the Joint Staff Department of the Central Military Commission, met South Korean defence vice-minister Park Jae-min in Beijing and both sides agreed to deepen bilateral ties, Yonhap said.
The dialogue took place on the sidelines of the Xiangshan Forum, a three-day gathering on Asia-Pacific security and defence which started on Sunday.
The defence ministry in Seoul said the two countries shared the view that "China's constructive role, along with South Korea's efforts, is crucial for the complete denuclearisation of the Korean peninsula and the establishment of a permanent peace", Yonhap reported.
"For peace and stability in Northeast Asia, the two sides need to strengthen their strategic communication," it said, citing a release by the South Korean defence ministry.
It added that both sides agreed to push for the high-level visits to each other's country by defence ministers and to set up more hotlines between their air forces and navies.
Relations between China and South Korea were strained by Seoul's decision to host American Terminal High-Altitude Area Defence system (THAAD) but ties have warmed as both countries have pushed back against pressure from the US.
Washington and Seoul are at odds over a cost-sharing agreement for the US military, with US President Donald Trump demanding South Korea contribute more for the presence of US forces.
Hwang Jae-ho, director of the Global Security Cooperation Centre at Hankuk University of Foreign Studies in Seoul, said the meetings, formally known as the China-South Korea vice-ministerial strategic defence dialogue, resumed mainly because the countries now had more mutual interests.
"Now China has to make more friends in the international community as its ties with the United States have gone bad, and South Korea is looking for China to help rein in Pyongyang. At a time like this, it's inevitable for the two countries to want to move closer," Hwang said.
The deployment of THAAD, a proposed military hotline, and South Korea's air defence identification zone were expected to be high on the agenda.
First held in 2011, the defence dialogue was hosted alternately by Seoul and Beijing. It was suspended in 2015 when South Korea, then under president Park Geun-hye, said it was considering THAAD as a deterrent against North Korea's nuclear ambitions.
Beijing disapproved and said China was the real target. Each country then placed unofficial economic and cultural bans on the other. These included Chinese sanctions against South Korea's Lotte supermarket chain and a ban on TV airtime for South Korean bands.
Tensions began to slowly ease after November 2017, when the two countries said they had decided to set aside their differences and advance their strategic partnership. Seoul also promised not to host additional THAAD missiles nor join a US-led missile defence system that involved Japan.
Additional reporting by Kristin Huang
Copyright (c) 2019. South China Morning Post Publishers Ltd. All rights reserved.