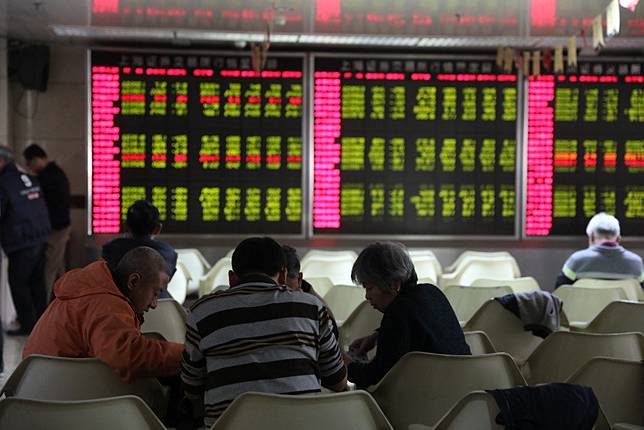 Leading China and Hong Kong benchmarks all declined to multiple-week lows Thursday, amid concerns about US dollar strength and Beijing signals that it will withhold further economic stimulus.
The Hang Seng Index posted losses for the fifth straight trading day, falling 0.86 per cent to close at a four-week low. It ended down 0.9 per cent to 29,549.80.
The Shanghai Composite Index closed down 2.4 per cent, or 77.8 points to 3,123.83, its largest decline in almost seven weeks. In Shenzhen, the ChiNext Index of technology stocks listed also closed down 2.8 per cent, or 48.87 points, to 1,669.98.
Their declines have come amid net outflows from Chinese stocks recorded through the Hong Kong stock connect three days in a row. On Wednesday, which was the latest data available from the Hong Kong stock exchange, a net outflow of 3.525 billion yuan was recorded from both Shanghai and Shenzhen northbound, meaning selling interests of Shanghai and Shenzhen listed-stocks outweigh those of buying.
Is 5G the 'next big thing' for investors?
Ben Kwong, an executive director at KGI Asia, said that the strengthening of the US dollar has traditionally been unfavourable to emerging markets, including Chinese equities. Overnight, the US dollar index rose above the 98 level for the first time in about two years. This comes as the yuan has weakened to a near one-month low, at 6.7402 per dollar.
Stocks Blog: China markets take sudden dive
"I see a broad trend of correction for the Chinese stock market for the month of May and June. With the dollar strengthening, a weakening of the yuan is not positive to Chinese equities market," said Kwong.
Leading the Shanghai index lower were financial stocks such as Industrial and Commercial Bank of China, which was down 1.38 per cent at 5.73 yuan and Ping An Insurance, down 1.92 per cent at 83.4 yuan. Kweichow Moutai also lost 1.82 per cent, to 952.37 yuan, despite reporting expectation-betting first quarter results.
Chinese stocks' world-beating rally risks losing momentum as Beijing rolls back stimulus
Elsewhere, on Shenzhen's ChiNext board, online payment operator Lakala Payment hit its first trading day price limit of 44 per cent, as its price rose to 47.92 yuan from its issue price of 33.28 yuan. A total of 1.64 million yuan worth of stocks changed hands.
In Hong Kong, the Hang Seng Index echoed the slides seen in A-shares as it closed to a nearly four-week low, at 29549.8, or down 256.03 points.
Additionally, "the month of May has traditionally been a month of a 'decliner' for the Hang Seng Index, which has been the case for 15 out of the past 20 years," said Kwong.
Financial stocks led the index lower, with Ping An Insurance down 2.12 per cent, at HK$92.15; and China Construction Bank down 0.72 per cent, closing at HK$6.91. HSBC was down 0.45 per cent, at HK$66.90.
Elsewhere, China Minsheng Banking slid 2.2 per cent, to HK$5.86, on the heels of influential shareholder activist David Webb saying it was "very likely" the unidentified "bank within a Mainland-based banking group" that triggered a warning circular against risky lending practices from the Hong Kong Monetary Authority (HKMA) and the Securities and Futures Commission.
Its Hong Kong-listed subsidiary, CMBC Capital, which was also linked by Webb to the HKMA's warning, dropped 3.6 per cent to 27 HK cents.
Copyright (c) 2019. South China Morning Post Publishers Ltd. All rights reserved.