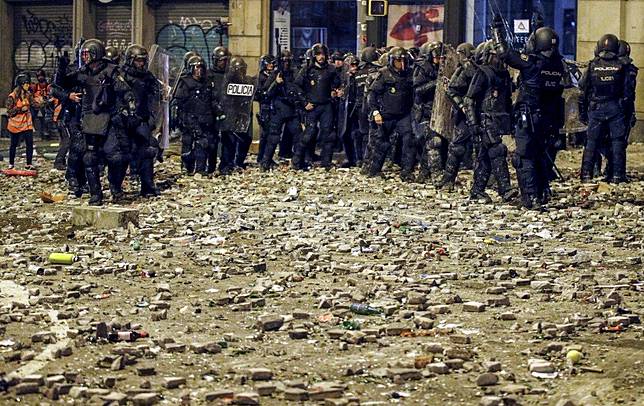 China has criticised Western politicians and media for applying double standards towards recent protests in Hong Kong and European cities, warning that any countries that condone violence will eventually see it backfire.
Chinese foreign ministry spokeswoman Hua Chunying cited recent protests in London and Barcelona, saying that while Beijing would not interfere in other countries' internal affairs, she said the "different treatment" the events received compared with Hong Kong underscored how the West used "democracy and human rights as excuses to interfere in Hong Kong".
"We have noticed the affairs taking place in Catalonia and London. These are the internal issues of related countries. We hope the issues be properly handled under their laws and systems," said Hua.
"There is only one standard and one attitude to treat violence and illegal activities. Double standards and indulgence will only, in the end, lead to self harm," said Hua.
China has repeatedly accused some European and American politicians and media of interfering in Hong Kong and turning a blind eye to violence and illegal behaviour from some anti-government protesters.
Wang Zhen, a former Chinese ambassador to Uruguay and Venezuela, said in a commentary in Beijing News on Sunday that the recent demonstrations and violent protests in Barcelona in support of a Catalonian independence showed that the anti-government unrest, which started in Hong Kong in June, has spread to the Western world.
Last Friday the Spanish authorities shut down a popular protest website which called for the creation of a "second Hong Kong" in Catalonia.
Tensions peaked last week following the sentencing of nine pro-independence politicians and local police estimated that over half a million protesters took to the streets of Barcelona.
The Catalans have been inspired by the Hong Kong protesters, shutting down Barcelona's airport and wearing masks - and the demonstrations have also been marked by clashes with police in the streets.
Hua did not elaborate on her reference to London, but over the past two weeks environmental protests have caused extensive disruption in the British capital while an anti-Brexit demonstration at the weekend attracted more than 100,000 marchers.
"The recent situation and Western politicians' performances have made it clearer that the beautiful sight as touted by some western politician is just like a mirage in the desert, or a song of the Siren. If they cannot tell right from wrong, or are unable to keep calm and rational, they will … eventually pay a high price," said Hua.
In June US House Speaker Nancy Pelosi described the mass anti-government protests as a "beautiful sight to behold".
She has since backed the Hong Kong Democracy and Human Rights Act, which has angered Beijing by opening the door to diplomatic action and economic sanctions against the city's authorities.
Copyright (c) 2019. South China Morning Post Publishers Ltd. All rights reserved.