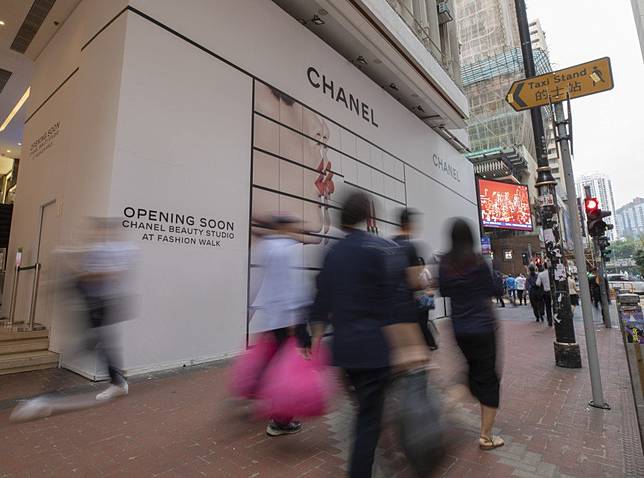 "Opening soon," says the white hoarding covering a Chanel Beauty store on the aptly named Fashion Walk, a retail area normally teeming with shoppers in Hong Kong's Causeway Bay district. The shop, which has looked like this for nearly four months, is just one of many whose openings have been significantly delayed by recent anti-government protests, adding to the increasing number of empty storefronts appearing in the city's retail enclaves.
As the escalating unrest sparked by a now-withdrawn extradition bill shows no signs of abating, luxury brands that had plans to open new stores in the third or four quarter of this year have put things on hold, taking a wait-and-see approach towards developments as Hong Kong enters its sixth consecutive month of turmoil.
Last week, malls including the Landmark in Central and Sogo in Causeway Bay were closed almost every day as radicals have adopted a new strategy: cripple the city on weekdays instead of confining protests to weekends, as they had previously done.
Luggage maker Rimowa had plans to open what would have been its 10th Hong Kong store in Lee Garden, another mall located in Causeway Bay, but the brand is waiting to turn the space into a fully functioning store until at least early next year.
A post shared by South China Morning Post (@scmpnews) on Sep 17, 2019 at 9:00pm PDT
What this means is that brands are willing to keep stores vacant while paying exorbitant monthly rents to avoid the added costs that come with opening a physical shop.
Hiring sales associates and filling stores with inventory that is not likely to sell are expenses that companies prefer to avoid as the protests have taken a hit on their sales. Brands such as Moncler, Gucci and Salvatore Ferragamo have reported sales declines of up to 45 per cent in Hong Kong during the third quarter.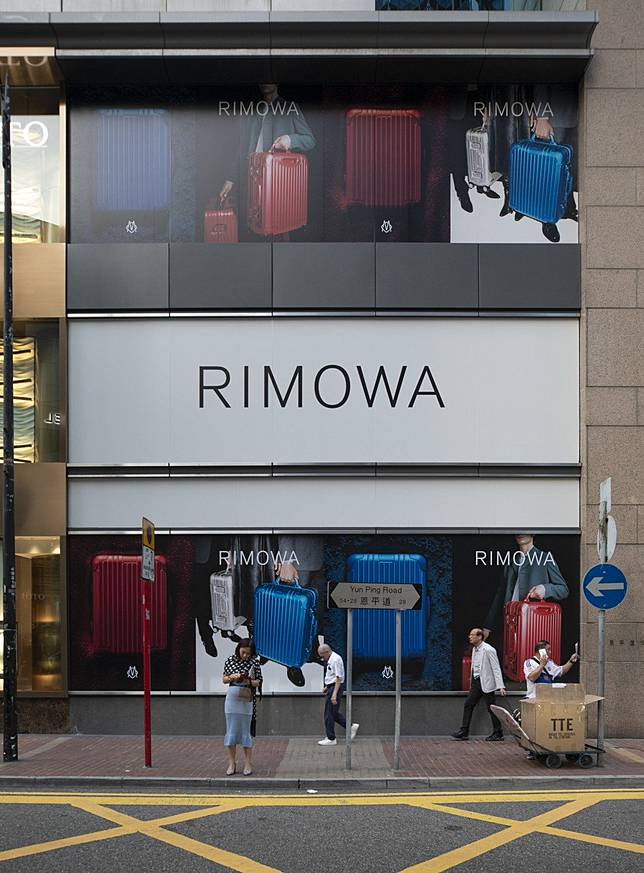 Many luxury labels have as many as eight or nine stores in Hong Kong, most of them catering to tourists who have stopped coming in the wake of the ongoing turmoil.
Hong Kong is notoriously one of the most expensive cities for commercial real estate in the world, which is why the impact of the unrest on luxury brands' bottom lines has been significant. According to a report released last week by real estate company Cushman & Wakefield, Russell Street in Causeway Bay remains the most expensive retail street in the world, although the company used data gathered before the unrest began.
When Italian fashion label Prada confirmed that it would end the lease of its Causeway Bay flagship in June 2020, the landlord announced that it would slash the monthly rent of HK$9 million (US$1.15 million) by 44 per cent for its next tenant. While the monthly rents for the Chanel and Rimowa stores nearby are probably not as high, that figure is common among stores in prime retail destinations in the city.
(Swire Properties) has offered temporary rental adjustments to the majority of its tenants, to support the Hong Kong retail industry as well as our tenants during this challenging timeSwire Properties spokesperson
Landlords, who for years have been able to charge very high rents to fast-fashion companies, luxury labels and beauty stores, are realising that they will have to compromise to keep their tenants.
Cathie Chung, senior director of research at Jones Lang LaSalle, a real estate management firm, believes more landlords will consider adjusting rents amid the current crisis and the sluggish economy as Hong Kong has now entered into a technical recession.
"Our view is for unemployment to start to rise, which will affect commercial space demand," she says. "We believe commercial property rents will decline in 2020, with high-street shop rents to drop about 5 to 10 per cent and grade A office rents to drop about 15 to 20 per cent."
A spokesperson for Swire Properties, which operates high-end malls including Pacific Place, said that the company "has offered temporary rental adjustments to the majority of its tenants, to support the Hong Kong retail industry as well as our tenants during this challenging time".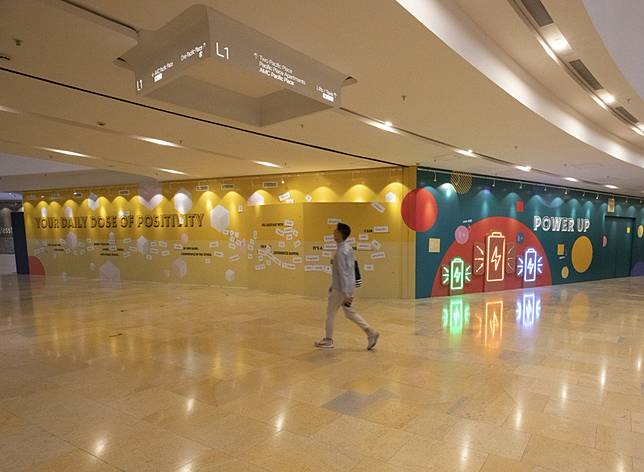 Pacific Place, located in Hong Kong's Admiralty area - which due to its proximity to several government buildings has been extremely affected by the protests - is home to one of the city's top department stores, Harvey Nichols. However, the store, which formerly occupied the ground and second floors of the mall, has now consolidated all its selling space on the second floor, an unusual location for an "anchor tenant".
As you access the ground floor of the mall from the main entrance, which is considered a prime location for foot traffic and therefore sales, you now face a series of hoardings that do not specify what is set to open in those spaces, formerly occupied by Harvey Nichols.
According to a spokesperson for Pacific Place, "four retail and food and beverage labels will take over the space originally occupied by Harvey Nichols on level one, spanning a total gross floor area of 42,000 square feet (3,900 square metres). These tenants will progressively open their shops later this year."
Strategies that mall owners are implementing to limit the damage include diversifying into more accessible lifestyle stores and restaurants, catering to local customers, and moving away from luxury boutiques, which rely on visitors from China and other countries for most of their sales. But unless rents go down and a complete adjustment happens in the retail sector, Hong Kong's formerly buzzing shopping havens have to brace for more uncertainty.
Amid the social and financial crisis gripping the city, however, predictions of Hong Kong's complete demise as Asia's retail hub are premature. K11 Musea, a new mall targeting millennials that opened in August on the Kowloon waterfront, counts major brands such as Gucci, Saint Laurent, Tod's and Chanel among its tenants. Chanel alone has opened two stores in the mall: a beauty boutique and a shoe store.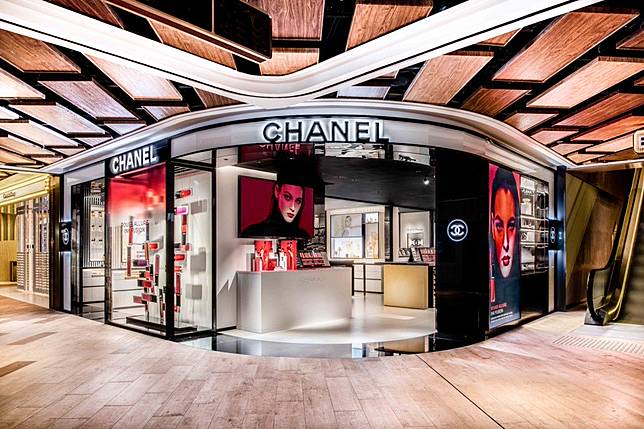 The mall was busy with customers on a recent weekend visit, although most were lining up outside affordable eateries such as Happy Pancake and Gontran Cherrier. (With the stand-off between the protesters and the police moving to Tsim Sha Tsui this week, the mall has been closed for the last two days.)
One thing is clear: fashion and beauty retailers need to step up their game to justify their extensive retail footprint in Hong Kong. If those boarded-up shops don't open soon and if existing stores start closing, the future could see some of Hong Kong's formerly buzzing retail enclaves looking like the "ghost malls" of the US and China: abandoned shopping centres that have become the subjects of haunting photo essays widely available through a quick online search.
Copyright (c) 2019. South China Morning Post Publishers Ltd. All rights reserved.