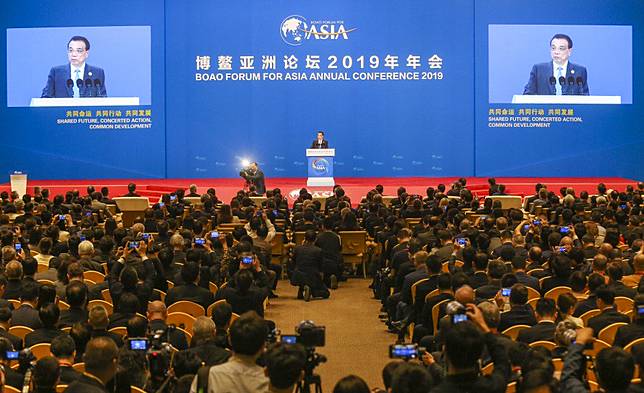 As tensions between China and the United States run high, the Boao Forum for Asia, a confab billed as China's answer to the World Economic Forum meeting in Davos, has lost its sheen.
Set up in 2002, the Boao Forum, named after its host resort on the southern Chinese island of Hainan, was China's attempt to show itself as a benign emerging power by honing Asian responses to a globalised world.
In that respect, the Boao Forum has been compared to the annual power-gathering in the Alpine town of Davos in Switzerland, which has become the flagship event for world leaders, entrepreneurs, and influencers, synonymous with global elites.
But this year, President Xi Jinping is in Europe, while other key officials are in Beijing for the trade talks with the US. To compound matters, various discussions have been switched to closed-door events without explanation and with little notice.
When Premier Li Keqiang presented the keynote speech at Thursday's opening ceremony, it was surprisingly not streamed live on mainland Chinese television by state media.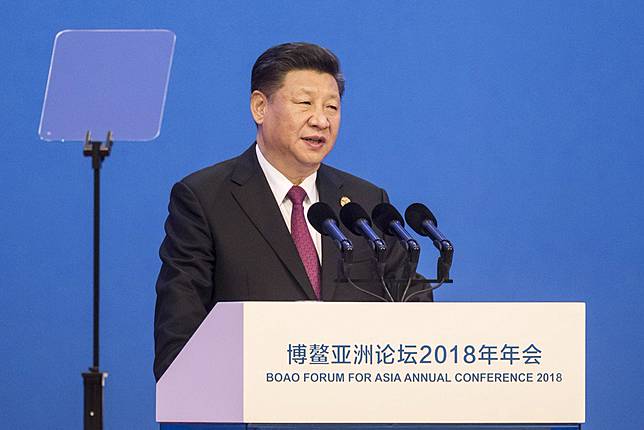 In contrast, last year's broadcast of Xi's address was beamed nationwide, clearly considered to be blockbuster viewing.
A few company executives from foreign firms, who declined to be named, said that they did not have high expectations from attending the forum this year, and were mainly interested in observing.
The lower expectations coincided with the absence top members of China's negotiating team - central bank chief Yi Gang, Finance Minister Liu Kun, vice-commerce minister Wang Shouwen - and who were withdrawn from the initial list of speakers. The trio are expected to participate in trade war negotiations with their US counterparts on Thursday and Friday in Beijing.
A panel discussion on China's free trade zones was advertised as having senior officials from Hainan, Tianjin, Guangdong, the Ministry of Commerce, South Korea and Abu Dhabi along with chairman of the conglomerate HNA, Chen Feng, and former central bank governor Zhou Xiaochuan.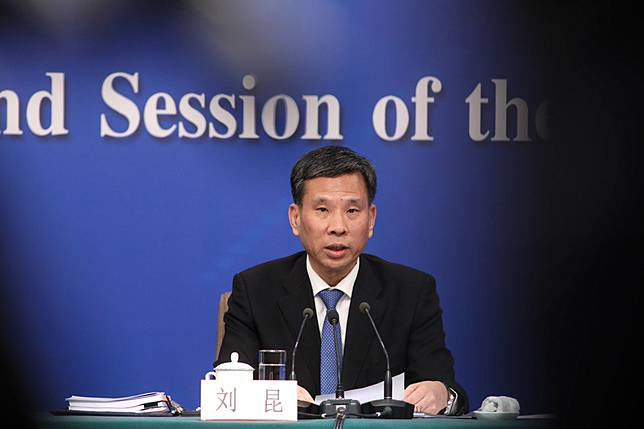 But it was switched to a closed-door event at the last minute, with no reason provided for the cancellation of the scheduled live stream, despite the fact that free trade zones have been promoted as signature projects in China's opening up to foreign investors, a major pledge from Xi in his speech last year.
This year's roster of guests was also light on the international firepower seen in the previous year, when International Monetary Fund managing director Christine Lagarde and United Nations Secretary-General Antonio Guterres were among the speakers.
Corporate America is represented, despite the ongoing trade war, with the likes of Apple and ExxonMobil among the speakers on panels about data technology and energy.
The companies are enjoying mixed fortunes in the mainland, where Apple has seen sales of iPhones in China plummet, while ExxonMobil is building a petrochemical complex and investing in a liquefied natural gas terminal.
"These are tough times," said Christopher McNally, a political economy professor at Chaminade University in Hawaii. "It's not only the trade war - you have the whole Huawei issue, the South China Sea, (US Vice-President Mike) Pence's speech (compared in tone to cold war-era addresses). These are not the best of times in US-China relations. Everybody's starting to hedge. Nobody wants to put all their marbles on one side."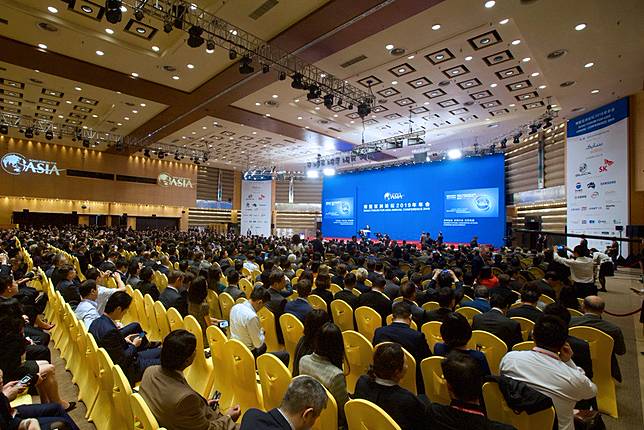 Over the years, China has stepped up its effort to put the forum on the world map. Its board now boasts former officials and business leaders from Indonesia, the Philippines, Japan, Italy, Russia and India.
But the four-day event is still dogged by the lingering question of whether it is international enough. China's tendency to let heavy-handed bureaucracy dominate makes it challenging to construct a programme wholly focused on commerce and business.
Sandip Somany, president of the Federation of Indian Chambers of Commerce and Industry, said on the sidelines of the forum that while he liked that the conference had more Asia focus than Davos, it would be better if here were more international speakers.
Ernie Thrasher, chief executive officer of US-based Xcoal Energy & Resources, said he mainly came to the conference to learn about what is happening in China.
"It is very good to learn about economic and policy conditions in China, but also to get a good perspective from international people of what they think about what is happening in the world," said Thrasher who was a speaker on an energy panel at the forum.
Kent Calder, a professor at Johns Hopkins University's School of Advanced International Studies in Washington, said China had made an effort this year to ensure that the forum would have a global focus on business and economics.
"We have a new leadership (this year at Boao). It is uniquely global," said Calder at a media briefing on Tuesday, referring to the appointments of Boao Forum board chairman Ban Ki-moon, former head of the UN, and vice-chairman Zhou Xiaochuan, China's former central bank chief. Li Baodong, a vice-minister of China's foreign affairs, was appointed Secretary General of the Boao Forum.
With rising tensions between China and its biggest trading partners, the US and Europe, not everyone is convinced that the Boao Forum is the best venue in which to discuss entrepreneurship and business development from an international perspective.
Increasingly, Chinese entrepreneurs are looking at other options to engage with the world, said Tony Dong Bin, executive president of the Sino-European Entrepreneurs Federation, a Beijing-based association founded by Long Yongtu, a former chief trade negotiator for China and the Secretary-General of the Boao Forum from 2003 to 2010.
"The Boao Forum is now driven by the Foreign Ministry," said Dong, adding that growing tensions with foreign governments have affected Chinese investments abroad and led to tighter credit conditions at home.
Du Renjie, a tech entrepreneur from Hebei Province, said that it was hard for the Boao programme to be stay completely neutral, and away from Chinese influence.
"I am here to hear from economists and officials. On the record speech is one thing, but how they interact with each other also matters," said Du. "Networking is not my purpose of being here."
Copyright (c) 2019. South China Morning Post Publishers Ltd. All rights reserved.