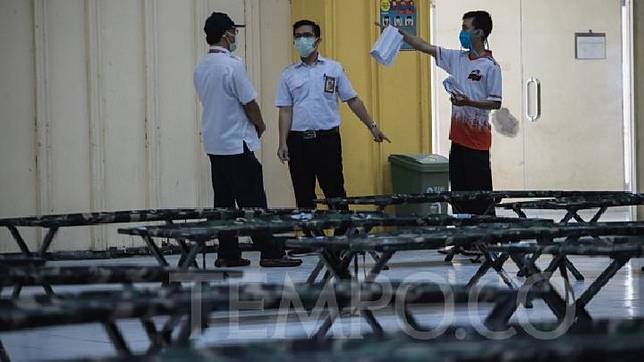 TEMPO.CO, Jakarta -Head of the national COVID-19 mitigation task force Doni Monardo on Wednesday, May 27, claimed that Jakarta's COVID-19 curve lately is showing several improvements.
"If there are many confirmed COVID-19 cases, it is mainly contributed by migrant workers that returned from overseas which amount to 539 cases," said Doni following his meeting with the president today, May 27.
He implied that Jakarta's coronavirus load is actually reducing if the aforementioned factor is not counted for. He also said that the dropping number of confirmed cases can also be detected in the city's bed occupancy ratio across hospitals located in Jakarta.
Doni Monardo mentioned there is a significant drop in cases from 54.3 percent on May 17 to 46.9 percent. "This means the number of available hospital beds in COVID-19-appointed hospitals has dropped," he said.
As of Wednesday, May 27, there have been 6,895 confirmed positive cases with a daily average of 80-90 new cases. The highest number of deaths totals to 509 cases.
The number of overseas migrant workers returning to Indonesia ahead of the Eid al-Fitr day on May 24 had indeed seen a spike. Most of them returned home due to expired work contracts in countries that are also affected by the COVID-19 pandemic.
Foreign Affairs Minister Retno Marsudi revealed there have been 95,102 Indonesian nationals that returned home up to May 13. Most of them came from Malaysia while the rest were former luxury cruise ship crews. Sixty-four percent returned via ocean transport, 21 percent came back with land transports, while 15 percent returned home via air transportation.
EGI ADYATAMA