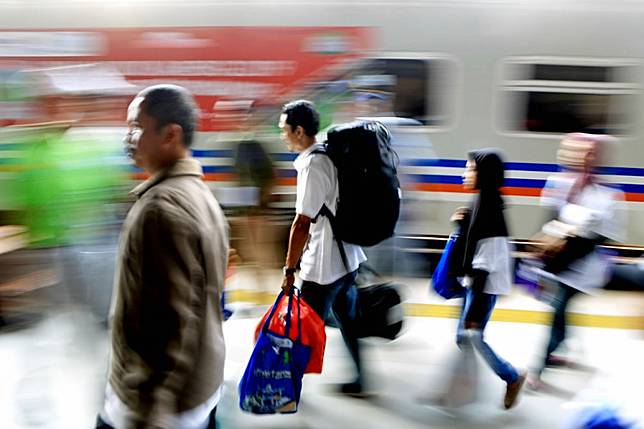 Resisting calls from health experts, President Joko "Jokowi" Widodo will not ban people from leaving Jakarta, the epicenter of the coronavirus outbreak in the country, for Idul Fitri, asking community heads in the regions to quarantine and cater to the needs of the vacationers soon after their arrival. 
"[The President] underlines that there is no official ban on people from participating in the mudik [exodus] during the 2020 Idul Fitri holiday. The returnees, however, must self-isolate for 14 days and will be given 'people under observation' [ODP] status, as per World Health Organization health protocol, and will be monitored by their respective local administrations," presidential spokesman Fadjroel Rachman said in a statement on Thursday.
Speaking in a teleconferenced Cabinet meeting on Thursday, Jokowi said the government had advised people not to go back to their hometowns for Idul Fitri, a tradition locally known as mudik, and had ordered regional heads to find ways to discourage people from traveling.    
The Jakarta administration, he said, had proposed that 3.6 million people in the capital be included in social safety net programs. The President himself said he was open to adjusting the dates of the Idul Fitri public holiday in consideration of people who will not be able to return to their hometowns for the annual exodus. 
With people still allowed to participate in the mudik, Jokowi also instructed authorities at the subdistrict and village level to tighten surveillance, saying that local authorities could also use village funds to act as a local social safety net.
"I would like to encourage participation at the community level, be it through neighborhood units [RT] or community units [RW] so that travelers who come back from Greater Jakarta can be given ODP status," said Jokowi from Bogor Palace, West Java.
It is unclear how many people are expected to participate in the annual mudik this year. In 2019, as many as 19.5 million people across Indonesia returned to their hometowns during the exodus. In a previous Cabinet meeting on Monday, Jokowi said there had been indication that people, particularly informal workers in Greater Jakarta, had returned to their hometowns earlier than expected this year as economic activities slowed down after Jakarta declared the outbreak an emergency.
The President has insisted that the government will not isolate provinces and cities to fight the COVID-19 outbreak, saying that the central government had chosen large-scale social restrictions as the main strategy to address the pandemic. 
The decision was made despite calls from public health experts and regional heads for the government to impose a lockdown for "red zone" areas, such as Jakarta, to prevent the disease from spreading further across the island of Java.