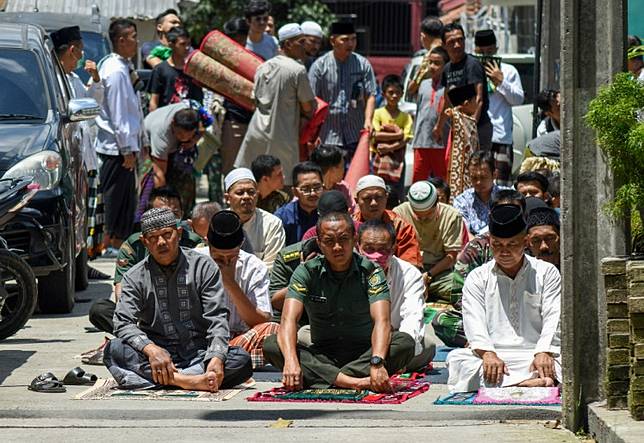 The West Java administration will officially begin enforcing large-scale social restrictions (PSBB) for Greater Bandung starting Wednesday after being given the green light by the Health Ministry to limit public activities to curb the spread of COVID-19.
Greater Bandung, which consists of Bandung city, Bandung regency, West Bandung regency, Cimahi city and Sumedang regency, will join other regions in West Java, namely Bogor, Bekasi and Depok – all satellite cities of Jakarta – in imposing the PSBB.
West Java, the most populous province in Indonesia, has the second-highest number of confirmed cases with 641 cases and 56 fatalities.
West Java Governor Ridwan Kamil said that the social restriction period would start on April 22 and last for 14 days.
"But if the residents do not obey [the rules], it can be extended without needing approval from the health minister," Ridwan said in a press conference on Friday.
Introduced earlier this month, the PSBB policy prohibits public gatherings and mass religious activities and mandates the suspension of school and office activities, allowing only essential businesses to operate.
The governor instructed all leaders of Greater Bandung to promote the policy in their respective jurisdictions.
"The goal of the PSBB is to make room for [mass] testing and tracing in the regions so we can detect which areas are infected or which areas to watch out for," Ridwan said.
Read also: COVID-19: West Java to request large-scale social restrictions for Greater Bandung
The governor explained that Bandung and Cimahi were home to 50 million people, around two-thirds the population of West Java. Data from the West Java administration released Friday show that Bandung city has the most cases followed by Bandung regency, Cimahi city and West Bandung regency.
The administration had distributed 80,000 rapid testing kits to all areas of West Java, where the testing has managed to detect 1,200 positive cases thus far, with additional polymerase chain reaction (PCR) testing prepared to verify the results.
Ridwan said that local residents could apply for individual testing through the West Java COVID-19 Information and Coordination Center (Pikobar) mobile application, available on Google's Android mobile platform. At least 21,000 have already applied.
The application can also be used to apply for social aid so long as applicants are not already registered under any of the government's social aid programs.
The administration would give Rp 500,000 (US$34.91) in monthly aid per family for four months in addition to the aid from the city and regency administrations and the government's monthly Rp 600,000, which is being given for three months to Bogor, Depok and Bekasi residents.
The administration would also give food aid to nonregistered residents in West Java, such as street children. (mfp)