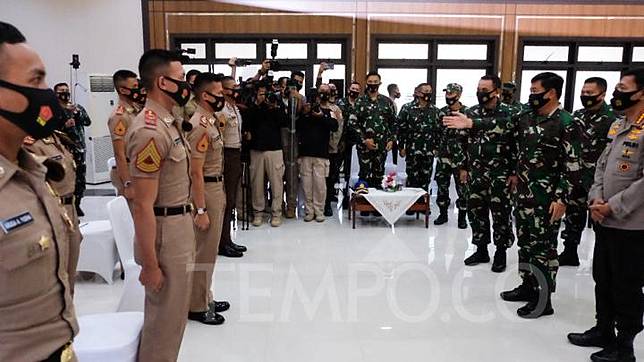 TEMPO.CO, Jakarta - The government's spokesman for the COVID-19 mitigation, Achmad Yurianto, reported that the Indonesian Military's (TNI) Officer Candidate School or Secapa in Bandung enforced a local quarantine after many personnel tested positive for the novel coronavirus infection.
"We conduct a local quarantine and fully ensure that the evaluation on quarantine participants will run optimally," said Yurianto in a press conference aired live via the BNPB's Youtube channel on Thursday, July 9.
The local quarantine was strictly monitored by the Military Area Command (Kodam) III/Siliwangi. Yurianto asserted that no transmission to outside the school complex would occur as the monitoring is also carried out by the West Java Health Agency, Bandung Health Agency, and health units of Kodam III/Siliwangi.
"We appeal to the public to remain calm. No need to panic because this issue is being handled professionally in accordance with the international standard," he said.
Based on the epidemiological investigations since June 29, 2020, Yurianto reported 1,262 people in Secapa TNI contracted the COVID-19. The positive cases in West Java surged since Wednesday. On Thursday, July 9, the province recorded 962 new infections.
Indonesia reported 2,657 new infections today, July 9, pushing the total tally to 70,736.
Related coverage: Law Enforcers to Guard Tourist Sites, Preventing COVID-19 Spread
FRISKI RIANA