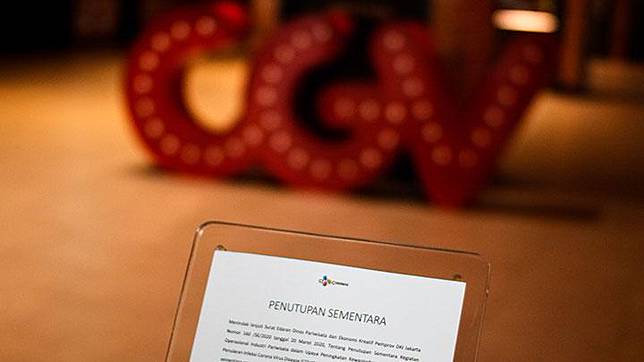 TEMPO.CO, Jakarta - Cinema service provider CGV is set to operate on July 29, 2020, during the transitional period of the large-scale social restriction (PSBB) to a new normal era. As other providers who joined the Indonesian Cinema Entrepreneurs Association (GPBSI), CGV will implement the health protocols to suppress the novel coronavirus spread.
"We refer to the health protocols drafted by the joint ministerial decree of Tourism and Creative Economy Ministry and Education and Culture Ministry, as well as Jakarta administration," said CGV Public Relations Manager Hariman Chalid on Thursday, July 9.
In the joint decree, cinema managers are obliged to provide a form of COVID-19 self-assessment screening to workers a day before the reopening and set up a special room for workers or visitors who present symptoms of fever, cough, flu, or shortness of breath before referring them to local health care facilities.
Visitors are mandated to wear face masks and pass the body temperature's check at the entrance. Those having body temperature at above 37.3 degrees Celsius will not be allowed to enter.
Movie theaters management is also advised to adopt an online, telephone, or email ticket booking system. Visitors who do not make online reservations must submit their numbers for contact tracing purposes and are recommended to make a cashless payment, too.
Hand sanitizer will be provided at the entrance door, ticket machine areas, and food and beverage outlets. CGV will also limit the number of visitors to 50 percent of the total capacity, and visitors must maintain a safe distance of one meter.
ANTARA