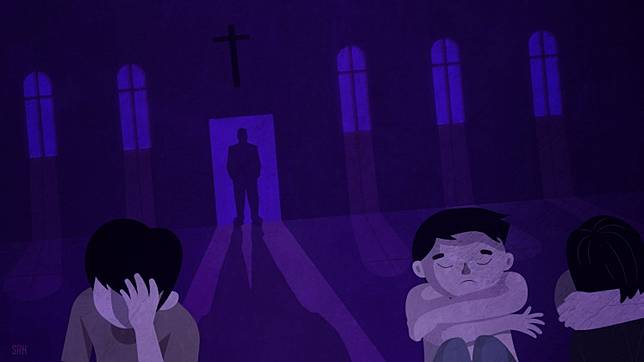 Religious institutions, including the Catholic Church, are not immune from sexual abuse cases involving leaders or those at the top of the hierarchy. When these happen, a settlement is difficult to reach as it may undermine not only their personal credibility but also that of the institution.
Even if there is a will to solve a case, there is rarely a way, or at least it is a long and winding road to find a fair and just solution. In most cases, victims choose to remain silent as they are too afraid to speak about the unthinkable. In a religious society like Indonesia, clerics, clergymen and other faith leaders gain respect and protection from their congregations as a result of their roles as moral guides who lead their people to God.
Read also: Justice delayed, denied for victims of sexual abuse in Catholic Church
Last week The Jakarta Post published a series of articles addressing the issue of sexual abuse within the Catholic Church, which many may perceive as a "taboo" as it could undermine the Church's authority. It was the second time that the Post collaborated with Tirto.id after our joint investigative report on sexual abuse on campuses last year. Our recent tandem effort followed a report published by a West Jakarta parish magazine last December about 56 cases of alleged sexual abuse within the Church community.
Nothing is new about sexual abuse cases involving clergymen. The Vatican under Pope Francis, for example, has repeatedly asserted zero tolerance of the crime and ordered in May 2019 all church officials to establish protocols to protect minors and vulnerable adults. Most recently the Vatican released a manual for bishops and other senior officials to tackle clerical child sex abuse claims, including a form they should fill out detailing the alleged crimes.
As our reports show, however, the hope of justice being delivered to victims of sexual abuse and harassment cases involving clergymen looks remote. One and perhaps the biggest barrier is the apparent denial of the cases, which will only generate suspicion about cover-up attempts by the Church.
Actually, there is no doubt about the Church's commitment to transparency as evident when Indonesian Bishops Conference (KWI) seminary commission secretary Father Joseph Kristanto spoke in a public forum about 56 alleged sexual abuse cases within the Indonesian Catholic Church. But the fact that he was found guilty of a "code of ethics violation" and has apologized for the disclosure, as stated by KWI chairman Ignatius Cardinal Suharyo, reveals that the Church is not ready yet to break the long-held taboo.
Read also: Catholic Church excludes adult women in talks about protecting sexual abuse victims
The KWI has in fact taken measures to protect minors and vulnerable people, work that priests like Father Kristanto are involved in, and this must continue. The Church now has to find a mechanism for victims to report without any fear.
On top of that, action against sex crime perpetrators is needed as a deterrence. The ongoing police investigation into sexual abuse cases in the Church in Depok, West Java, although not involving a clergyman, should set the precedent for a fair and just settlement of a decades-old scandal that continues to plague the Church.