An online video of an orchestra of 150 masked musicians and singers dressed in protest gear while performing the new rally anthem Glory to Hong Kong has gone viral, but those behind the slick production claim it was a project done in fear over their identities being compromised.
The performance, dubbed "Black Blorchestra", was conducted by 30-year-old musician "S", who wanted to answer online calls last month to put together a professional cut of the song. An English version is being worked on.
Composed by user "Thomas" from popular online platform LIHKG, the tune had quickly gained traction among Hong Kong's mostly young protesters, who had earlier adapted other known songs for their months-long anti-government movement.
S told the Post he hoped a powerful music video could give the song a boost and unify Hongkongers in such a turbulent time, adding: "Many people who have supported the movement share a feeling of helplessness. So I wish to contribute a bit in my role as a musician."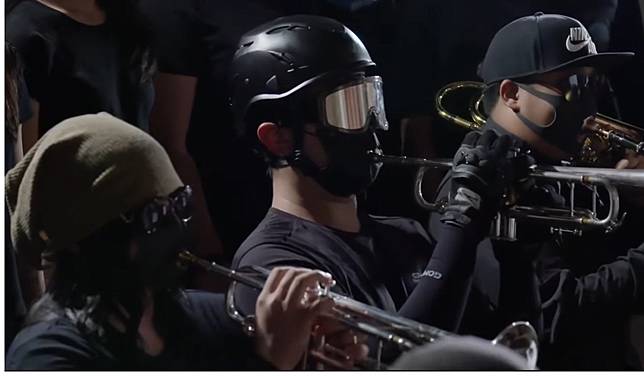 Aiming to give the song - which is in Cantonese - an international reach, S also wrote English lyrics, with a music video to be released soon. It will be the first English rendition of the anthem performed by this ensemble.
Since June, Hong Kong has been rocked by social unrest sparked by the now to-be-withdrawn extradition bill, which would have allowed the transfer of fugitives to jurisdictions with which the city has no such agreement, including mainland China.
The protests have since morphed into a wider anti-government movement, with escalating clashes between demonstrators and police, and both sides accusing each other of violence.
While Glory to Hong Kong contains lyrics celebrating resistance and the fight for freedom among protesters, the "Black Blorchestra" video - which already has more than 1.5 million views on YouTube in a week - was mired in fear and anxiety during its production.
Wary of what most protesters perceive as a government and police force out to crush them, S, alongside two video directors "V" and "C", were adamant that their identities remain secret in media reports. The trio, who funded the project, also refused to be photographed, but revealed that the production only raked up a "four-digit cost" with participants being volunteers.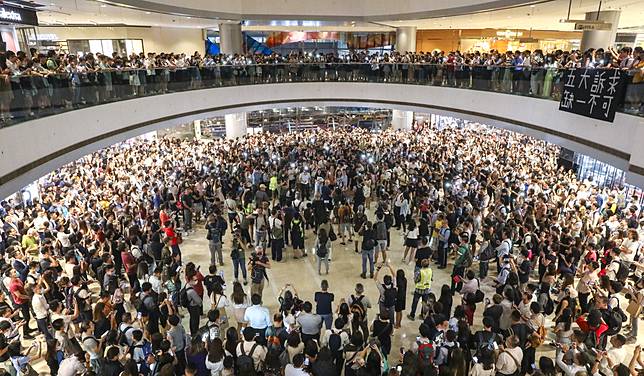 "The fear of white terror is to an extent that, even if I go by a fake surname, I worry about causing trouble for others who actually have that surname," C, 27, who runs a production house, said. "It's a small industry after all."
All musicians in the production also echoed this need for anonymity.
The two-minute clip opens with drums, gradually panning across a smoky dark hall filled with musicians and singers, all masked and in black, some with goggles and construction hats - the signature gear of protesters. Panoramic scenes of Hong Kong's streets converted into rivers of protesters are spliced into the imagery.
S said on top of suggesting that anyone can join the cause, the people in the music video were dressed this way to conceal their identities. Some musicians in the brass section were so worried about being identified that close-up shots of their instruments, which had signatures, were avoided.
V, a 28-year-old freelancer who was behind the editing process, said: "I was in fear of exposing a musician through a single shot shown in the video."
Conductor S, who roped in friends from the music industry for the project, said he even arranged lawyers on the recording day, amid worries that police may storm the studio if someone told on them.
"People with different views might come to vandalise or report us to police just to disrupt the production," he said. "It was supposed to be a peaceful and lawful cultural activity on private premises, which should be completely insulated from fears. But, everyone was afraid."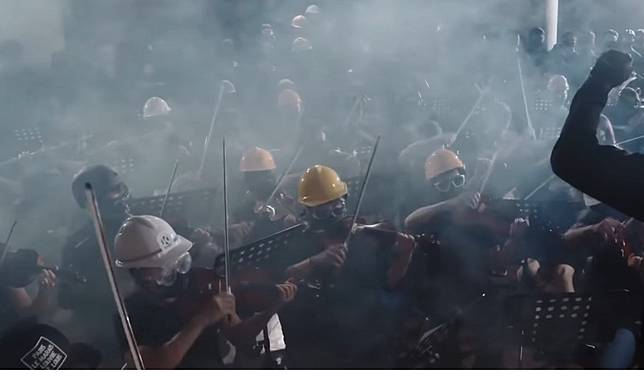 Of the smoky background seen in the music video, C said the effect was not to mock police's use of tear gas, but to symbolise "white terror", where "there is nowhere to escape, and this terror leaks through every corner".
He added: "The battles are not confined to the streets on weekends, but everywhere now."
Viewing himself as accountable to the 150 musicians who took part in the filming, S said he was under psychological pressure as "being beaten" had become a realistic fear in society.
Copyright (c) 2019. South China Morning Post Publishers Ltd. All rights reserved.