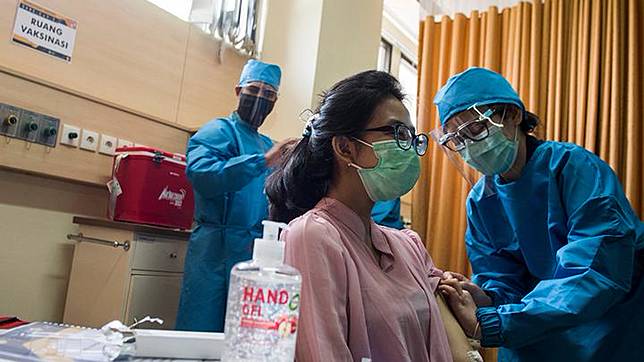 TEMPO.CO, Bandung -Bio Farma Corporate Secretary Bambang Heriyanto said the producer of Sinovac COVID-19 vaccine claimed it did not use non-halal materials for creating the antibody.
At present, the state-run pharmaceutical firm and the Padjadjaran University's (Unpad) Medical Faculty were conducting the phase 3 clinical trials of the vaccine developed by China's firm Sinovac Biotech.
"Based on the communication and documents we have received, the vaccine does not contain non-halal ingredients. But that does not mean we declare it halal because the authority that has the right to claim the halal certification is LPPOM MUI (Food and Drug Analysis Agency of the Indonesian Ulema Council) and the Edict Commission," said Bambang in a media briefing at the Bio Farma complex in Bandung, Wednesday, August 12.
Several components will be examined by the audit team of the institutions to ensure a halal status of the COVID-19 vaccine, Bambang said. They are not only the ingredients but also the process and the facility. If necessary, the team could directly visit Sinovac for an audit.
Bambang said the halal certification process took time, recalling that Bio Farma spent a maximum of one year to process the license. "We spend more than six months to one year to carry out the certification process under normal conditions," he said.
Read also: Bio Farma to Produce Millions of PCR Test Kits on September
AHMAD FIKRI (CONTRIBUTOR)