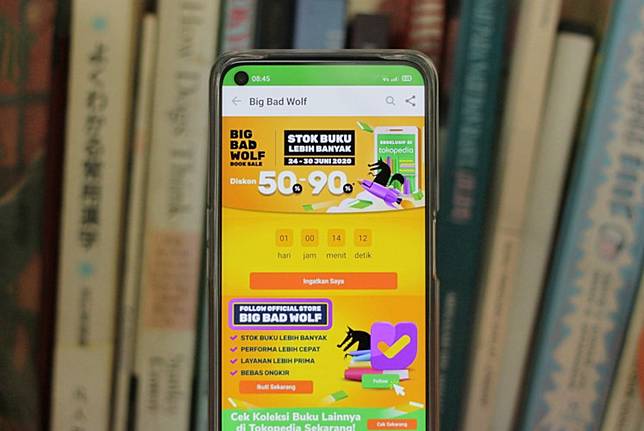 To celebrate Indonesia's 75th Independence Day, the Big Bad Wolf (BBW) book sale is scheduled to hold an online book sale from Aug. 7 to 17.
        View this post on Instagram                  

Halo Wolfies! Bazar Buku Terbesar Dunia Big Bad Wolf kembali hadir pada 7 hingga 17 Agustus 2020 eksklusif di Tokopedia. Belajar dari rumah, ilmu pun terus bertambah dengan buku-buku internasional berkualitas dari Big Bad Wolf, yang didiskon 50% - 90%! Bazar kali ini LEBIH MERIAH karena bertepatan dengan hari kemerdekaan Indonesia ke 75 dan hari jadi Tokopedia ke 11! Akan ada banyak kejutan bagi Wolfies dari Sabang sampai Merauke, dari Miangas hingga pulau Rote! ⁃ Stock buku 2X lebih banyak ⁃ Aktifitas bazar lebih seru ⁃ Lomba Ulasan Buku Berhadiah ⁃ Diskon dan Cashback lebih besar dan lebih banyak ⁃ Bebas Ongkir ke seluruh Indonesia Lebih untung menggunakan produk BCA. Dapatkan TAMBAHAN DISKON : ⁃ 10% untuk pembelanjaan min. Rp 1.000.000,- ⁃ 5% untuk pembelanjaan min. Rp 350.000,- (Info lanjut bca.co.id/bbwonline). Ayo Wolfies, ikutan Bazar Online Big Bad Wolf di Tokopedia. Jangan lupa tag kawan dan kerabatmu supaya jangan ketinggalan! Download aplikasi Tokopedia sekarang dan follow toko resmi kami Big Bad Wolf Books. . 💸 DISKON 50% - 90% 🌏 Bebas Ongkir Ke Seluruh Indonesia 📍 www.tokopedia.com/bbwbooks 🕐 7-17 Agustus 2020 #BBWuntukGenerasiMembaca #Auuwsome #TokopediaXBBW #BCAxBBW

A post shared by Official Big Bad Wolf ID (@bbwbooks_id) on Jul 29, 2020 at 6:01pm PDT
To be available on its official store on e-commerce platform Tokopedia, the online book sale will feature more international books with discounts up to 90 percent. Free delivery to all provinces in Indonesia will also be available.
Tokopedia's assistant vice president of business Jessica Stephanie Jap said the online bazaar was being held following the enthusiasm over Big Bad Wolf's online book sales in April, May and June. "Hopefully, our exclusive collaboration with Big Bad Wolf can expand the public's access to books," Jessica said in a statement.
Big Bad Wolf's first online book sale, which was held from April 27 to May 3, was well received by the public with the most popular categories being children's books, novels and hobby books. Customers came from all parts of the country, including North Sulawesi, West Nusa Tenggara and Papua as the farthest areas.
Big Bad Wolf was launched in 2009 in Malaysia before making its debut in Jakarta in May 2016. In 2019, the annual book bazaar was held in seven cities in Indonesia, such as Jakarta, Bandung in West Java, Yogyakarta, Surabaya in East Java, Medan in North Sumatra, Balikpapan in East Kalimantan and Makassar in South Sulawesi. It is recognized as one of the largest book sales in the country, offering books from various genres, from children's books and politics to fiction and arts. (wir/wng)