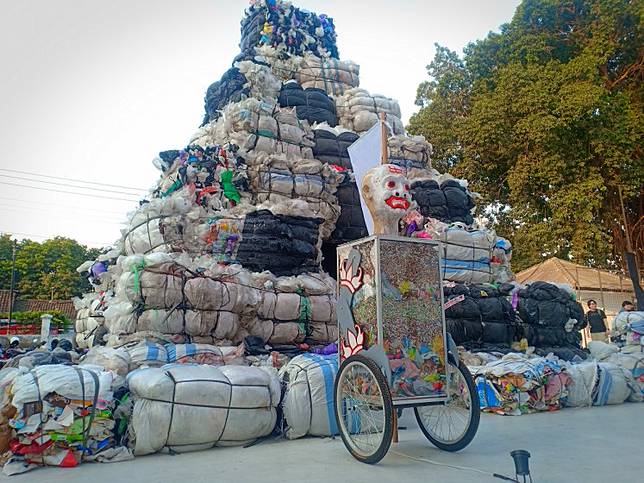 Do we live in the same playground? That is this year's theme of visual arts exhibition Biennale Jogja at the Jogja National Museum (JNM), which began on Sunday and is slated to run until Nov. 30.
Going new ways, Biennale Jogja XV Equator #5 features artists not only from Indonesia but also from other Southeast Asian countries, namely Malaysia, Vietnam, Myanmar, Thailand, the Philippines and Cambodia.
The team of curators comprising Indonesia's Arham Rahman and Akiq AW and Thailand's Penwadee Nophaket Manont decided on the theme in response to human problems considered marginal in Southeast Asia. Issues to be highlighted are gender identity, race, religion, small narrations, sociopolitical conflict, labor, environment and practicing art.
Yogyakarta Biennale Foundation director Alia Swastika said aesthetics was not everything, even at a visual arts exhibition. Apart from JNM, some of the exhibits are displayed at the Yogyakarta Cultural Park (TBY), others in Jogoyudan village, Ketandan village and at Gadjah Mada University's Koesnadi Hardjosoemantri Cultural Center (PKKH).
"For me, sharing works, history and experience is most important," said Alia in her opening speech at the vernissage of the exhibition.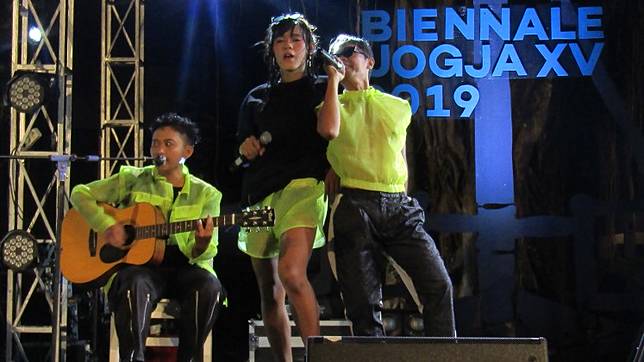 Amuba, a group of transgender women, brought up gender diversity at the opening of Biennale Jogja XV Equator #5. (JP/Bambang Muryanto)
Several bands entertained guests at the vernissage, staging performances relevant to the highlighted issues. Amuba, a group of transgender women, brought up gender diversity, while Voice of Baceprot (VoB) are three women wearing hijab and playing heavy metal music to confront conservatism.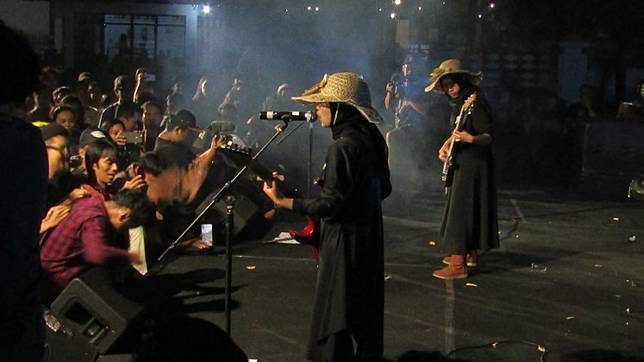 Voice of Baceprot (VoB), a heavy metal band of three women wearing hijabs, play at the opening of Biennale Jogja XV Equator #5. (JP/Bambang Muryanto)
Featuring issues of the marginalized, artworks exhibited at Biennale Jogja Equator #5 portray a spirit of activism. Moelyono's Pembangunan Taman Monumen Marsinah (The Establishment of Marsinah Monument Park), for instance, pays tribute to labor activist Marsinah from Sidoarjo, East Java, who was found murdered on May 8, 1993.
"This work was going to be exhibited in Surabaya 20 years ago, but it was prohibited by the authorities. At this moment, I want to remember Marsinah's struggle again, hence the work," said Moelyono.
Read also: Three exhibitions to attend at the 2019 Vienna Biennale
Meanwhile, Made Bayak from Bali made a plastic temple from eight tons of plastic waste. That work is installed on the lawn of JNM. Visitors can go inside the work, which is titled Plastiliticum (Celebrating homo ludens footprint) and look at photos of Bayak's activities when giving education on waste.
"I have been conducting environmental education on the hazards of waste since 2010," said Bayak.
A artwork created by Vietnamese Tran Luong titled Blending in the Land is installed in the courtyard of JNM.
Blending in the Land features a space where Mrs. Kawit sells chicken noodles, making it a public space where people can build solidarity to fight what many see as threats to personal freedom, such as the Electronic Information and Transactions (ITE) Law against defamation and forced evictions.
Biennale Jogja Equator #5 afforded artists the opportunity to travel overland, across the sea and down rivers to identify issues of marginalized communities to be depicted in their works. Ferial Afif brought up the story of a forgotten Sumatran heroine, Tajriani Thalib explored the traditional rumah betang houses and the surrounding myths in Kalimantan and Ipeh Nur depicts the relationship between men and the sea in the village of Pambusuang in West Sulawesi's Polewali Mandar regency.
Yogyakarta Culture Agency head Aris Eko Nugroho, who officiated the opening of Biennale Jogja Equator #5, expressed hopes that the event would attract tourists and serve as a learning opportunity for artists and citizens alike.