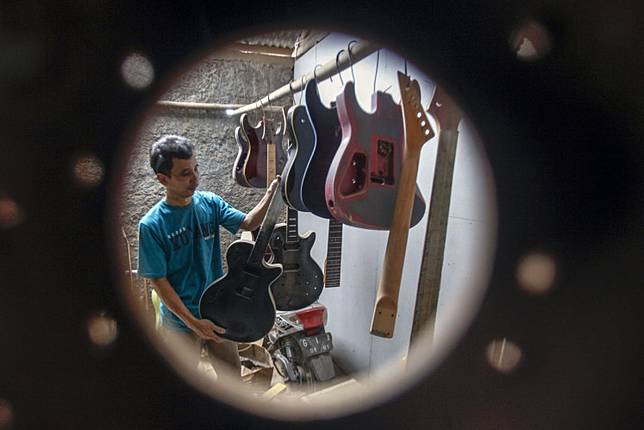 State-owned Bank Mandiri is seeking to provide loans and financing to young entrepreneurs from various sectors through its entrepreneurship program in a bid to help boost the country's economic recovery.
Corporate secretary Rully Setiawan said on Wednesday that the publicly listed bank would provide the loans to promising young entrepreneurs from various sectors that participated in this year's Wirausaha Muda Mandiri (Mandiri Young Entrepreneur) competition.
"We're not only seeking winners for this competition. We are also looking for entrepreneurs that we think have huge potential," he said during the program's virtual kick-off.
He expressed hope that the loans would not only help the micro, small and medium enterprises (MSMEs) owned by the entrepreneurs to thrive, but also help in supporting national economic recovery efforts amid the pandemic.
The Indonesian economy contracted 5.32 percent annually in the second quarter, the worst result since the first quarter of 1999, as pandemic restrictions paralyzed business activity and hit household demand.
MSMEs, which account for around 60 percent of Indonesia's gross domestic product, have been among the hardest-hit businesses during the coronavirus outbreak as demand weakens and bank loans become harder to access.
President Joko "Jokowi" Widodo has ordered a Rp 123.47 trillion (US$8.35 billion) stimulus for MSMEs, which includes fund placements in banks to boost working capital loan disbursements, loan interest subsidies and cash transfers for unbanked businesses.
Diwangkoro Ratam, Bank Mandiri's head of corporate social responsibility, said that the Wirausaha Muda Mandiri competition was open for entrepreneurs aged between 18 and 35 years old with businesses from various sectors such as the culinary arts, creative industry, technology, and trade and services.
The competition's business plan category this year will help entrepreneurs realize their ideas for new businesses, which could contribute to the country's economic recovery.
"This year's competition will also be different because we will provide prizes for 84 winners instead of seven," he said, adding that the competition would be conducted virtually until Oct. 30 to comply with COVID-19 protocols.
Diwangkoro said the prize, amounting to a total of Rp 2 billion, would be given out to both regional and national winners.
"We hope that these prizes can help them to develop their businesses so that they can play a part in the national economic recovery," he said.