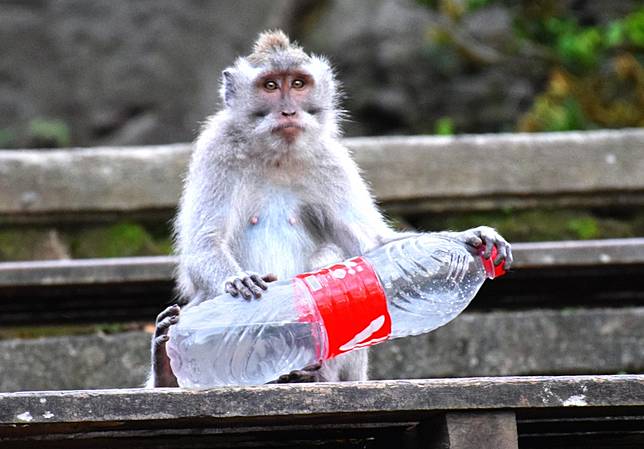 The tiny shop is cluttered with plastic. Packs of drinking straws fills one corner and boxes of styrofoam containers are stacked high in another. Colourful plastic bags of different sizes are piled on the shelves behind the counter, and jumbles of plastic cups are tied together and hung from the ceiling.
A constant stream of customers flows through the door, and Seza, the 25-year-old owner of the shop, on the Indonesian tourist island of Bali, is busy tending to them. "Do you want a plastic bag for that?" he jokes to one of his customers.
The customer laughs and turns down the offer. She is buying packs of plastic drinking straws and has brought her own reusable shopping bag.
Seza, who like many Indonesians only has one name, is the owner of Toko Plastik Kencana Jaya, a small shop in central Bali selling assorted plastic goods. He is one of many shop owners on the island who have been left pondering their future after Bali's provincial government late last year instituted an island-wide ban on single-use plastic, which has blighted the once-pristine island's beaches in recent years.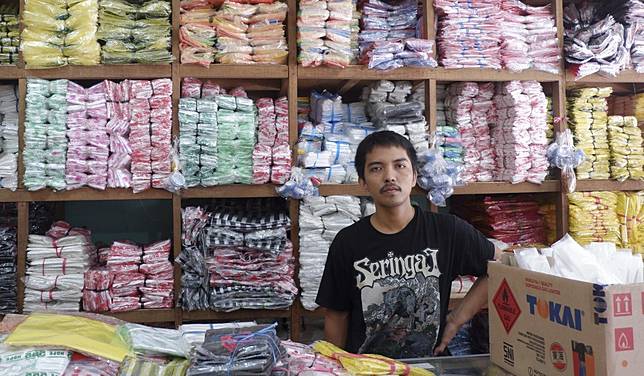 "Yes, of course I have heard about the plastic ban," says Seza. "It's on social media, it's on TV, on the radio. It's everywhere. In April, some people from the government even came to my shop to do a survey about how many plastic bags my shop is selling every day, and to inform me about this ban on plastic bags, plastic straws and styrofoam trays."
The ban is an attempt by the newly elected governor, Wayan Koster, to curb plastic waste. It's the first province-wide regulation promulgated in Indonesia against the use of plastic bags, straws and polystyrene, in a country with one of the worst records on plastic pollution.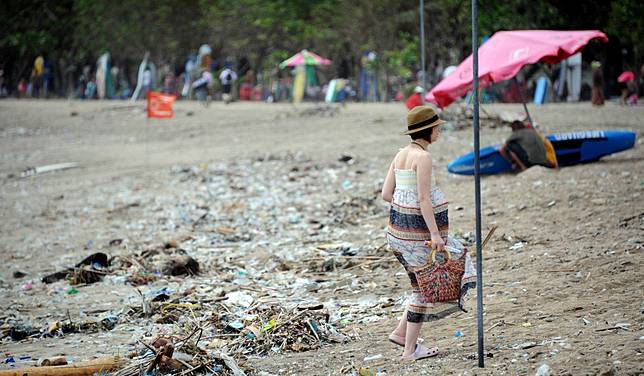 According to the provincial environmental agency, Dinas Lingkungan Hidup, Bali's residents, tourists, and organisations generate 1.6 million tonnes of waste every year, and 303,000 tonnes of it is plastic. About 11 per cent of the plastic waste ends up in the resort island's waterways each year.
Now, almost a year after the ban was enacted, chain supermarkets, convenience stores and shopping malls have stopped providing single-use plastic bags for shoppers. Some still provide free paper bags or totes, but most choose to sell reusable, canvas shopping bags.
The ban does not yet seem to have trickled down to smaller businesses, however, such as traditional markets, corner shops and street vendors.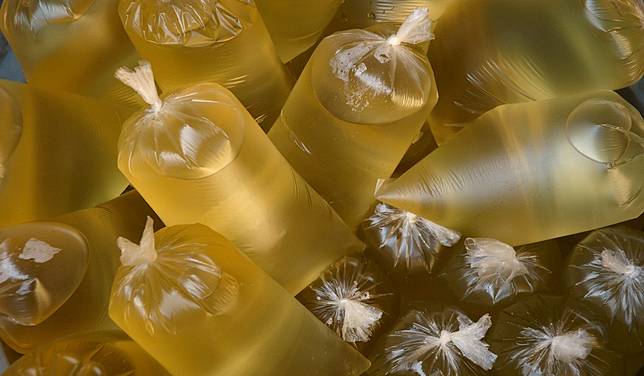 "Almost all my customers are from the lower middle class," says Seza. "Fruit and vegetable sellers from the market, local warung (diner) owners, small shops in the local neighbourhood … they come here to buy plastic bags, plastic straws, plastic boxes for their businesses. It's only in the big supermarkets that plastic bags are no longer provided, but in traditional markets they are still widely used."
Seza's shop is next to the traditional Mambal market in Bali's Badung district, 45 minutes from the capital, Denpasar. The bustling market is known for the fresh fruit sold for use as offerings in traditional and religious ceremonies. Many of the market's vendors buy plastic packaging and bags from Seza's shop.
Kadek Dini is one of Seza's regulars. Selling fruit from a little stall at the market, Dini packages produce for her customers in plastic bags. She uses about 20 to 30 of them daily, and during months when there are important ceremonies, when the demand for fresh fruit soars, she can go through more than 50 plastic bags a day.
"When customers buy fruit, they expect plastic bags," Dini says. "If I don't have plastic bags, then what are they going to use to carry the fruit? They will be angry with me. They will not buy from me. They will go to the next seller."
According to Dini, it's not possible for her to offer alternatives to plastic bags to her customers.
"Big shops in malls, or supermarkets, they have money to give customers free paper bags," she says. "Let's be real, how can fruit sellers like me give those for free? It doesn't make sense. Plastic is very cheap, that is why we use it. It's convenient."
At Seza's shop, a bundle of 20 small plastic bags sells for 1,000 rupiah (seven US cents). By contrast, paper bags are far more expensive, at 20,000 rupiah a dozen.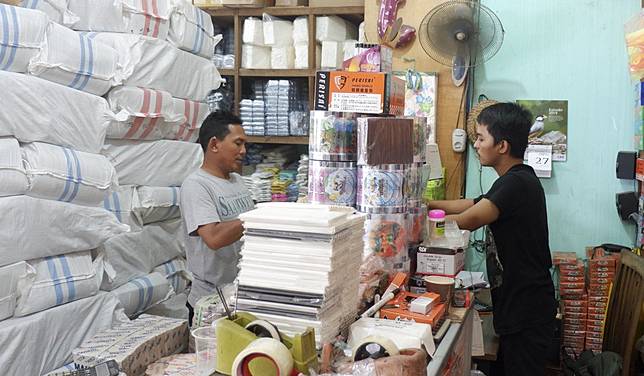 "Of course if we are offered an alternative to plastic bags, I will use it," he adds. "I also care for the environment. But until there's an alternative, we have to give plastic bags to our customers."
Yet the Bali provincial government's head of public relations, A. A. Ngurah Oka Sutha Diana, says the single-use plastic ban applies to all businesses in Bali, without exception.
"We are targeting every element of society, formal and informal sectors," he says. "We have asked supermarkets and shopping centres not to provide single-use plastic bags, and we have also informed sellers in traditional markets to stop using them. This is an island-wide effort and everyone is included."
Sutha admits the government is still struggling to enforce the ban because there is no provision to fine those who continue to use plastic bags, straws and polystyrene.
"As things stand now, this provincial regulation doesn't carry any legal sanctions," he adds. "By issuing this regulation, what we want is to start changing people's mindset when it comes to protecting the environment in Bali. If there's any sanction given, it's a moral sanction."
Most of the government's efforts have centred on making sure Bali's 4.2 million residents and 5 million annual visitors are aware of the environmental impact that plastic waste has on the holiday island. According to Sutha Diana, 11 months after the regulation was introduced in December 2018, Bali is beginning to see results.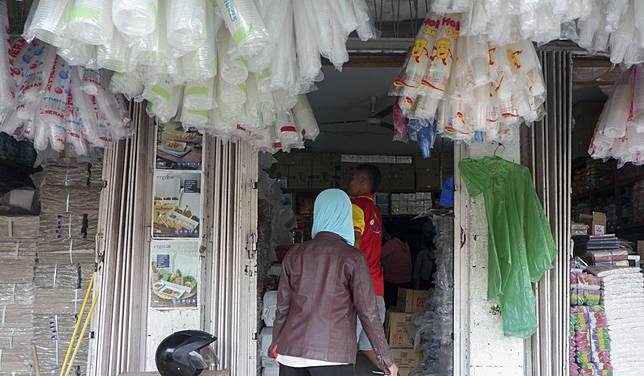 Data from Bali's Provincial Environmental Agency shows that supermarkets and convenience stores around the island report an 80 per cent reduction in plastic bag use, while the Sarbagita regional landfill recorded a 6.67 per cent decrease in plastic waste. The government does not yet have any data on the current use of plastic bags among traditional markets or street vendors. However, Seza says demand at his shop is also waning.
"I'm definitely selling less now compared to before the regulation was issued," he says. "Perhaps about 60 per cent less, especially those items that are mentioned in the ban, such as plastic bags, plastic straws, styrofoam boxes. I try to make up the loss by selling other items, such as paper tissues, paper straws, and even reusable shopping bags made from fabric. My shop has those items for sale now, but it's still difficult for my business."
He admits he has mixed feelings about the ban.
We have asked supermarkets and shopping centres not to provide single-use plastic bags, and we have also informed sellers in traditional markets to stop using them. This is an island-wide effortA. A. Ngurah Oka Sutha Diana, head of PR, Bali provincial government
"I know that this is all for a good purpose," he says. "This is for the environment. But this is also my livelihood. People are still buying plastic now, but the government is planning to ban all single-use plastic, so eventually maybe all my customers are going to stop buying."
He says he has contemplated closing the shop.
"Right now, I'm still going to sell the stock we have," he adds. "But, we little people, we're just following the government regulations, so in the future, maybe I'll think of something else to sell, like food staples, so we don't have to close the shop. So far, there has been no assistance from the government at all."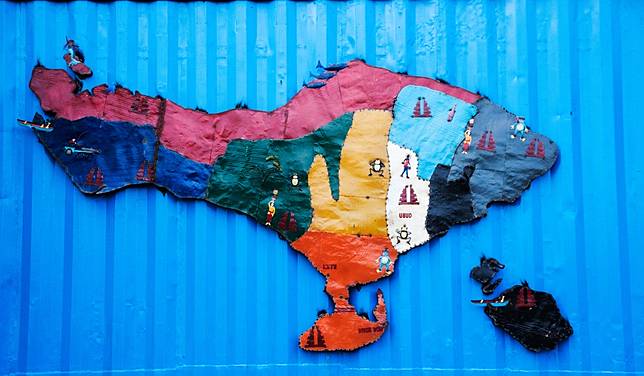 Bali's government public relations chief, Sutha Diana, concedes there is little help for struggling retailers.
"We don't have any programme in place to facilitate small businesses during this transitional period," he says. "We actually want to encourage them to find their own solutions; stop providing plastic for the public, change it to something else that's more environmentally friendly, like bamboo straws or woven bamboo baskets.
"Business owners, big and small, know how bad Bali's plastic waste problem is. They need to find it in their hearts to stop being part of the problem and help Bali solve this."
Copyright (c) 2019. South China Morning Post Publishers Ltd. All rights reserved.