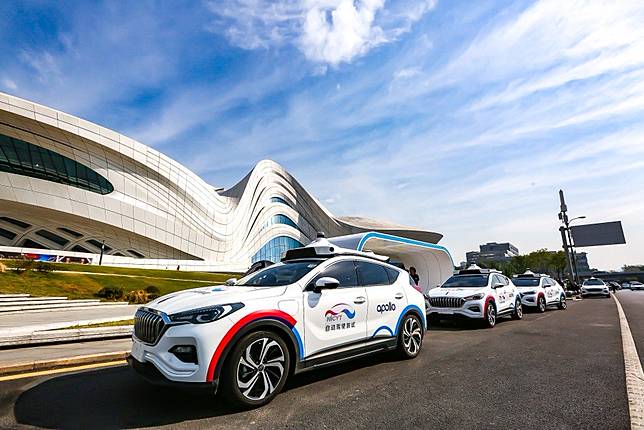 Chinese search engine giant Baidu brushed off recent company troubles to paint a bullish picture of its investments in AI-driven industries including autonomous driving and smart cities amid slowing growth in its mature search business.
The AI-driven smart economy will bring revolutionary changes to human-machine interactions, IT infrastructure and create many new forms of business, Baidu's chief executive Robin Li said on Sunday at the plenary session of the sixth World Internet Conference (WIC) in Wuzhen, east China's Zhejiang province.
Li said he was an "optimist" when it came to AI and that the technology will make people's lives better.
"Artificial intelligence will not destroy human beings but will give people eternal life," Li said. "Everything every person has said and done, even people's memories, emotions and consciousness can be digitally stored on network disks or the cloud. Machines can learn people's way of thinking. When there are new problems, people can talk to future generations across time and space via … technology."
China's State Council released a road map two years ago aimed at making the country a global AI leader by 2030 as it ramps up competition in the field with the US. Nasdaq-listed Baidu was tapped by China's Ministry of Science and Technology as a national champion in the field of autonomous driving.
Yet the road has been bumpy for Baidu. Once ranked among China's biggest tech companies along with Alibaba Group and Tencent Holdings, its stock price has slumped 36 per cent this year. After a first-quarter loss and warning by Li at the start of the year that "winter is coming," the company is in cost-cutting mode, asking employees to avoid five-star hotels for team-building activities and to fly economy class instead of business. It even requested they cut back on how many paper towels and paper cups they use in the office.
Last month, Baidu started a trial operation for its public self-driving robotaxi service in central China's Hunan province. The service, involving an initial fleet of 45 autonomous cars, is licensed to operate on open roads within a distance of 50 kilometres and will gradually expand to cover the entire pilot zone of 70 square kilometres in the provincial capital of Changsha.
"This is not only a driving force for the development of the intelligent connected automobile industry but also forces the urban transport infrastructure, especially the software, to be updated," Li said.
As well as its autonomous driving push, in September Baidu invested 1.44 billion yuan (US$202 million) in industrial AI firm Neusoft Holdings to develop smart city, health care and education infrastructure.
Li joined other tech company leaders in Wuzhen, including Wang Xing, chief executive of Chinese food delivery company Meituan Dianping, Telsa's global vice-president Tao Lin, executive vice-president of Microsoft Harry Shum and Chinese e-commerce giant Alibaba's chief executive Daniel Zhang. Alibaba is the parent company of the South China Morning Post.
In 2018, China's digital economy was worth 31.3 trillion yuan (US$4.42 trillion), accounting for one-third of the country's gross domestic product, according to data from the Cyberspace Administration of China.
For more insights into China tech, sign up for our tech newsletters, subscribe to our Inside China Tech podcast, and download the comprehensive 2019 China Internet Report. Also roam China Tech City, an award-winning interactive digital map at our sister site Abacus.
Copyright (c) 2019. South China Morning Post Publishers Ltd. All rights reserved.