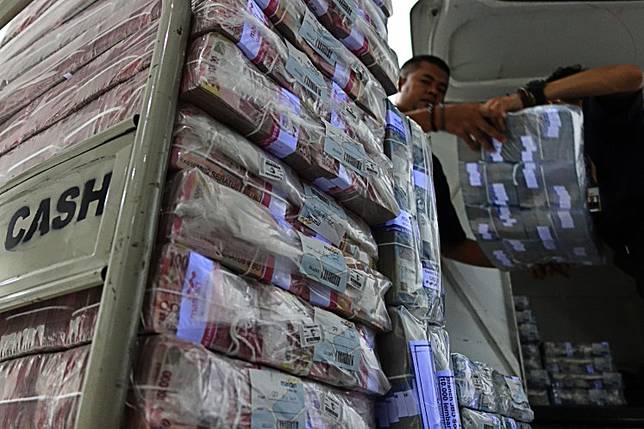 Indonesia's bad loans ratio is expected to keep increasing until year-end as the economy has yet to fully recover from the adverse impact of the pandemic, economists have said.
Financial Services Authority (OJK) data show that the nonperforming loan (NPL) ratio, the proportion of bad loans to total debts, rose to 3.1 percent in June, higher than 3.01 percent recorded in May. Meanwhile, the nonperforming financing (NPF) ratio for financing companies also increased to 5.12 percent in June from 4.41 percent despite the loan repayment relaxation imposed by the authority.
Bank Permata economist Josua Pardede suspected that some micro, small and medium enterprises (MSMEs) and borrowers had yet to make use of the OJK's loan payment relaxation policy, which resulted in a rising bad loans ratio in banks and financing companies.
"Sluggish loan demand also plays a part in increasing the NPL and NPF ratios for both the banking and multifinance industries," he told The Jakarta Post over the phone on Tuesday.
Read also: Credit guarantee to boost lending for MSMEs, but risk of bad loans haunts banks
Loan disbursement only grew 1.49 percent in June, well below the figure recorded in June 2019 of 9.92 percent. Albeit still slow, OJK data show that loan growth started to pick up in July as it rose to 2.7 percent.
The COVID-19 pandemic pushed economic activity to a halt as the government implemented large scale social restrictions (PSBB) in early April in an effort to curb the coronavirus spread, forcing shops, offices and factories to shut their doors and hitting loan demand. The government now is slowly reopening the economy despite rising COVID-19 cases.
Josua expressed concern that loan demand would not quickly rebound as the economy had yet to fully recover.
"Demand for goods and services is still very much subdued because consumers have not fully regained their confidence due to the rising number of new cases," he said.  
Household consumption, which contributed to more than half of the country's gross domestic product (GDP), contracted 5.51 percent in the second quarter, Statistics Indonesia (BPS) announced on Wednesday, as the whole economy shrunk 5.32 percent in the period. Indonesia's GDP still grew 2.97 percent in the first quarter.
Once loan demand increased, Josua expected the bad credit ratio would improve and banking NPL would stay around 3 to 3.5 percent at the end of this year.
Read also: Ultra-rich to place more funds in banks amid liquidity crunch: Economists
Similarly, Bank Central Asia (BCA) economist David Sumual projected the NPL ratio to hover around 3 to 4 percent by the end of 2020.
"Banks with portfolios in sectors such as mining, trade, manufacturing, tourism and retail will be those with the highest NPL as those sectors are the most affected by the pandemic," he said.  
OJK data show that mining sector NPL recorded the highest increase to 4.96 percent in June, followed by the trade sector to 4.59 percent and the manufacturing sector to 4.57 percent.
"The bad loan ratio continues to rise slightly from time to time, but this is purely contributed by debtors that did not restructure their debts," OJK chairman Wimboh Santoso said during a virtual press briefing on Tuesday.
The authority issued a new regulation in March to relax debt quality assessment and restructuring requirements for debtors that are hit hard by the COVID-19 pandemic in order to ease the burden on the real sector and control the banking and non-banking industries' bad loans ratio.
Read also: Banks ask OJK to extend debt relief program amid mounting COVID-19 cases
Wimboh said banks had restructured Rp 784.36 trillion (US$53.87 billion) of loans from 6.73 million debtors, while multifinance firms had restructured Rp 151.01 trillion from 4.09 million contracts.
He said the authority was mulling over the possibility of extending the loan payment relaxation for banks and multifinance companies by another year to give more room for businesses to recuperate from the impact of the coronavirus outbreak.
"We expect to issue the extension before the end of the year so that everyone, including the banking and non-banking industries, can recover from the pandemic," he said.