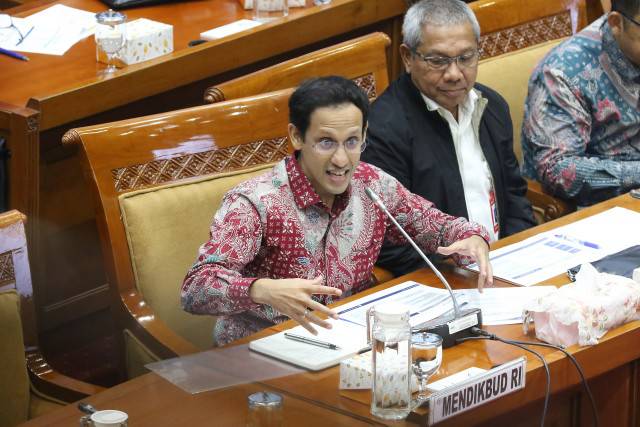 Of all the new Cabinet members, it is arguably the youngest, Education and Culture Minister Nadiem Makarim, who has attracted the most public attention. This is also indicated by the numerous comments that we have received from readers eager to provide input to improve the country's education system.
For all the changes throughout the decades in education policies, including the current 2013 curriculum, and despite most education ministers being respected professors (with Nadiem among the few exceptions), the results remain questionable, as reflected, for instance, in the global review of fundamental skills. Critics say standards such as that of the Program for International Student Assessment (PISA) may be flawed — note our frequent champions in science competitions, the latest being the team that won the International Geography Olympiad last August, beating representatives from 44 countries.
Nevertheless, the latest annual PISA survey reminds us that Indonesian students lack basic competence in reading, math and science — skills that not only help a person gain a decent job, but a more solid grounding for life's challenges.
Enter Nadiem, 35, with some strange (though not all novel) ideas, and controversy ensues. We all look forward to his elaboration of the new policy called Merdeka Belajar (Freedom to Learn) announced on Wednesday, which sounds refreshing and looks certain to ruffle feathers. They include scrapping the national exam starting in 2021 and replacing it with a "competency assessment and character survey", replacing school-run exams with national standards, simplifying the learning-materials planning that teachers say can amount to hundreds of pages each term; and, unfortunately, reducing the 50 percent enrollment quota for students living near schools, to make more room for high achievers.
Whatever the reactions, the new policy could be among the solutions for the country's many chronic problems sought by President Joko "Jokowi" Widodo, who appointed the founder of the start-up unicorn Gojek.
Although the new minister has been criticized for his absolute lack of experience in government and education policy, nevertheless, like everyone else Nadiem is a former student and has benefitted from education overseas as well. The minister would have heard many complaints about the heavy student load in Indonesian schools, which turns out to be disproportionate to the results despite having so many subjects to study from at a tender age.
As we would all like to have happier students in better schools producing more creative citizens with less stressful teachers, we are all ears for this new policy. Every well-intended change has come up against various hurdles and gaps regarding the quality of teachers and education infrastructure, vested interests and corruption.
Enrollment has improved thanks to free tuition in state elementary schools, yet ensuring a quality education for all the 66 million school-age children this year remains a major challenge.
Nadiem may be green in this role but radical action is needed to achieve the ideals of education, which, according to one of our education pioneers, Ki Hadjar Dewantara, are to produce self-confident and humane individuals who remain close to their social reality and love their nation.