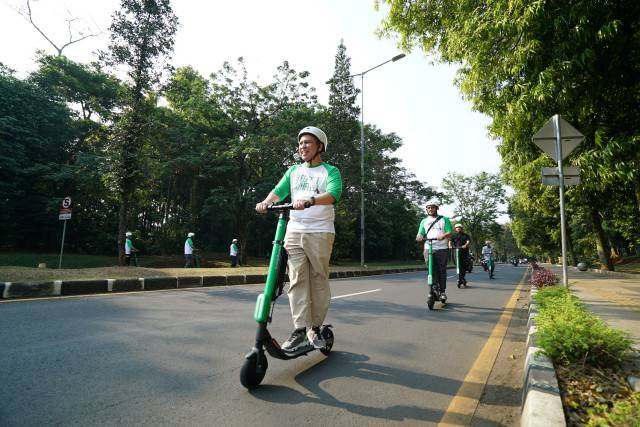 Electric scooter rental service GrabWheels has made a comeback to the streets of Jakarta following months of hiatus since November last year.
The return of the service, operated by ride-hailing decacorn Grab, follows the issuance of Transportation Ministery Regulation No. 45/2020 on electric-powered transportation signed by Transportation Minister Budi Karya Sumadi on June 16.
Grab Indonesia president Ridzki Kramadibrata said the company expected the service -- relaunched on Thursday with the support of the Transportation Ministry and the Jakarta Police -- to serve as an alternative solution for "first-mile and last-mile trips" for the people in the capital.
"The public will be able to ride GrabWheels on designated lanes, such as bicycle lanes. We hope GrabWheels will be a solution for the public that will also contribute positively to the environment and the transportation ecosystem," Ridzki said in a statement.
Grab has added safety features for the relaunch, including transmitting sensors built into the scooters to limit their use in forbidden areas, such as pedestrian bridges, automatic lights and reflectors as well as a forced speed limit of 15 kilometers per hour.
The company said it would also provide riders with health insurance and safety education through the Grab mobile app and roadshows. It also encourages riders to bring their own safety helmet.
Amid the COVID-19 epidemic, the company said, it would carry out routine disinfection of the electric vehicles at all seven Grabwheels stations in the capital.
GrabWheels can be found in seven locations in Jakarta, namely Thamrin 10, Intiland Tower, Blok M Square, Blok M Mall, Kuningan City, Lotte Shopping Avenue and the BRI 2 Building, the company said, adding that more locations would be available in the future.
"We will also constantly remind GrabWheels users to always follow [stringent] health and safety protocols," Ridzki said.
Jakarta Police community development director Sr. Comr. Badya Wijaya said in a statement that the police would supervise GrabWheels security at all stations, including customers' compliance with the new safety protocols.
In November last year, the Jakarta Transportation Agency banned users of electric scooters from roaming freely on the streets for safety reasons, shortly after two users had been hit by a car and died outside of the Gelora Bung Karno (GBK) sports complex in Central Jakarta.
During the ban, the company only offered GrabWheels services in specific areas. Grab also provided the service for medical workers at Central Jakarta COVID-19 emergency hospitals to aid their mobility.