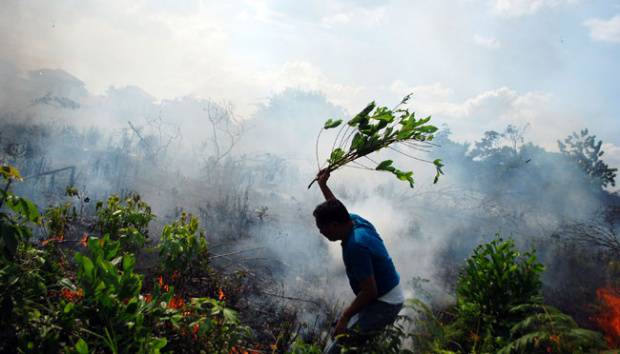 TEMPO.CO, Jakarta - The National Disaster Mitigation Agency (BNPB) is still calculating the number of losses caused by forest fires in several regions of Sumatra and Kalimantan by adopting the Post-Disaster Needs Assessment (PDNA or Jitupasna) method, said Rifai as the agency's deputy of rehabilitation and reconstruction.
"The assessment to wildfire emergency has two assumptions," said Rifai to Tempo in Jakarta, Wednesday, September 18.
The first is ecology and ecosystem damage, including damage to fauna and flora resources in the fire-affected areas. The second assumption is the public health problems.
BNPB will register the number of people suffering from acute respiratory tract infection (ISPA) and other diseases. Also, the agency will count the losses of people's economy, including in trade, tourism sector, and air transportation operation.
On September 10, 2019, BNPB revealed fires have burned 328,724 hectares of land and forest throughout January to August. Most of the fire occurred in Riau at 49,466 hectares, or 14.9 percent of the total burned land in the country.
"Data and information regarding the fires and its impact are yet valid temporarily," said Rifai, adding that the calculation is still afoot.
Director-General of Law Enforcement at the Ministry of Environment and Forestry, Rasio Ridho Sani, said his side will calculate the losses caused by forest fires, yet it will be limited to claims for compensation.
FAJAR PEBRIANTO