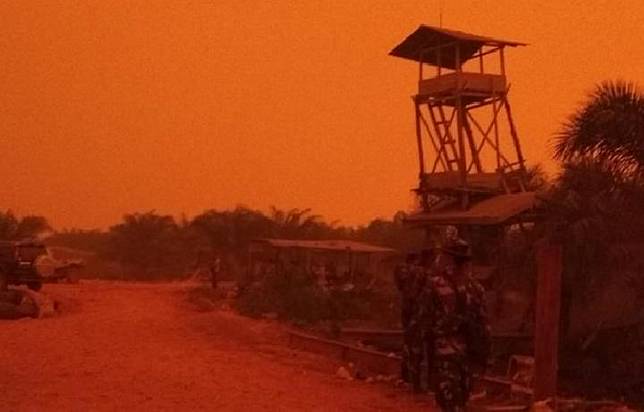 TEMPO.CO, Jakarta - The Meteorology, Climatology and Geophysics Agency (BMKG) explains that the bright red Mars-like sky over the Province of Jambi is a phenomenon known as Mie Scattering.
As the agency explained in one of its Twitter posts on Sunday, September 22, 2019, that the phenomenon that is also known as the Lorenz–Mie solution or the Lorenz–Mie–Debye, is the scattering of an electromagnetic plane wave by a homogeneous sphere.
The red color in the sky is due to sunlight being scattered in the air by 0.7-micrometer air particles known as aerosols. This basically scatters and absorbs the sun's rays throughout their long passage.
BMKG says that a similar event did not happen in Jambi's vicinity as in Palembang and Pekanbaru since Jambi was saturated by 0.7 micrometer-high concentration pollutants. TERRA AQUA satellite images show 56 hotspots at Muaro Jambi on Saturday, September 21.
The Environment and Forestry Ministry's land and forest fire director of mitigation Raffles Brotestes Panjaitan say that the province is now under a disaster emergency response due to the land andforest fires in Central Kalimantan and six other affected provinces such as Riau, Jambi, South Sumatra, West Kalimantan, Central Kalimantan, and South Kalimantan.
ANTARA