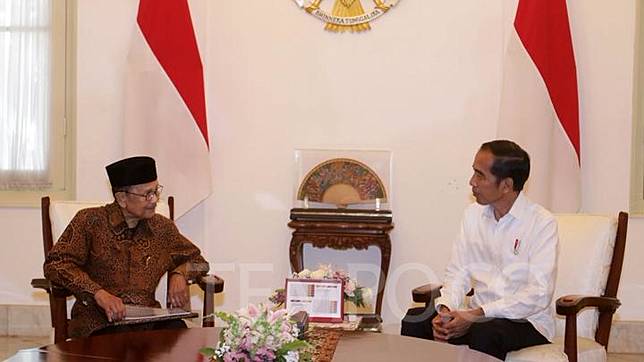 TEMPO.CO, Jakarta - President Joko "Jokowi" Widodo expressed deepest condolences for the passing of the third President Bacharuddin Jusuf Habibie or BJ Habibie today afternoon, September 11.
"On behalf of Indonesian people and government, I offer my deepest condolences for the passing of Bapak Professor BJ Habibie at 18:05 in RSPAD (Gatot Soebroto Army Hospital)," said Jokowi in the hospital.
He, along with First Lady Iriana and son Gibran Rakabuming, arrived in the hospital in Central Jakarta minutes after getting the news. Three days ago during his visit, the President said Habibie could not able to talk.
Jokowi recalled that the former president is renowned as the world-class scientist and the father of technology in Indonesia. Habibie also often give solutions about the national economy.
"He often came to the Palace or I visit him in his residence. He is a statesman and a role model," Widodo said.
Jokowi said Habibie will be laid to rest in his residence in Patra Kuningan, South Jakarta.
FRISKI RIANA