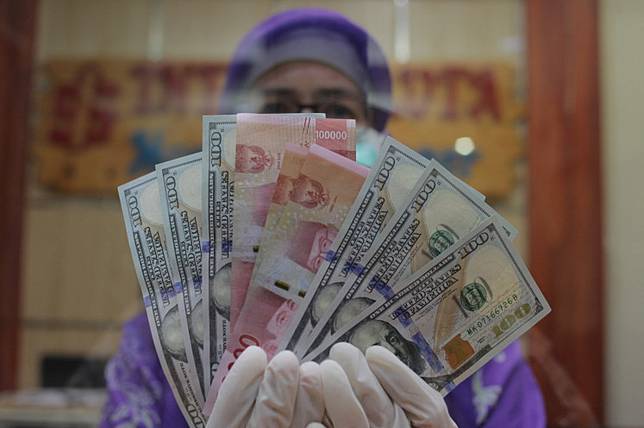 Bank Indonesia (BI) will dominate ownership of the nation's "pandemic bonds" as the government seeks to safeguard the economy from COVID-19 at the risk of a rising debt burden, including from its longest ever 50-year bond tenure, economists say.
Bank Permata chief economist Josua Pardede said that foreign investors would be reluctant to buy risky assets including Indonesia's sovereign debt papers amid the current market routs.
"The financing of pandemic bonds may be dominated by the central bank as foreign investors tend to avoid risky assets," Josua told The Jakarta Post during a phone interview. "We expect that this will speed up the recovery of economic sectors affected by the COVID-19 pandemic."
The government will issue nearly Rp 450 trillion (US$27.21 billion) worth of the so-called pandemic bonds to finance the country's efforts to combat the health crisis and economic turmoil caused by the COVID-19 pandemic, according to a Finance Ministry document.
Apart from the pandemic bonds, the government is also planning to increase its bond sales target by Rp 160.2 trillion to Rp 549.6 trillion to address the widening budget deficit, which could reach 5.07 percent of gross domestic product (GDP).
[RA::Indonesia to issue Rp 450 trillion in 'pandemic bonds' to finance COVID-19 fight
::https://www.thejakartapost.com/news/2020/04/06/indonesia-to-issue-rp-450-trillion-in-pandemic-bonds-to-finance-covid-19-fight.html]
Indonesia raised $4.3 billion from global bonds on Monday, including the longest-dated US dollar bond ever issued by an Asian nation, Reuters reported. The deal was finalized in the US and sold in maturities of 10.5 years and 30.5 years, worth $1.65 billion each, with a 50-year tranche worth $1 billion. It was Indonesia's largest-ever bond.
"The debt burden will rise, but it will not surpass the legal debt-to-GDP ceiling ratio of 60 percent," Center of Reform on Economics (Core) Indonesia research director Piter Abdullah told the The Jakarta Post.
The government's decision to issue a 50-year global bond will create unnecessary risks as the government must pay a high interest rate for a long period of time, he added.
"A 50-year global bond is meant to provide buyers with incentives as their investment appetite has significantly declined amid the global uncertainties caused by the virus," Piter said, adding that he opposed the government's decision to issue such a bond because of payment difficulties.
"This increases the risk for the government to pay debts with higher interest rates as it has a better option to issue debt papers in rupiah that can be bought by the central bank using a quantitative easing scheme."
Under the new Government Regulation in Lieu of Law (Perppu) No. 1/2020 issued last week, Bank Indonesia (BI) is now permitted to buy government bonds at auction to anticipate if the market is unable to fulfil the government's financing target. The regulation revokes a 1999 law on the central bank, which only allowed BI to buy government bonds in the secondary market.
Read also: Indonesia announces Rp 405 trillion COVID-19 budget, anticipates 5% deficit in historic move
President Joko "Jokowi" Widodo has announced Rp 405.1 trillion in extra state spending to finance Indonesia's battle against the novel coronavirus, specifically for healthcare, social safety net and business recovery programs.
"However, we expect the debt-to-GDP ratio to increase to around 34 to 35 percent this year, from last year's figure of 29.8 percent," Josua said. "Inflation may also rise as the central bank bought government debt papers, but it will still remain within BI's target."
Anugrah Sekuritas Indonesia fixed income analyst Ramdhan Ario Maruto said that international rating agencies may downgrade Indonesia's sovereign credit rating, following rating downgrades on Indonesian companies.
Fitch and Moody's did not immediately respond upon being asked for comment by the Post.
Indonesia's sovereign credit rating from the three top rating agencies currently stands at the lower-end of the investment grade, which allows a full range of institutions worldwide to invest in the country's debt papers. Any downgrade would return the country's rating to junk, which would result in only select investors being eligible to invest in the country's financial assets.
"As long as the government can maintain the country's debt-to-GDP ratio at a safe level, I think the rating agencies would at least affirm our ratings even during times of hardship like today," said Ramdhan.