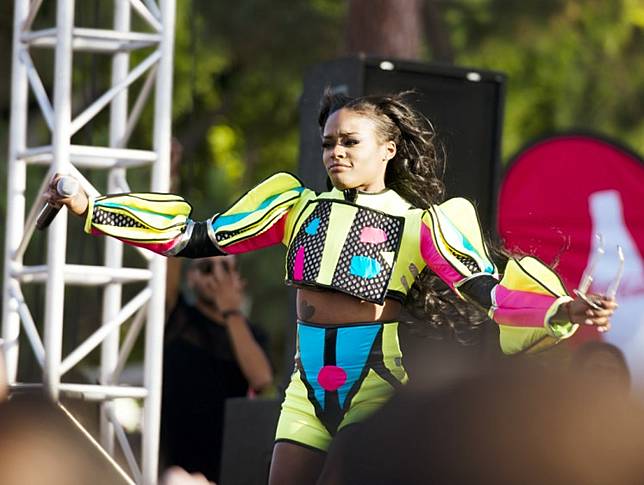 American rapper Azealia Banks is the latest addition to the artists who are to perform at the FLAVS 2020, a hip-hop, soul and R&B festival to be held at Istora Senayan in Jakarta on April 4 and 5.
        View this post on Instagram                  

Prepare to dance to the big big beat of Azealia Banks! Remember her black and white music video for the viral "212" song? Well get ready to see her perform live and in full color! That's right, folks; Azealia Banks is gonna fire up #FLAVS with her rhymes and realness! Make sure you don't miss out on Miss Bank$! Get them tickets now!

A post shared by FLAVS (@flavs.id) on Feb 14, 2020 at 7:00pm PST
"Her ability for spitting lyrics is undoubtable. She's fierce!" said Yacko, an Indonesian rapper and FLAVS' program director, in a statement.
Banks rose to fame with hit single "212" in 2011, and has since released two mixtapes, one studio album and one EP. 
She is known to have a strong social media presence with outspoken views on American politics and race issues. 
Organized by Visicita Network and Dyandra Promosindo, the festival will be the first in Indonesia to recognize the fast growth of hip-hop communities in the country.
Read also: FLAVS, a new home for hip-hop communities
International and Indonesian artists who will perform at the festival include Lil Pump, Tyga, Adrian Khalif, Dekat, D.P.M.B, Gamaliel, Imaniar, Iwa K, Jamie Aditya, Laze, Ramengvrl, Ras Muhamad, Rinni Wulandari, Sade Susanto, Saykoji, Teza Sumendra and Yura Yunita.
On Thursday, British rapper Stormzy canceled his performance at the festival over fears about the coronavirus outbreak.
"With a heavy heart, we [have to] inform you that Stormzy will not be performing at this year's FLAVS Festival," the festival's organizer said.
Presale tickets are available at the festival's official website for Rp 1.3 million (US$109.79) for a two-day pass. (gis/wng)