"Tak kenal maka tak sayang."
This Indonesian adage seems to ring true when it comes to Australians, who still lack trust in Indonesia to do good in the world, largely due to a lack of understanding, a recent survey shows.
Despite efforts on both sides to deepen their relationship, the 2020 edition of the Lowy Institute Poll reveals that Australians' trust in Indonesia has fallen to the lowest point since the survey was first conducted, with only 36 percent of respondents saying they trust Indonesia to act responsibly in the world – a 16-point fall from 2017 results.
The survey also found that only 39 percent of Australians agree that "Indonesia is a democracy", up from 24 percent from two years ago, although the majority still disagrees with the statement.
"The poll still suggests a widespread lack of knowledge about Indonesia's political system, as well as a lack of trust in Indonesia," wrote Ben Bland, the director of the Southeast Asia Program at the Lowy Institute, in a statement to The Jakarta Post on Tuesday.
"The lack of understanding and the lack of trust are interrelated. It's hard to trust your neighbor if you don't know them and vice versa."
The findings come amid concerted efforts on both sides in recent years to strengthen their bond, culminating in President Joko "Jokowi" Widodo's visit to Australia last February to finalize a landmark trade deal that aims to spur robust economic cooperation.
The Indonesia-Australia Comprehensive Economic Partnership Agreement (IA-CEPA) will come into effect on July 5.
Read also: The IA-CEPA will be effective soon: Are we ready?
Bland doubted, however, that Jokowi's visit to Canberra had made any impact on the overall perception either way, as it did not generate much media coverage or public attention in Australia, even though things went "well" at a political level.
"It's not unusual for governments and their citizens to diverge in their views of their international partners. But such a disconnect does make it harder to deepen the bilateral relationship, especially for democracies like Indonesia and Australia, where the governments need to be responsive to public opinion," he said.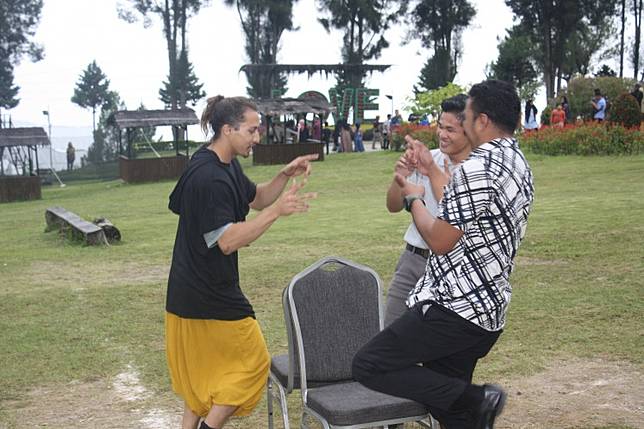 An amazing race: Australian tourist Rhys Menzel (left) mimics gestures in one of the competitions held to celebrate Indonesia's Independence Day at the Taman Simalem Resort (TSr) in Karo, North Sumatra, on Aug. 18, 2019. (JP/Apriadi Gunawan)
Australia's lack of knowledge and trust in Indonesia is nothing new, said international relations expert Evi Fitriani from the University of Indonesia. She suggested that Indonesians would likely share the same sentiment toward their neighbor down under if they were to be surveyed.
Evi said Australian media's negative portrayal of Indonesia was among the reasons that contributed to the mistrust and lack of knowledge the two countries have about one another, citing a recent report titled "The world's next coronavirus hotspot is emerging next door", which plays up the ineptitude of the nation's COVID-19 response.
When it comes to Australia, the scholar said the Indonesian government should continue with business as usual, as it is unnecessary to put in more effort to alter the public image there when there are still other strategic interests worth pursuing, such as engagement in the Pacific and in ASEAN.
"Australia cares more about Indonesia because it feels more dependent and insecure toward Indonesia than the other way around," said Evi. However, she still advised the two countries to build stronger ties at a grassroots level to foster mutual respect and trust.
Dewi Fortuna Anwar, an international relations research professor at the Indonesian Institute of Sciences (LIPI), said surveys of this kind should also observe how Indonesia fares with other countries in order to determine Australia's public image of Indonesia in an objective manner.
The Lowy Institute survey shows that 32 percent of respondents have confidence in President Jokowi, higher than United States President Donald Trump (21 percent) and Chinese President Xi Jinping (19 percent) but lower than Indian Prime Minister Narendra Modi (42 percent) and Japanese Prime Minister Shinzo Abe (73 percent).
On the other hand, Australia's lack of confidence toward Indonesia's democracy should also push Indonesia to reflect on the quality of its democracy, Dewi said, considering that the country scored meagerly in the Freedom House and Economist Intelligence Unit democracy indices.
Read also: Indonesia has reasons for optimism despite democratic setbacks
She suggested intensifying efforts in programs such as the New Colombo Plan, which sends young Australians to live and study in Indonesia, so they could learn more about Indonesia. More than 10,000 Australians have chosen to study in Indonesia over the past five years through the program, according to the Australian Embassy in Jakarta.
"We can't choose our neighbors," Dewi said. "This is an important relationship that cannot be taken for granted and left on autopilot. It is nurtured through time."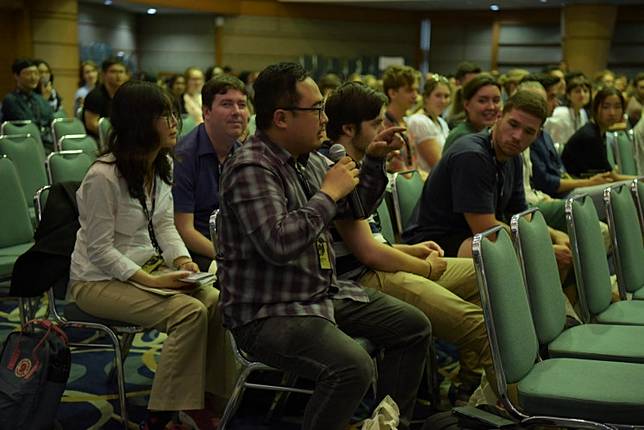 Room for debate: Australian journalism student Justin Tatel (center) speaks during the opening ceremony of the Australian Consortium for In-Country Indonesian Studies (ACICIS) Jakarta Professional Practica 2019 at Atma Jaya University in Jakarta, on Jan. 3, 2019. (Courtesy of/ACICIS)
The Foreign Ministry's director for East Asian and Pacific affairs, Santo Darmosumarto, said it was natural for democratic countries like Australia and Indonesia to be perceived differently by the public and the government, which is essential for checks and balances in foreign policymaking.
He said the ministry had actively engaged with the Australian public, scholars and other stakeholders through its mission overseas as a way to build a positive image of Indonesia, even during the COVID-19 outbreak.
A spokesperson from the Australian Embassy said Australians clearly valued their relationship with Indonesia, referring to a 2019 Lowy survey in which 96 percent of respondents agreed Indonesia was economically important to Australia and 94 percent said Australia was managing the bilateral relationship well. The questions were not asked in the 2020 survey.
However, the spokesman acknowledged that the majority of Australians and Indonesians knew too little about each other and that both countries had a role to play in improving mutual understanding.
The embassy currently runs initiatives such as the Muslim Exchange Program, the New Colombo Plan and the Australia-Indonesia Youth Exchange Program to change perceptions of Australia in Indonesia. The embassy was also open to Indonesia promoting its diversity and dynamism more in Australia "beyond just Bali".
Read also: Neighbors or strangers? Live-in experiences aim to improve RI-Aussie ties
"Perceptions take time to shift but this cohort of young Indonesians and Australians will help strengthen the relationship in the years ahead," the spokesperson told the Post.