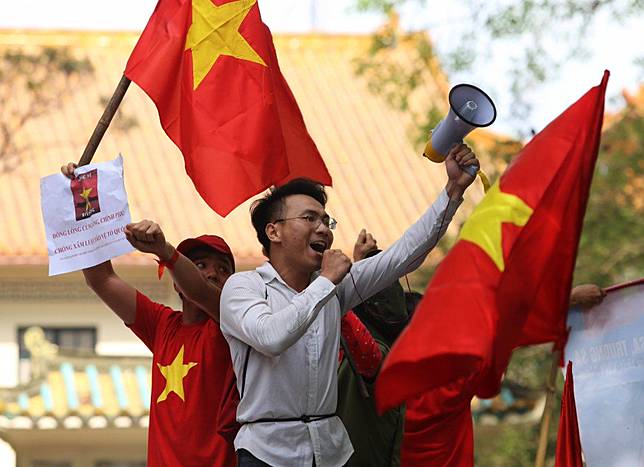 Vietnam is taking a stronger stand in its dispute with China over territory and resources in the South China Sea, and a direct confrontation seems unlikely for now, analysts say.
Tensions between the neighbours showed no signs of easing this week as Vietnamese President Nguyen Phu Trong, in his role as general secretary of the country's ruling Communist Party, called on it to "prepare for possible opportunities and challenges" in the disputed waters.
On Monday, Trong told the 200 members of the party's central committee that they must take stock after three months of tensions between Beijing and Hanoi over the Vietnamese-controlled and resource-rich Vanguard Reef.
In July, the Chinese survey ship Haiyang Dizhi 8 and its heavily armed coastguard escorts began making passes through an oil block operated by Russian energy company Rosneft, Hanoi's exploration partner in the area.
Vietnam accused China of territorial violations, while Beijing said the Haiyang Dizhi's seismic survey mission was "legitimate and reasonable" and that foreign-owned oil operations on the reef violated China's interests.
Carl Thayer, emeritus professor at the University of New South Wales Canberra, said Trong's message to the committee " which sets policy guidelines " could signal that Hanoi was unlikely to back away from a confrontation with Beijing over South China Sea possessions.
"The challenge (to Hanoi) is the expected and prolonged presence of Chinese ships operating in Vietnamese waters at multiple locations, the possible deployment of a major oil drilling rig in Vietnam's exclusive economic zone, and attempts by Chinese ships to interfere with current oil exploration by foreign companies operating with Vietnam's state-owned oil company," Thayer said.
This week in Ho Chi Minh City, Nguyen Minh Hoang, a major general in the People's Army of Vietnam and member of the National Assembly, gave details of the months-long stand-off during a community meeting.
In response to questions about Vanguard Reef, Hoang said the Rosneft rig was operating as usual although there were more than 40 Chinese and 50 Vietnamese ships in the area.
While finding a diplomatic solution to the stand-off was Vietnam's top priority, Hoang did not rule out taking the Vanguard Reef case, and Vietnam's other South China Sea disputes, to the United Nations or the international courts.
Vietnam has repeatedly clashed with China, which claims more than 80 per cent of the resource-rich waterway as its own.
In 2014, a state-owned Chinese oil company towed an oil rig into waters near Da Nang, a city on Vietnam's South Central Coast, provoking a stand-off at sea and the worst diplomatic crisis between the countries in years that led to deadly anti-Chinese rioting across the country.
At Vanguard Reef, Vietnam and China appear to have learned a lesson from 2014. Beijing understands that confrontation could harm its claims in the South China Sea, while Vietnam knows escalation may frighten off investors.
But Vietnam could win support from neighbours including the Philippines, Malaysia and Brunei " which have their own South China Sea claims " particularly as "China has outnumbered and outclassed (it) in terms of the weight of (coastguard) ships in comparison to the Vietnam Coast Guard", Thayer said.
Vietnamese ambassador Pham Sanh Chau said that Hanoi would raise the situation in the South China Sea, including the latest stand-off in the Vanguard Reef, at the annual security dialogue with India in Ho Chi Minh City this month.
On Friday, Chinese President Xi Jinping left for a meeting with Indian Prime Minister Narendra Modi, their second informal summit in 18 months. Issues ranging from regional trade and investment to counterterrorism and climate change were likely to be on the agenda, said Rajeev Ranjan Chaturvedy, a visiting fellow at the S. Rajaratnam School of International Studies at Nanyang Technological University in Singapore.
"India is following the developments in the South China Sea, and is enhancing collaboration with partner countries, including Vietnam," he said, adding that Delhi would "continue strengthening security and defence relations with all partner countries under (its) Act East policy".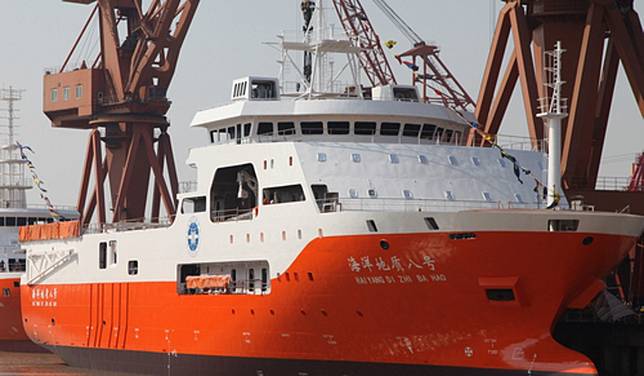 But Xu Liping, an analyst at the Institute of Asia-Pacific Studies at the Chinese Academy of Social Sciences, said this could raise the possibility of India stepping into South China Sea disputes as an arbitrator.
"In an exchange, India could ask China to help reduce the pressure on Kashmir," he said.
Thayer said that while diplomatic pressure on China had increased, no action had yet resulted in a policy change from Beijing.
"President Modi is likely to emphasise to President Xi the importance of keeping the South China Sea stable and peaceful and urge China and Vietnam to take diplomatic steps to lower tensions," he said.
"India has stakes in Vietnam, while (India's) ONGC (oil company) is exploring for oil off Vietnam's central coast."
Copyright (c) 2019. South China Morning Post Publishers Ltd. All rights reserved.