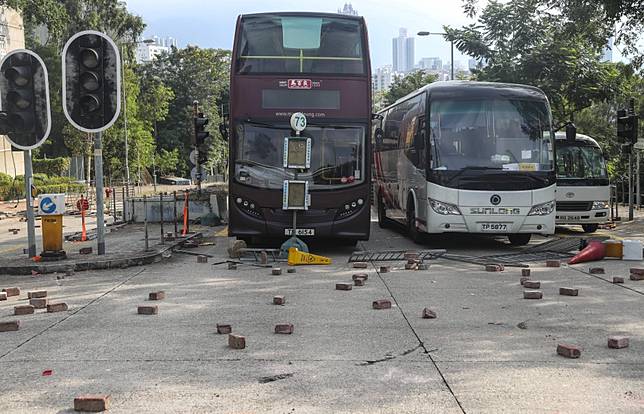 Protesters in Hong Kong changed their tactics on Tuesday by deflating tyres on dozens of buses in Mong Kok in what appeared to be a new strategy to cripple the city's public transport network.
The move was part of their campaign to disrupt the morning rush hour this week, including setting up roadblocks and delaying MTR trains.
Protesters had stepped up calls for a three-day citywide strike against the government since Monday, as confrontations with police escalated.
At about 7am, some 50 buses were found stalled and blocking traffic along Nathan Road in Mong Kok, with flattened tyres and defaced windscreens. Protesters were believed to be behind the act.
At about 10am, a team of KMB bus staff arrived to replace the tyres and remove paint on the bus windscreens. By 2pm, some 20 buses still remained in Mong Kok.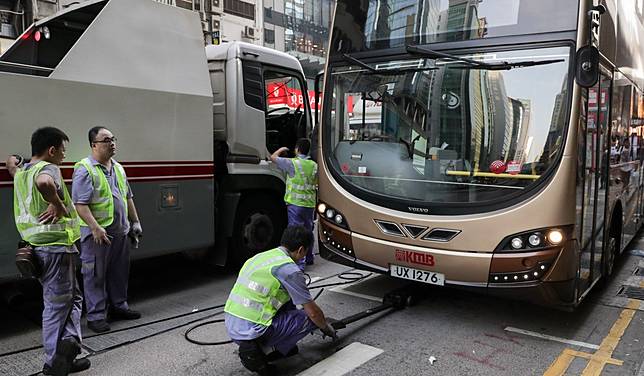 Kwok Chi-shing, chairman of the Hong Kong Franchised Bus Employees General Union, said dozens of buses were forced out of service in Mong Kok and other districts in the same manner, as protesters released the air in bus tyres with a key-like tool.
"My understanding is that the protesters want to cripple the tyres so passengers can't go to work and can take part in the strike," he said.
There were also messages circulating online, warning that protesters might step up vandalism against buses, such as setting fire to the vehicles.
Kwok said as long as bus operators refrained from provoking protesters by publicly condemning them, he believed demonstrators would not pursue more drastic actions on buses.
A KMB spokeswoman declined to give any details about the bus attacks, only saying that over the past two days, KMB buses had been subjected to vandalism in various districts.
"KMB has tried it best to dispatch staff for repair works and to minimise the impact on passengers. The damages to the buses have led to service disruptions, and we call for public understanding," she said.
"KMB has repeatedly reminded drivers and frontline staff to take safety as their primary concern," she added.
A spokeswoman for Citybus and New World First Bus admitted their buses were also defaced and damaged, which affected services for the public. "The two companies would try their best to provide bus services under a safe situation," she said.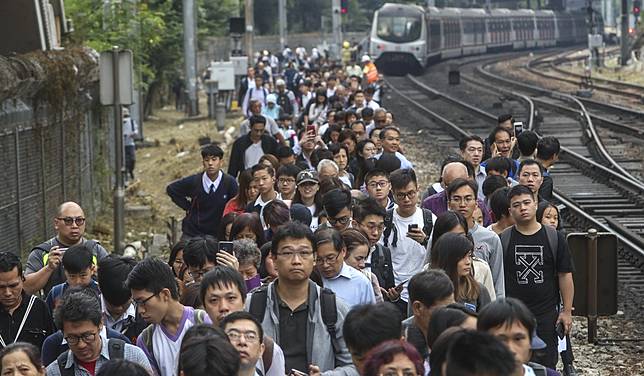 Apart from buses, the embattled MTR Corporation continued to be the target of protesters on Tuesday as they vandalised its facilities at various stations and hurled objects onto tracks to disrupt train services from early morning.
An MTR spokesman said since 6am, petrol bombs, bicycles, and barricades were thrown at several stations and onto tracks while objects were hung from an overhead cable along the East Rail line.
Throughout the day, part of the East Rail network was suspended while other sections such as the West Rail and Kwun Tong line were also disrupted in the morning.
"The nature of such acts is very serious as they can cause trains to be derailed, leading to a large number of fatalities," the spokesman said. "Also, throwing petrol bombs at trains and stations, and activating a train's emergency escape (mechanism) constitute a very serious threat to passengers, staff and facilities.
"We strongly condemn such acts and have reported them to police."
Five stations - Kwai Fong, Sai Wan Ho, Sha Tin, University and Sheung Shui - remained closed for the day while 12 more, including Mong Kok, Yau Ma Tei and Causeway Bay would close at 9pm, the rail giant announced on Tuesday evening.
Other lines except the Airport Express would close at 11.30pm.
The MTR Corp has been accused by protesters of colluding with police and bowing to pressure from Beijing.
Copyright (c) 2019. South China Morning Post Publishers Ltd. All rights reserved.