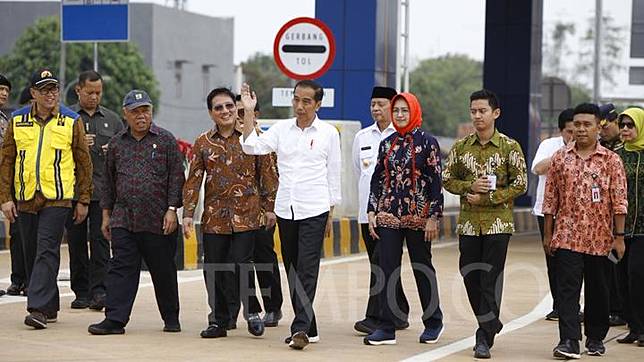 TEMPO.CO, Jakarta - President Joko "Jokowi" Widodo did not meet the Corruption Eradication Commission's (KPK) invitation to its event to commemorate the World Anti-Corruption Day and rather attended a stage performance dubbed #PrestasiTanpaKorupsi at Vocational High School or SMKN 57 Jakarta.
The President arrived at the school located in Ragunan of South Jakarta at 08:45 a.m. accompanied by Law and Human Rights Minister Yasonna Laoly, State-Owned Enterprises (SOE) Minister Erick Thohir, Tourism and Creative Economy Minister Wishnutama, Education and Culture Minister Nadiem Makarim, and Jakarta Governor Anies Baswedan.
During this event, the president, Yasonna, and Anies watched the play of Erick, Wishnutama, and Nadiem who were cast in the theater with comedians Bedu and Sogi.
"You have all understood the message conveyed by the players, right? That the corruption is prohibited. No matter how small the practice is, it is still corruption," said the President in his speech before students and participants, Monday, December 9.
According to him, corrupt behavior always started from small things, such as using class funds for purchasing snacks or late in attending classes. "From there, seeds of corruption emerge. If it is not heeded, it may grow," the President remarked.
Previously, KPK chairman Agus Rahardjo confirmed that his side invited Jokowi and the selected KPK leader to attend the KPK's anti-corruption film festival (ACFFest) 2019. Later it was discovered that the President's presence was represented by Vice President Ma'ruf Amin.
AHMAD FAIZ IBNU SANI