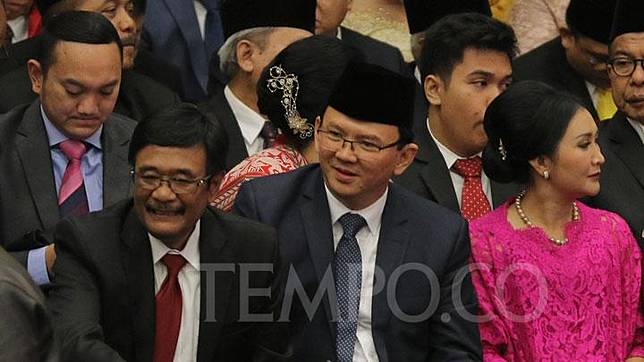 TEMPO.CO, Jakarta - President Joko "Jokowi" Widodo confirmed Former Jakarta Governor Basuki Tjahaja Purnama or Ahok was nominated as an official in a state-owned enterprise (SOE). However, regarding which SOE and position he would be assigned to remain undecided.
"We know the performance of Pak Ahok. The selection process is still ongoing," said the President at State Palace, Jakarta, Thursday, November 14.
According to him, Ahok possibly leads a state institution as a chief commissioner or executive director. "He may serve as one of the two, but the selection is still in process," he added.
However, the President was tight-lipped when asked whether he was the one who proposed the name to SOE Minister Erick Thohir.
Meanwhile, Erick Thohir remarked that state enterprises needed figures like Ahok in the management. "We need a figure who can be a groundbreaker. It's impossible for one person to lead 142 companies. We wish for the existence of representatives who are having a track record as a groundbreaker," said the minister at Presidential Palace Complex.
Similar to Jokowi, Erick balked at exposing where Ahok would be positioned, yet hinted that the job would be curbing energy imports and open employments.
When asked whether the former governor would lead state-owned gas and oil Pertamina, Erick drew back, "I cannot comment further."
On Wednesday, November 13, Ahok was seen visiting the SOE Ministry office. He said he was offered to work in a state-owned enterprise. "For the sake of the nation, the country, I am certainly ready," he said after the meeting with Erick Thohir.
AHMAD FAIZ IBNU SANI