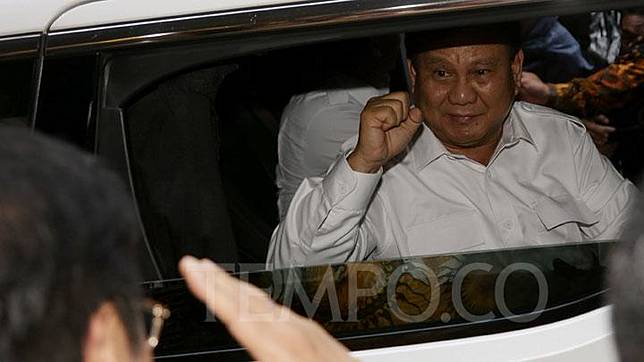 TEMPO.CO, Jakarta - An activist from the country's 1998 reform era, Aznil Tan expressed concern that the government would lack significant supervision if the opposition, in the form of Gerindra Party Chairman Prabowo Subianto, eventually joins the President Jokowi's Cabinet.
"Supervision of the government will be weak. That would not be ideal," said Aznil together with four fellow activists in a small demonstration across Jakarta's State Palace on Tuesday, October 22.
Furthermore, Aznil said that opposition political parties other than Gerindra will not be able to conduct crucial check-and-balance toward the government. "Our democracy will no longer be healthy," said Aznil.
Their demonstration also represents the activists that constantly fight against influences that are areminiscence of Indonesia's New Order era, which they said includes Prabowo Subianto who was a former Comm. Gen. of Kopassus under the New Order regime who was allegedly incriminated in a case of severe human rights violation.
"Don't join the cabinet. That will destroy our nation, especially if he is appointed the position as Defense Minister," he said.
Prabowo Subianto was recently summoned to meet with President Jokowi at the State Palace which hints to the opposition figure being appointed as a State Minister.
LANI DIANA WIJAYA